The second CEO of Go-Viet left the company at a time when this application only held 10% ride-hailing market share, according to ABI, there was no Go-Car, Go-Pay and was inferior to competitors in terms of presence.
September 18 afternoon, Go-Viet confirmed that Ms. Le Diep Kieu Trang will leave the position of CEO of the company after 5 months of working. This is the second time in six months that the ride-hailing app has seen a change in the top executive position.
2 times to replace CEO and compensation scandal of $ 800,000
At the end of March, Mr. Nguyen Vu Duc and Ms. Linh Nguyen both resigned as general director and deputy general director in charge of Go-Viet development. These are two senior personnel who have been with Go-Viet since the time this application started operating in the Vietnamese market. Mr. Duc and Ms. Linh previously worked at BIDV.
Source of Dealstreet Asia At the time, the two leaders said they were asking for $800,000 in compensation, a sign that they were forced to quit by Go-Viet. Go-Viet declined to comment on the compensation information and said that Mr. Duc and Ms. Linh accepted the consulting positions at Go-Jek and continued to work in Vietnam.
However, the page Linkedin The individuals of the two former Go-Viet leaders have not updated their new job information at Go-Jek.
Nearly a month later, Go-Viet announced the appointment of former Facebook Vietnam director Le Diep Kieu Trang as the new CEO. Ms. Trang is one of the famous businesswomen in the Vietnamese technology world, having held many important positions at Misfit, Fossil. However, Ms. Trang also left the position of CEO of Go-Viet after 5 months.
While competitors such as Grab and Be have been stable in senior leadership positions for a long time, Go-Viet has changed two CEOs in less than half a year.
Sources close to Go-Viet of Zing.vn said that the management of parent company Go-Jek has always wanted to find Vietnamese personnel for the position of Go-Viet executive to ensure the understanding of the Vietnamese market. However, it is unclear whether after the two Vietnamese CEOs left, Go-Jek will continue this orientation or not.
After 1 year only 3 motorbike-based services in 2 cities
Last month, Go-Viet marked one year of its launch in the Vietnamese market. The company said it has reached 100 million trips and has more than 125,000 driver partners.
However, according to information from market research company ABI Research, Go-Viet accounted for just over 10% market share of Vietnam's ride-hailing market in the first 6 months of the year. Statistics from ABI show that Go-Viet completed 21 million trips in the first half of 2019.
ABI also informed that the number of trips of Go-Viet in 2018 was 40 million. Based on ABI's numbers, it can be seen that Go-Viet's growth rate is quite slow because in fact in 2018, Go-Viet only operated in the last 5 months of the year from August to December.
Launched after Go-Viet, Be is still ahead with 31 million trips in the first half of this year. This number of Grab is 146 million according to ABI.
One of the reasons why Go-Viet is "short of breath" in terms of statistics is that it still does not have a 4-wheel transport service like its competitors.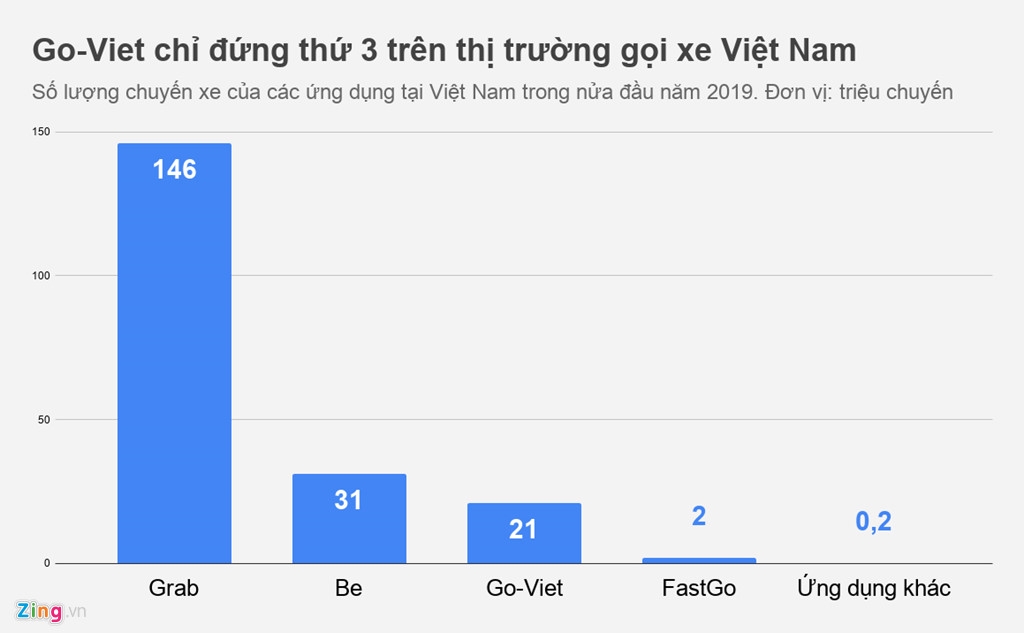 Up to now, Go-Viet has not revealed when it will deploy the car transportation service even though it has been approved by the Department of Transport of Ho Chi Minh City to participate in project 24 on piloting the application of science and technology in support. Support and manage the connection of passenger transport activities under contract in the city until the new Decree 86 on business and conditions for transport business by car comes into effect.
Besides, Go-Viet has not yet launched the Go-Pay electronic payment service. Previously, in early July 2018, Go-Viet announced that it was recruiting a legal director and business development director for Go-Pay with the introduction "this is an opportunity to become part of the senior executive team". Cao is about to launch Go-Pay in Vietnam".
In addition, up to now, Go-Viet has only had one payment option on the app, which is cash, and there is no card payment method like its competitors.
While parent company Go-Jek is the first enterprise in Southeast Asia to pursue the concept of "super-apps" with a range of services such as Go-Mart (food shopping), Go-Clean (house cleaning) ), Go-Glam (hairdressing and makeup), Go-Massage (massage), Go-Viet only have 3 services Go-Bike (passenger), Go-Send (delivery) and Go-Food (food delivery).
Regarding food delivery service, Go-Viet said that Go-Food is the leader in food delivery, with 70,000 restaurants, receiving hundreds of thousands of orders per day, growing by 25-35% per day. month but did not give specific data.
However, before this information, the representative of Grab affirmed that it is the number one food delivery platform with 87% users saying that GrabFood is the most frequently used food delivery service according to a study by Kantar last year. August.
Regarding coverage, Go-Viet also present in only 2 cities, Ho Chi Minh City and Hanoi. Meanwhile, Grab has been present in 43 provinces and cities. Launched after Go-Viet, Be has also appeared in 7 provinces and cities across the country.
Vietnamese Germany
* Source: zing News