Used packaging of Coca-Cola, Lavie, Nestle, Nutifood, Suntory-PepsiCo, Tetra Pak, TH Group... used will be collected and recycled, contributing to environmental protection.
Announced to launch on the morning of June 21 in Ho Chi Minh City, Recycling Alliance packaging Vietnam (PRO Vietnam) has the participation of 9 companies in the field of consumer goods and packaging: Coca-Cola Vietnam, Friesland Campina Vietnam, Lavie, Nestle, Nutifood, Suntory-PepsiCo Vietnam, Tetra Pak, TH Group and URC Vietnam. Directly participating in the establishment are the leaders, presidents and general directors of member enterprises.
Mr. Pham Phu Ngoc Trai, President of PRO Vietnam said that the alliance is a non-profit organization operating on the basis of attracting members with products using disposable packaging, in order to increase the spread of meaning. program.
"PRO Vietnam will preserve and protect the environment according to the three-in-one principle – harmonizing economic, social and environmental benefits. Units create a circular economy and make recycling more accessible and sustainable. The goal is that by 2030, all materials produced by member companies to the market will be collected and recycled," shared Mr. Ngoc Trai.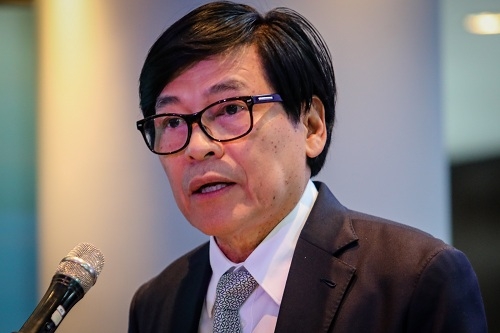 To achieve that goal, PRO Vietnam has many programs to raise user awareness about recycling and waste separation as well as strengthen the existing packaging collection ecosystem.
The organizers said that 9 member units will support the recycling programs of the treatment plant, the factory producing recycled materials, increasing recycling awareness in the community.
The members contribute to increase the number of scrap collection points, ensuring that all packaging consumed in Vietnam can be processed. The alliance moves to coordinate with research centers of universities to find solutions suitable for the Vietnamese environment.
PRO Vietnam aims to realize a circular economy for the packaging industry. Explaining this model, Mr. Ashwin Subramaniam, CEO of CA Circular - Singapore non-profit social enterprise, technical consulting unit for PRO Vietnam, said that this is an economy where products after consumption, including Packaging will be purchased by public and private forces and recycled into two forms: standard packaging for food packaging or microplastics.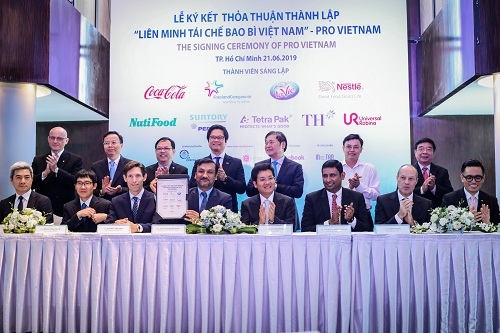 Before that, the packaging industry mainly operated as a linear economy. Used packaging has 3 cases: littering into the environment or not being collected; unclassified waste is discharged to concentrated landfills; collect, recycle, and export.
PRO Vietnam also cooperates with the Government in the recycling aspect through a voluntary public-private partnership to create jobs for individuals and businesses operating in the post-consumer packaging field. Specifically, the alliance supports people who are working in government or private garbage collection forces with direct support activities (according to PRO Vietnam's estimate, Ho Chi Minh City currently has more than 12,000 garbage collectors). garbage). Recycling also helps to utilize wasted local resources, creating jobs and revenue, job opportunities (higher than waste treatment).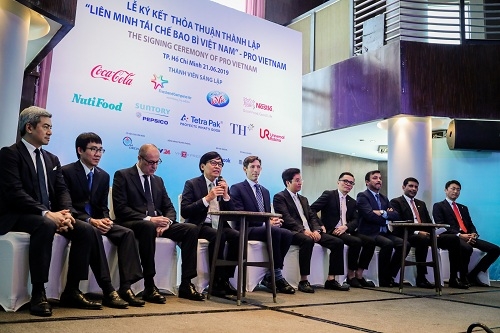 Prime Minister Nguyen Xuan Phuc sent a congratulatory letter, highly appreciating the initiative to establish PRO Vietnam. In the letter, the Prime Minister expressed his wish that PRO Vietnam would join hands with the Government and people to prevent, treat and reduce plastic waste pollution; limit the use of single-use dairy products; increasing the application of advanced and modern technologies to collect, reuse and recycle packaging in Viet Nam. The Prime Minister proposed to agencies, sectors and localities to create favorable conditions for PRO Vietnam to operate effectively and achieve sustainable development goals.
The World Bank predicts that the amount of municipal solid waste in Vietnam will increase to 15.9 million tons by 2030. Also according to the report "Plastic waste from land to ocean" conducted by Dr. Jambeck specialized According to environmental research, Vietnam is currently one of the top 5 countries in the world in terms of the amount of plastic waste discharged into the ocean, equivalent to 280,000 tons per year.
Facing this situation, Mr. Pham Phu Ngoc Trai called on other units to join the alliance to join hands to protect the environment.
Hoai Nhon
* Source: VnExpress