Since Bill Gates "learned" the idea of a graphical interface from the Macintosh for Windows, Apple and Microsoft have always been considered the two most veteran and fierce competitors in the technology industry. But by the late 2010s, this was no longer true.
Since coming to power, Tim Cook has continued the path outlined by Steve Jobs earlier. Apple throughout history has remained a hardware company, and the huge success of the iPhone 5, iPhone 6 or iPhone X continues that role of Apple. When the smartphone market entered a saturation stage, Cook cleverly expanded to product lines that could follow the iPhone's position.
To date, AirPods and Apple Watch (the two most prominent pieces of hardware released during the Steve Jobs era) are still at the top of their respective markets. At the same time, the service segment is developed to become the most useful revenue source for the following years.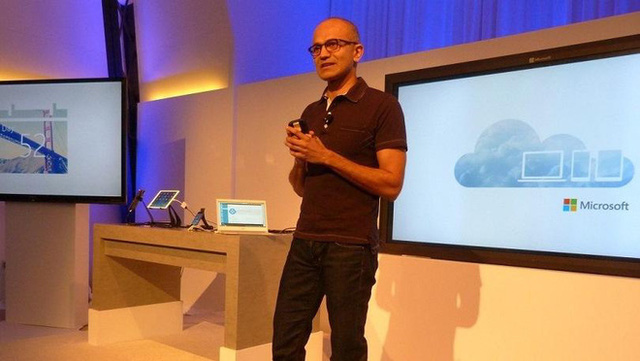 Microsoft CEO Satya Nadella during the Office launch event on iPad.
And Microsoft under CEO Satya Nadella has completely changed. From being a consumer-oriented company with Windows or Xbox, Microsoft today derives its biggest source of growth (and revenue) from cloud and Internet services. With big cloud contracts – like the Azure infrastructure deal for Sony Playstation or the $10 billion deal with the Pentagon, Nadella's Microsoft has made a spectacular resurgence, becoming a trillion-dollar company. third dollar in history, followed by Apple and Amazon.
Of course, Apple and Microsoft can still be considered rivals in many ways, but in their decades of history, the two former enemies have never been so close. The first event announced by Satya Nadella after taking over as CEO was to unveil Office on iPad. When launching iPad Pro, Apple also invited Microsoft representatives to the stage to reveal the feature. Siri virtual assistant on iPhone at one point switched to using Bing instead of Google, and iCloud is also partially located on Microsoft's Azure cloud.
Most recently, at the WWDC 2019 developer conference, Microsoft also appeared to demonstrate Minecraft Earth. Even though Surface competes with MacBook, even though iOS games have "eaten" revenue from Xbox or Windows Store, Apple is essentially a hardware company and Microsoft is a software / service company. The 2 giants no longer compete fiercely with each other.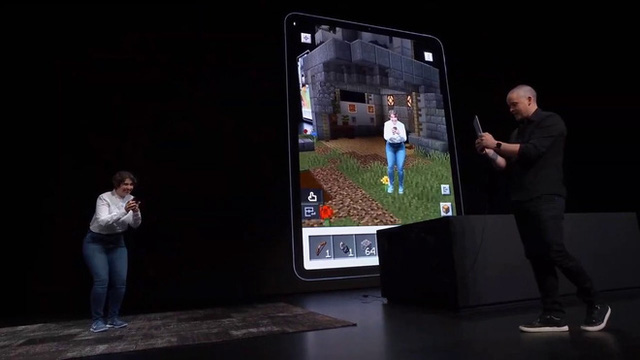 Microsoft's Minecraft performance at Apple's WWDC event in June.
Yet when 2020 has just begun, the two CEOs of Apple and Microsoft have joined a strange race - a race that cannot be better for both sides. At the end of the first trading session of the year, Apple reached the milestone of market capitalization of 1.3 trillion USD. Microsoft's number is now 1.23 trillion.
With this achievement, Tim Cook became the first CEO in history to help his company increase by $ 1 trillion in market capitalization (when Cook took over as CEO in early 2011, Apple's market capitalization at $300 billion). What's special is that Microsoft's Satya Nadella is following closely behind: when he succeeded Steve Ballmer, Microsoft's value was just over $300 billion. Since then, the leadership talent of the Indian-born CEO has helped Microsoft's value increase by $930 billion.
Tim Cook finished first, but that doesn't necessarily mean he's the better CEO (in the eyes of investors): Microsoft will most likely hit $1.3 billion in the near future, and such Nadella will only take 7 years to help Microsoft's value increase by a trillion. Tim Cook took 9 years to do the same with Apple.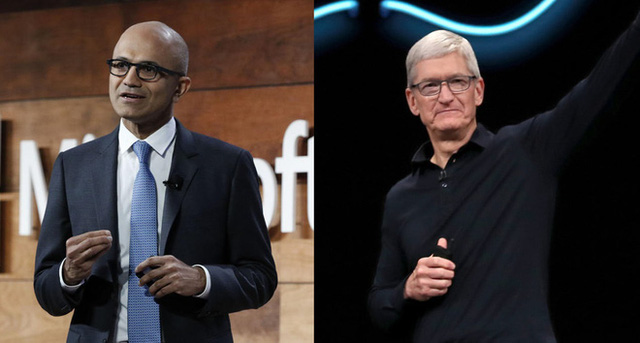 A special race of 2 world No. 1 CEOs
But that is not the end of this strange race. In 2020, Apple will unveil a completely new design, replacing the notch that was released in 2017. Considering what the iPhone X has done for Apple, the iPhone 2020 can completely bring Apple to the top. higher "crazy". Market capitalization of 1.5 trillion?
Either way, the real winners in this strange race are investors in technology stocks. When Tim Cook took over at Apple, the company's future was still too dark in the great shadow of Steve Jobs. When Nadella took the hot seat from Steve Ballmer, Microsoft was no longer seen as a leader in the hi-tech industry. Yet now these two giants, these two former bitter enemies, are together in a special list: the only trillion-plus companies in the world!