Statistics from GfK show that in the first 11 months of 2019, Apple had 7.1% smartphone market share in Vietnam, down from 8.5% in the same period. However, some strategic products of the company still have good sales, contributing significantly to the overall revenue of retailers.
Specifically, Iphone 7 Plus is on the best-selling smartphone list of both Mobile World and FPT Shop in 2019, naturally becoming the "national" iPhone in Vietnam in the past year.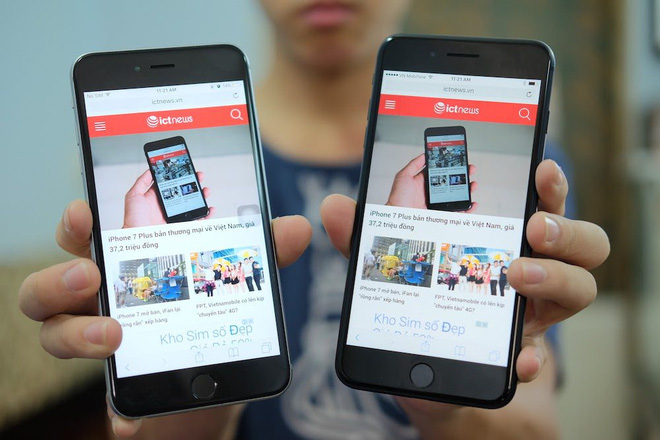 iPhone 7 Plus is Apple's best-selling smartphone in Vietnam, contributing significantly to retailers' revenue. Photo: Hai Dang
Only a few million more expensive than iPhone 7, iPhone 7 Plus is Apple's second cheapest iPhone model sold in Vietnam. The design and configuration of the device is just enough, so many people choose it as their first Apple smartphone, making it the most consumed among iPhone phones.
Among the 10 best-selling smartphones of the Mobile World last year, there was also iPhone X, the first "rabbit ears" phone of Apple, the smartphone that inspired the "rabbit ears" screen trend later on.
If the iPhone 7 Plus is Apple's popular smartphone, the iPhone X is the first smartphone to advance to the high-end line of the US phone company. Therefore, although it has been present in Vietnam for 2 years, it is still chosen to buy because it still runs smoothly the latest iOS 13 operating system.
Looking at the list of smartphones that contributed the most sales to FPT Shop in 2019 can we see the role of Apple. At this chain, in the 10 smartphones that bring in the most money, half are from Apple. Specifically, iPhone Xs Max (64GB, 256GB), iPhone 11 Pro Max 256GB, iPhone X 64GB, iPhone 7 Plus are on this list.
Not to mention, iPhone 7 Plus 32GB, iPhone X 64GB, iPhone Xs Max 64GB lead the top 10 smartphones that bring in the most money for FPT Shop.
This easily explains the fact that although it has a market share of only 3 in Vietnam, less than 10%, it is far from reaching about 23-24% of Oppo (ranked 2), but Apple won the runner-up when in terms of value – ie sales contribute to the market.
Apple's market share in Vietnam in 2019 decreased compared to 2018 but the selling price of each iPhone is getting higher and higher, much higher than the average of other brands, thus contributing extremely good sales to retailers.
However, the fact that Chinese smartphone companies are increasingly emerging, threatening Apple's market share will force the company to have a suitable business strategy in Vietnam if it does not want to fall out of the top 3 in the world. this market.