According to Vice President Dang Tat Thang, Bamboo Airways will operate 30 aircraft from the first quarter of 2020 and this is the basis for the airline to start making profits.
At the press conference on the afternoon of December 3, Vice President of Bamboo Airways said that, in order to stabilize its operation and development, an airline air There must be more than 20 aircraft, usually 25–30. Currently, this airline operates 20 aircraft, with more than 100 flights per day.
"We hope that with the deployment of 30 aircraft in the first quarter of 2020, Bamboo Airways will start to record profits from the beginning of next year. Up to 30 aircraft, we can stabilize operations, expand commercial routes, develop more diverse products for customers, "Mr. Thang said.
After nearly a year of taking off, Bamboo Airways is losing hundreds of billions of dong – a normal thing for rookies in the aviation industry. In the middle of the year, FLC Chairman Trinh Van Quyet also explained that the group had to compensate for Bamboo Airways' losses when it was only licensed to operate 10 aircraft but had to raise its personnel to be ready to serve the plan. increase the fleet size to 30 aircraft.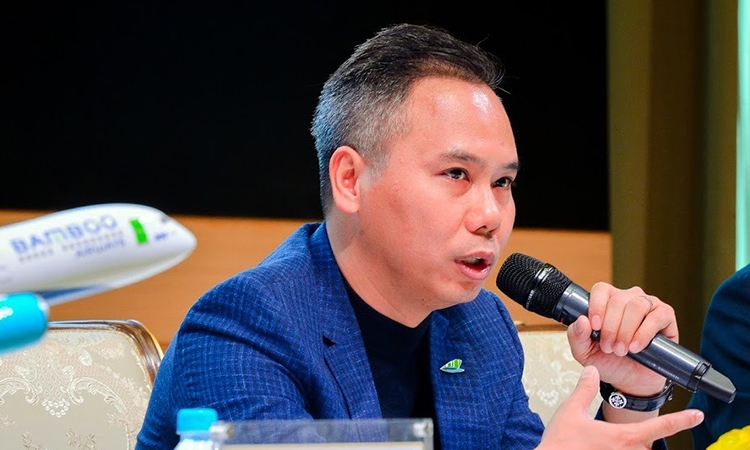 This month, Bamboo Airways will receive the first Boeing 787-9 aircraft. This is an important milestone, directly related to the plan to develop international routes to Europe such as Germany, the Czech Republic... or direct flights to the US next year.
As explained by Vice President of Bamboo Airways, the airline has to wait to receive the Boeing 787-9 to apply for an Aircraft Operation Certificate (AOC). Once completed, Bamboo Airways will carry out the next procedures with the US side.
Bamboo Airways is also choosing a strategic partner in the US, because it can only fly to a few cities in the US. The airline then had to connect these cities to all the states. Currently, Bamboo Airways is researching and promoting with a number of US airlines.
"The plan to fly directly to the US as early as the end of 2020 or early 2021 can be implemented," Thang said. Before that, Mr. Trinh Van Quyet also expressed his ambition and determination many times with this route.
"From next year, Bamboo Airways will no longer have wet leased aircraft, but use dry leased aircraft with its personnel. After that, Bamboo Airways will redo the entire identity to achieve the airline's goal air 5 stars", Mr. Thang shared.
In addition to the fleet development plan, Mr. Thang also said that Bamboo Airways will IPO to mobilize resources in 2020. According to this leader, the airline advocates not to sell many shares to the outside, but to focus focusing on Japanese, American and European investors.
Bamboo Airways Vice President revealed that it is receiving the attention of many foreign investors and has only sold a very small number of shares to employees and close partners. "This is mainly to show gratitude to officials, employees and partners who have been with the group for a long time," said Mr. Thang.
Mr. Tu
* Source: VnExpress