Billionaire Tadashi Yanai personally came to Ho Chi Minh City to open the first Uniqlo store, affirming the importance of the Vietnamese market.
The morning of December 6, Uniqlo officially "joined" the Vietnamese fashion retail market with the first store of 3,100 m2 in District 1, Ho Chi Minh City. The richest billionaire in Japan, the founder and CEO of Fast Retailing, the corporation that owns the Uniqlo brand, Tadashi Yanai personally came to Vietnam on this occasion.
During a meeting with the media, Mr. Tadashi Yanai confirmed that the first Uniqlo store in Vietnam is not only the largest store in Southeast Asia but also a model store of the company. As previously shared, he emphasized that Vietnam is the most potential market and also the leading important production base of the company.
* What do you think about the potential of the Southeast Asian market and especially Vietnam?
Southeast Asia is a growing focus of the world and Vietnam has the greatest potential. Because the Vietnamese people are very hardworking. I recently visited Hanoi and I was pleasantly surprised. The city is beautiful, clean and safe. I'm sure, this is where we can find many customers who support our product.
With Ho Chi Minh City, in the future, this city will become a big metropolis like Paris, London or Tokyo. Vietnam not only has a developing economy but also has a rich history. The highest level of people in Southeast Asia is Vietnamese. Your country will become the largest commodity consumption center in this region.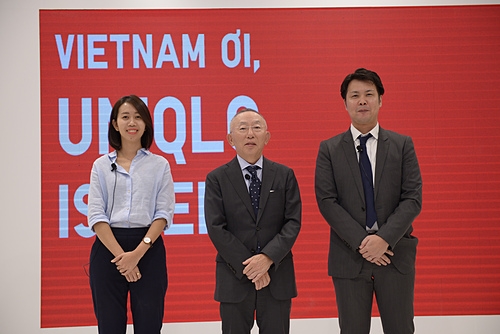 * You once assessed that Vietnam is the most important market, the main driving force for the growth target of 30% in Southeast Asia, but why only opened the first store until now?
For us, Vietnam is a very important market. We want to be well prepared so that there are no failures in opening a store in Vietnam.
We realize that Vietnam is a country with a special role in Southeast Asia, especially when digital is developed. With a store in Vietnam in the new era, we think we will be able to do many new things that we could not do before.
In the next 100 years, Asia will be the future of the world. Asia used to be like that, but for various reasons it didn't work out. Starting from this moment, we believe that, in 100 years from now, the future of the world will be in Asia. And Vietnam is an important country in Asia.
* He said that Vietnam is the most important production base, but China is the place that produces more. So what exactly is the importance you say?
What is important here is in terms of human character. The Vietnamese people are very industrious, hardworking and serious. Vietnam has a long history and especially Vietnamese people have a very high will. Therefore, in the coming time, we hope to produce and consume more goods here. Up to now, our production output in Vietnam to export to the world has reached 3 billion USD.
Vietnam has a long history and especially Vietnamese people have a very high will. Therefore, in the coming time, we hope to produce and consume more goods here. Up to now, our production output in Vietnam to export to the world has reached 3 billion USD.
* What is your own vision for Uniqlo in the next 5 years?
I used to envision Uniqlo becoming the number one fashion retailer globally, but now I want to do something more meaningful. Because, it's not just about the number of businesses or the size of the business, we want to make sure we do well in the retail industry.
I want this company to be the most respected company in the world. So we need to produce quality garments, recruit talented people to have a team to make good products. Therefore, the goal is not only quantitative but more qualitative, to become the best company.
* He once said that Uniqlo is not fast fashion. What is the flip side of fast fashion?
Fast fashion trends are on the rise. Fast fashion products are not really necessary. Maybe you can only wear fast fashion products for a year because the quality is not good. But we aim to produce products that people can wear for a lifetime.
We partner with synthetic fiber manufacturer Toray Industries to develop raw materials for innovation. Our management principles and theirs have much in common. Both try to think through and make sure we do a good job for the benefit of the consumer. We believe in a long-term relationship that benefits both the product and the customer.
Our recent "Lifewear Day" exhibition in London was themed "Art and Science of Lifewear", meaning both art and science are incorporated into our products. However, technology doesn't have to be so modern. There are simpler technologies that can still be applied. It is necessary to apply both types to get the best job done down to the details.
* In terms of technological innovation, how would you define Uniqlo today?
We want to be an IT or digital proficient company. Because either information technology or digital technology has become the infrastructure of today.
Especially for China. Look at Alibaba, Tencent, Baidu or Wechat, they all apply technology well in bringing solutions to life. People started using smartphones in China and can do everything with smartphones, no need to use cash anymore. This type of technology will drive innovation. This is a concrete example in China.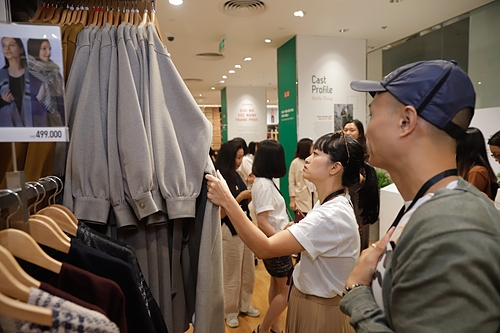 * Why do you often say that your competitors will be Alibaba, Apple, or digital companies?
This is a very complicated world. Therefore, we need to compete with these companies but at the same time we need to cooperate with them. All companies compete with each other while all coexist. The borders between these companies have disappeared thanks to the digital age.
Digital has been everywhere in the real world and we are in need of both the real world and the digital world. People were under the illusion that the digital world invaded reality but that is not true. Unless you don't have a real world, you can get the best out of the digital world. We need both.
* What is your biggest challenge right now?
Maybe it's about finding a successor. I believe we need to have more women in management. I want to encourage women to be more ambitious. I think for now they are still moderate, humble, and don't want to be the top leader.
* What kind of leadership is needed to build a better company?
We are humble and do well in leadership. Think deeply and act quickly. It is a challenge but it is necessary when you own the business. I really need a successor but still need to find someone with that quality.
* At the time 10 - 20 years ago, how far did you envision Uniqlo to develop?
10 - 20 years ago, I didn't believe Uniqlo can go this far. When I was young, my ambition was mainly to build 30 stores and make up to 30 million USD in sales. That is very different from now. So you can do it. Everyone can do it.
* Many companies have failed or even gone bankrupt. But he learned a lot from his own mistakes. How did he?
I hate to say this. Maybe I'm good at seeing things objectively. I may be seen as belligerent but in reality I am not. I tend to be more introverted than extroverted. I don't usually socialize much.
Telecommunication
* Source: VnExpress