Array Payment (payment) in 2019 recorded the participation of VinID Pay - Vingroup's electronic wallet and the transformation of AirPay when integrating with Shopee. However, the two key players in this war are still Moca/Grab and MoMo. If Grab is a consumer technology platform business, Momo represents pure Fintech; While Moca shocked the whole market with a strong "burn" to refund electricity bills up to 200,000 VND, Momo created a viral shopping queue to get 50% refund up to 100,000 VND.
According to the Digital Economy Report 2019, Temasek Holding and Bain&Co, 2019 is the turning point of digital payment in Southeast Asia, with a forecast in 2025, this segment will reach the total transaction value. translates to $ 1.1 trillion in the context of consumer spending expected at $ 2.3 trillion. This means that for every 2 USD circulating in the market, nearly 1 USD is paid through the digital platform. In which, by 2025, e-wallets (e-Wallets) will have a 5-fold increase compared to the transaction value of 22 billion USD in 2019.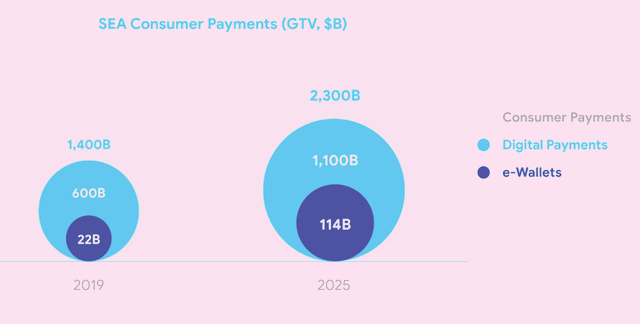 ---

Based on the above report, players in the Payment field in Vietnam can be divided into 4 types:
– Pure Fintech (Pure-play Fintechs): Typical representatives are Momo, VnPay, Payoo...
– A foundation enterprise in the field of consumer technology (Consumer Technology Platforms): Including "cheeky" consumer technology businesses, typically represented by Grab (linked with Moca), SEA (AirPay).
When it comes to finance, the biggest asset of these businesses is their database of users – people who use payment platforms to make it easier to pay for core services of businesses like Travel , Food delivery or Online shopping.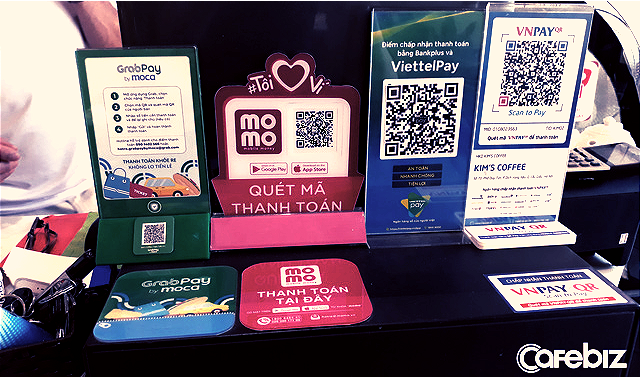 – Established consumer business (Established Consumer Players): Traditional businesses with large customer bases, including retailers (Vingroup with VinID Pay) and telecommunications (Viettel with Viettel Pay). The strength of this type of business is the number of physical stores that are pervasive, easily reaching rural areas. The point of challenge is the lack of experts in the financial services sector, and the original IT system was not designed with user experience in mind.
– Traditional financial players (Established Financial Services Players): Banks, insurance companies, financial institutions... Last year, many banks opened movie ticket booking apps, hotel booking apps on the app (VPBank), some Insurance companies also enter the e-wallet market (Bao Viet).
In terms of users, 4 typical names in the Payment field are VinID Pay, Airpay, Moca (on the Grab platform) and Momo. As of December 23, 2019, the number of linked banks of VinID Pay is 7, AirPay is 18, Moca on Grab and MoMo platforms are tied for the "champion" in terms of number of linked banks - with 24 banks. row.
With a large number of linked banks and a large number of customers, the e-wallet competition is actually just a two-horse race between MoMo and Moca. As for the level of "playing", VnPay after calling for capital of 300 million USD and "befriending" with VinID Pay, the level of burning money is no less competitive.
---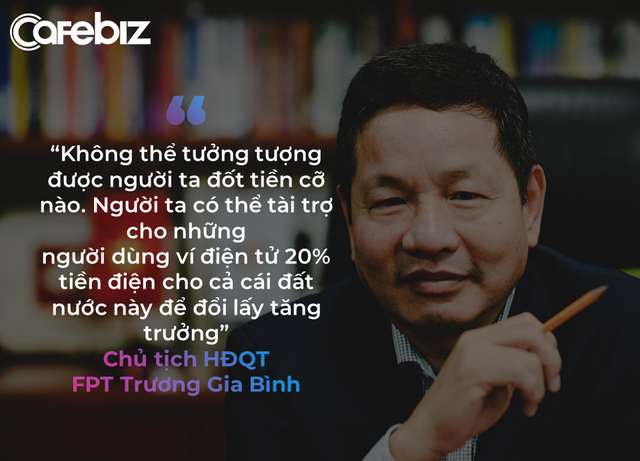 The past year of 2019 has witnessed a "bloody" fight that started with a strong money-burning of Moca on Grab platform in electricity payment.
At the beginning of 2019, Viettel Pay entered the bill payment segment quite conservatively with a refund of 20,000 VND, then in May 2019, Grab "strongly" refunded the maximum amount up to 400,000 VND.
Specifically, when paying via Moca e-wallet on Grab platform, customers will be refunded up to 200,000 VND for electricity bills over 1,000,000 VND, 100,000 VND for bills from 500,000 to 1,000,000 VND. Each customer can pay 2 times, and refund up to 400,000 VND.
If previous Payment players only focused on promoting movie tickets, ie targeting young customers, Grab's refund move targeting electricity bills hits everyone in the Vietnamese market. Which family does not have to pay electricity bills? And it is a MONTHLY payable, which is periodic.
"Can't imagine how people burn money. People can sponsor your 20% e-wallet users, for the whole people, for the whole country. People pay for 20% in exchange for growth. And you should remember, when funding stops, users will switch from one wallet to another. It's a horrible game," commented FPT Chairman Truong Gia Binh at an event organized by the Startup and Management Club.
With the above move, Grab has "burned" a huge amount of money, instantly attracting a large number of customers to the Moca e-wallet on the Grab app.
MoMo - a veteran name in the Fintech village - also had the opportunity to make users "admiring" at the end of the year, when he created a campaign called "MoMo refund war". This campaign has caused many customers to queue in front of some retail points, hospitals, petrol stations... for refund instructions.
MoMo's "burn" amount in this campaign will be less than Grab's, as cashback promotions are only available to first-time paying customers, at certain points of sale, and capped at 30,000 cashback. VND (with gasoline – oil), 50,000 VND and 100,000 VND (depending on retail location).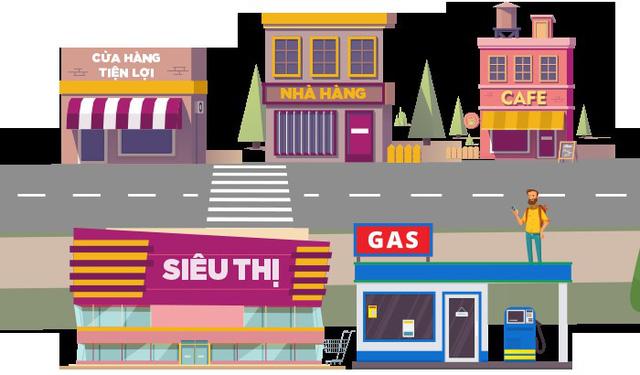 VnPay, after receiving capital of 300 million USD from SoftBank's Vision Fund and the Singapore government's GIC investment fund, also aggressively refunded money at P2M stores (Person to Merchant, roughly understood: Payment at stores). . Previously, VnPay only covered fashion retailers and large restaurants, by the end of the year this unit had "sprinted" to cover mid-range and popular supermarkets.
If the frequency of fashion shopping and restaurant dining is at a certain level, then the supermarket is the place that every household visits DAILY. Therefore, even though the promotion ceiling is 20%/order, up to 50,000 VND and limited to 1 time/week, customers only need to "jump" from one supermarket to another to rotate within 1 week, VnPay also has to spend a small amount of money.
VinID Pay After shaking hands with VnPay, it has also reached out to Vingroup's ecosystem, offering a discount of 30%, up to 50,000 VND per transaction at stores (P2M). This fledgling e-wallet is also quite agile when "following" many of the strategies of its seniors. When Grab launched "Deal 9 peaks", VinID Pay also launched "Deal 11 peaks" to attract users.
AirPay also offer promotions, the most popular is free shipping when customers buy products on Shopee - AirPay's "brother", most recently a 30% discount when paying at the store.
Still Viettel Pay, which belongs to the Military Industry - Telecommunication Group (Viettel), is essentially "no loss", so in the race to "burn money", this unit is quite conservative.
---

In that "bloody" competition, who can dominate the payment market has not been clearly defined. The Southeast Asia Digital Economy Report 2019 states that: Players who have good relationships with customers are the ones who will have a good position in the market in the long run. And in that struggle, each payment unit becomes a "connector" between users and merchants to retain and attract new customers. And so, this battle will focus on 3 main points: "Top of mind" (hierarchy in the user's mind), user time and their wallet.
As players go to war, each side's P2M points expand. While Airpay followed in the footsteps of MoMo and Grab, covering bread, milk tea, and snail shops on the sidewalk, the trio of Grab - MoMo - VnPay switched to covering retail points.
While the payment units burn money, the beneficiary is the customer, when they can be in the same store, today they use Moca, tomorrow they use Airpay, the day after tomorrow they switch to VnPay.
Recently, Grab pioneered in the payment segment at parking lots. Currently, when parking at 14 parking lots, customers will only lose 500 VND, Grab will pay the rest. That is, you send the car for 10,000 VND, Grab will refund 9,500 VND. Parking fee 13,000, Grab will refund 12,500 VND. Of the 14 parking lots mentioned above, 13 in Ho Chi Minh City, only 1 in Hanoi is the parking lot of the National Economics University.

So now, even the parking service can use QR Code, will the time when Vietnamese beggars use QR Code like Chinese beggars will not be far away?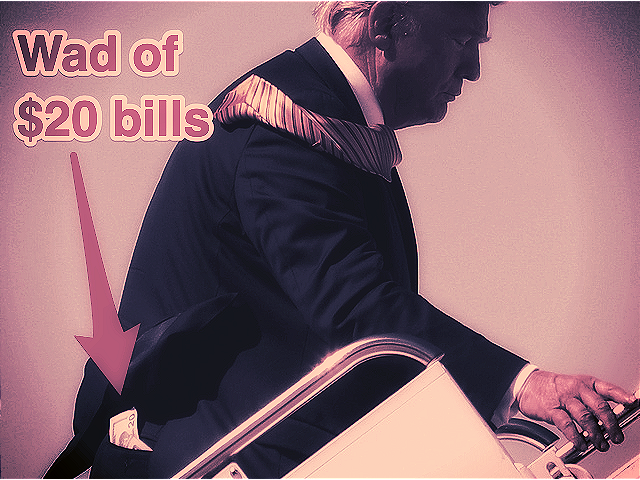 Before making specific comments, we would like to recall the story of a bundle of $20 bills "poking out" from the pocket of US President Donald Trump's pants when he boarded a plane in California in September 2019.
"I don't have a wallet with me because I haven't used a credit card for a long time," Trump said, holding up a stack of money when asked.
"I like to leave tips for hotel staff. Maybe the President shouldn't do it, but I like to leave a tip at the hotel," Trump explained.
Since in a developed market like the US, cash is still available with cash tipping transactions, can Vietnam expect a cashless society in the near future?
The report "The Future of Banking, Finance in the Digital Age" conducted by Professor Markos Zachariadis for HSBC Group makes the following comments: Cash or bank card will not completely disappear in the next decade.
"While the increased demand for digital payments and smooth experiences will drive the transformation of a more cashless society, physical money, although significantly reduced, still has a definite role to play. , this report acknowledged.
In the story of a stack of 20 USD in President Trump's pocket and the cashless society, the representative of Grab Financial Vietnam has a more optimistic view. Responding to Young Intellectuals, Mr. Nguyen Tuan Anh - General Director of Grab Financial Vietnam said that tipping still exists in the cashless society, the problem here is psychological.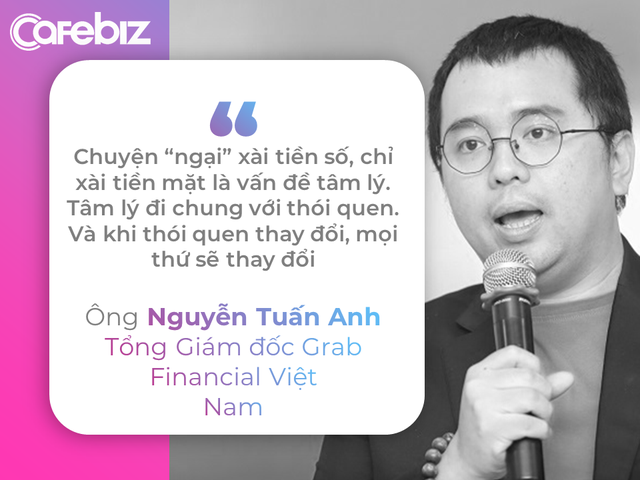 According to Mr. Tuan Anh, being shy when tipping and wanting to give it quickly is a psychological problem. Basically, the tipping action takes place when the customer is satisfied with the service provided. As for how to tip - cash or non-cash, is a matter of habit. And once society is used to not using cash, any problem can be solved, like in China, beggars also use QR Codes.
The General Director of Grab Financial gives an example of a similar story as celebrating a wedding. As a habit, we will put money in the envelope, put the envelope in the wedding box. "But actually putting the QR Code and transferring money is no different. That's normal, but it's even more beneficial, because there's no risk of losing money, being withdrawn by anyone, and everything is very transparent."
"Afraid to use digital money, only using cash is a psychological problem. Psychology goes with habit. And when habits change, everything will change", Mr. Tuan Anh concluded.

According to Young Intellectuals