In addition, some scammers also use high technology to pretend to be police and banks to deceive victims. Tet is near, don't be greedy for a small profit and then have no money... spend Tet.
In the days leading up to the Lunar New Year of the Rat, in Long An province, many victims were lured by scammers to win prizes on social networks (facebook) and lost hundreds of millions of dong, making their families miserable. suffering. While surfing Facebook, Mrs. TTT (SN 1961, living in Tan An city) received a text message that she won a Shi with a gift certificate worth 200 million VND.
Thinking that luck had smiled on her in the last days of the year, Ms. T. clicked on the message and received the winning code, the message asked Ms. T to go to nhaquaxuan55.com to complete the procedure. Ms. T. followed the instructions on this website and waited. In the following days, Ms. T. continuously received calls to request money transfer to receive bonus procedures. Ms. T. has transferred 5 times with the amount of nearly 1 billion VND to 5 different accounts for the subjects.
However, after waiting for a long time, I did not see the gift, the previous phone numbers contacting Ms. T. when calling back were all… out of the coverage area. At this time, Ms. T. regained consciousness and reported it to the police. "I don't know how I was so confused that I followed the instructions of the subjects. If the real prize is about 350 million, I still transfer them billions!" - Mrs. T. lamented.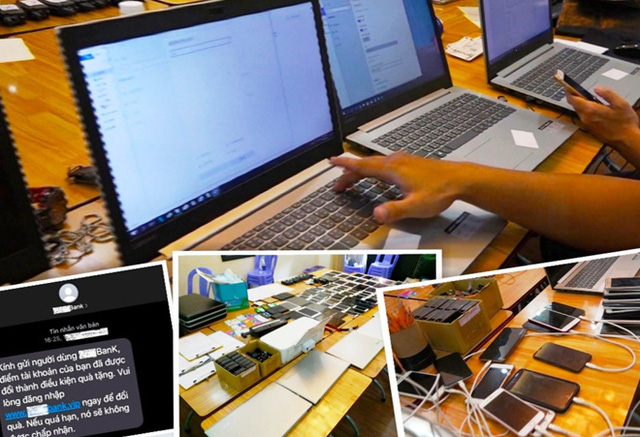 Just because of the tricks on social networks, many people have been scammed out of hundreds of millions of dong.
Ms. LTK (SN 1981, living in Tan Tru, Long An) received a winning message of 300 million VND from a customer gratitude program, the "organisers" asked Ms. K. to deposit 3 million VND to make a profile. receive bonus and 10% personal income tax (30 million dong). To gain trust, these subjects said that the company supported 20 million VND, Ms. K. only had to pay 10 million more. After paying, Ms. K. continuously received phone calls asking for payment to activate her account. By the time she realized she had been scammed, Ms. K. had paid them nearly 60 million VND.
In addition to receiving fraudulent messages to win prizes, many victims are also called police by the subjects calling them, telling the victim that they are involved in the cases and transferring money for them to check. These victims are elderly, information about high-tech scams has not been updated, so they fall into their trap. Typically, Ms. LNP (living in Can Giuoc) was scammed more than 200 million VND, NKV (born in 1990, living in Tan An city) was scammed more than 100 million VND. In Ho Chi Minh City, by using high technology to pretend to be the police, the subjects deceived Mrs. LTTh (living in District 10) nearly 1 billion dong...
In addition to taking advantage of fraudulent social networks, high-tech users also use sophisticated methods to defraud victims through banking transactions, especially electronic transactions. After collecting customer information, home address, email, and credit card information (passwords, account balances, transaction history), the most exposed people are online sellers. due to posting their account information on social networking sites. Then, the scammers will pretend to be bank employees or police officers to contact the victim to scare and scam to appropriate property.
According to an official working at the bank, the period near Tet is the time when people have a sudden increase in demand for banking transactions, this is also the time when high-tech fraudsters operate. strongly cause damage to customers and even banks, so people need to raise their vigilance so as not to lose money unjustly.
According to the Criminal Police Department - Ho Chi Minh City Police, high-tech scammers often target elderly people who practice using social networks. These people often set their online account passwords simple and easy to remember. More sophisticatedly, scammers use fake links for unsuspecting people to log in and then have their information stolen.
Recently, to steal information, scammers use more tricks such as creating fake links and then sending them to the victim's message (messenger-message on facebook) with the account owner's information. misrepresentation, account holders have adulterous spouses, families have participants in top contests... then ask victims to click on the link to log in to view related images and videos .
Therefore, the Ho Chi Minh City Police Department recommends that people be vigilant against scams on social networks, do not believe in winning games with high prize value on the internet. When there are strange calls related to cases, it is necessary to immediately notify the nearest police officer, avoid following the subjects, and transfer money to their accounts.