Ever wished to have a coffee shop for friends to chat with, Dinh Nhat Nam built a coffee chain with millions of US dollars. In December 2013, the Urban Station branded coffee shop chain expanded at a fast pace, with a new store each week to welcome business opportunities during Tet.
A year later, they nearly doubled the number of stores to 36. "Urban will double the number of stores next year," asserts Dinh Nhat Nam, 26, founder and marketing director of Urban Station. .
When building a store the coffee Urban Station's first in 2011, Dinh Nhat Nam and five friends wanted a coffee shop to meet friends. Now their chain of stores sells 11,000 cups of coffee per day, with a monthly revenue of 10 billion dong. They are facing an offer to sell some shares to an investment fund, with a valuation of about two million US dollars. This important role in expanding a chain of Vietnamese-brand coffee shops put Dinh Nhat Nam on Forbes Vietnam's 30 Under 30 list in 2015 in the franchise business.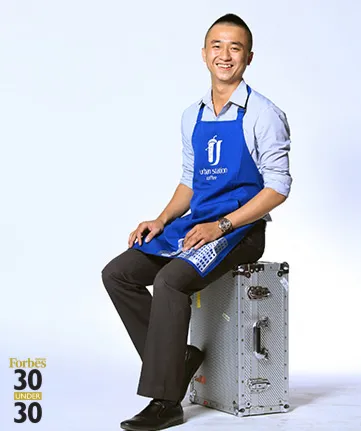 As the name suggests, Urban Station presents the space of a stopover in a vibrant urban place. Red doors, depicting urban stations, with skyscrapers on the walls representing the dynamism of new cities, and stylized water pipes simulating life under the carriages subway.
But that is not the original style of this brand. With an investment of 300 million VND, the first Urban Station store was born on Phan Dinh Phung Street (Phu Nhuan District, Ho Chi Minh City) with the idea of selling coffee take away. "At that time, people sold coffee to take away, people sold coffee to take away," said Nguyen Hai Ninh, founder and former CEO of Urban Station. The menu includes trendy Italian-style coffee dishes such as latte, espresso, and cappuccino.
"Skipping" from the takeaway coffee trend, Urban Station has made a profit after six months of operation. From the seventh month, the founding team faces two options: maintain the shop as it is or invest in opening more stores, creating a different style. While the four do not want to invest in venture capital, Dinh Nhat Nam and Nguyen Hai Ninh, friends near home and 2 years older than Nam, share a second opinion. Two people buy shares of the remaining four, understand the needs and consumption behavior of customers and transform the coffee business model, focusing on space investment and creating their own style. Instead of leaving the counter outside, they arranged it in the restaurant, near the entrance. They equip more tables and short and wide chairs for guests to sit back. Every few stores that open, Urban Station adjusts to find a design that represents the station space more harmoniously. They also have an R&D department, which regularly releases new drinks. "Vietnamese young customers are easy to adapt but also easy to change," Nam said.
11,000 cups of coffee is the amount of coffee sold by Urban Station chain stores in a day.
The model transformation helps Urban Station to differentiate itself from competitors in the take-away segment in terms of space, but at a cheaper price than shops in the high-end group. Both Nam and Ninh said that they were lucky because at that time, the coffee shop war was not as fierce as it is today.
Mr. Doan Dinh Hoang, one of the shareholders of Passio coffee, looks back, Urban Station, although behind, has created a foothold in the market, especially in branding to reach young people. "If Passio is like Apple because it creates its own take-away segment, Urban Station is like Samsung, they can innovate and serve many customers." Nguyen Hai Ninh, former executive director of Urban Station, commented, Nam is a highly creative person, contributing to many branding ideas.
At the end of 2012, Urban Station sold the first store franchise rights. Their approach is a bit different. Investors spend money, choose the premises, and Urban Station manages on behalf of investors from A to Z. No franchise fee, Urban Station enjoys 30% of monthly profit. This model is intended to help maintain brand identity. The following year, Urban Station opened 20 stores. To get investment capital, the two founders called for more capital and Nam accepted to sell shares to two outside partners. At this time, the number of male shares decreased to about 12%. "What is good, I do, in the end it will be better for my pocket," Nam said.
Not only expanding the chain, the operators plan to close the production chain, launch Urban Station brand raw coffee, and attack the mass segment like Milano and Trung Nguyen are doing. Vo Anh Tan, the new CEO of Urban Station, said that this plan was implemented based on a market research proposal from the South, in order to provide customers with clean coffee.
While the company was accelerating, Ninh left the position of chief executive officer. Ninh's departure was explained because the board members could not find a common voice in the development of the common child. This shareholder still owns 26% shares in Urban Station, although he has left the executive role, he emphasizes that Urban Station's challenge today is not expansion but sustainable development.
When opening Urban Station, like other founding members, Nam contributed 50 million VND, accumulated from working part-time and borrowing from friends. According to his self-narrative, the first job Nam earns money is to check if Internet shops run ads according to registration or not. "The salary is 50,000 VND, almost all of the gas money," Nam calculated. The amount of money in his pocket was too low, causing Nam to switch to selling portable iPhones. In addition, when he was a student, Nam also accepted to organize events to earn money. He shared that he realized he was interested in business when he heard his father tell the story about Bill Gates, the founder of Microsoft. Nam passed the exam in electronics and telecommunications (International University of Ho Chi Minh City) according to his parents' wishes, but after half a year of study, he switched to business administration. During the start-up period with Urban Station, Nam also faced opposition from his parents because of the misconception of the restaurant business the coffee unhealthy. This pressure even forced Nam to leave home and save his studies. Back at school, Urban Station became the subject of Nam's graduation thesis.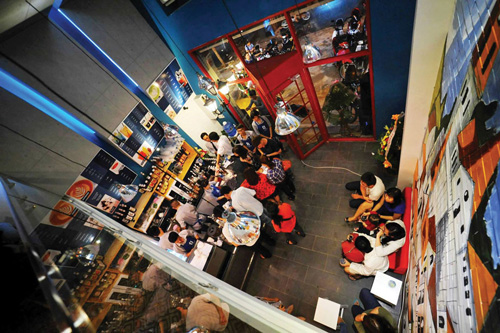 According to people around him, Nam is a mix of business and art. He was a member of a band and acted as a singer in the group. Urban Station's marketing activities use many famous showbiz personalities to reach young people. Nam has a girlfriend who is also active in the field of art. "He is a person who knows how to enjoy life, carefree in a way that is satisfied with what he has," commented Ninh. However, since the opening of Urban Station, the group stopped performing, and Nam focused entirely on business.
Urban Station welcomes the new year with good news: Japanese investment fund Dream Incubator and Mekong Capital want to buy shares in the company, valuing the company at over $2 million, according to Nam. However, board members are still weighing in. Nam alone, he said, will increase his stake from 12% to 26% by buying back a part of Ninh's shares. The new year promises more things to do for Nam as he also recently opened his own Papaxot (papa's sauce) restaurant.
Forbes Vietnam
* Source: Marketing strategy