A lot of people are afraid of failure.
No one likes to fail out of fear of being judged by others or, worse still, for fear of judging themselves. It has been proven that self-blame causes more pain than feedback from others. Failure is never pleasant, but it is essential on the road to success.
Because no one gets it right in the first place.
The story of successful people always only succeeding forever is just a myth. You can claim this basic truth. Do you know of any basketball goalscorer who gets an absolute homerun on every throw?
The answer is definitely: are not, because no scorer can do that.
So what does that player do when he doesn't succeed?
He will go ahead and try again to make a perfect shot. They have no choice but to try again and again to succeed.
You have two choices when you fail
The first thing you need to understand is that you are bound to fail at some point in your life. If you never fail in life, you probably won't take risks and you won't try to do great things. As Elon Musk once said:
"Failure is a choice. If you've never failed, it's because you haven't innovated enough."
In times of failure, people who will never succeed will complain and make excuses. Complaining is a waste of precious time. When you fail, you should not waste time because time is money.
You must be aware that your failure is an opportunity. Failure is an opportunity because you just discovered something new that didn't work.
Failure is only failure if you don't learn anything, as Henry Ford made it very clear: "The real mistake is the mistake when we don't learn anything from it."
Therefore, you must choose to learn from your failure so that it really benefits you.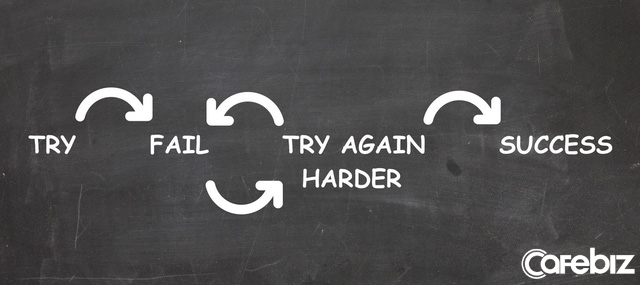 Failure is mother's success
Most great people have achieved their greatest success simply because they were able to overcome their greatest failure. After a failure, 99% will choose to stop, and those who keep trying will see the glorious glory.
This resounding success could be due to better execution of the plan or to the fact that you seized an opportunity that was open to you since the failure arose.
Thomas Edison used to say: "I did not fail. I've found 10,000 ways that don't work."
Because he knew what didn't work, Thomas Edison finally seized a new opportunity that came his way. Thus, Thomas Edison was a great success even though he had just failed the nth time. His perseverance after all these failures finally paid off.
You have no choice but to be stronger.
Once you've learned from your failure, you'll have to try again and this time try harder. You have to try even harder by changing your approach to things based on lessons learned from previous failures.
In some cases, you may be able to move on to a new and more potential opportunity, and this opportunity arises as a result of failure. By adopting this mindset, you will no longer be afraid of failure because you will find it a necessary step towards success as Oprah Winfrey did: "Failure is another stepping stone to greatness."
Freed from your fear of failure, you will allow yourself to take on the craziest projects and eventually you can achieve the big successes you desire.
Failure is part of life. Failure is essential on the road to success. People who achieve great things in life experience failure at one time or another.
It doesn't matter how many times you fail, or how painful your failures are. It's not how deep you fall, but how high you jump back up.
How you recover from failure is what matters. By conquering, you will learn from your failures and then achieve great things.
Never forget that one success is enough to make all the difference in life.
Following the Economic Lifestyle/ME