Starting a long day with a cup of coffee is a habit of many Vietnamese people. For many people, in the morning they may not even have breakfast, but they definitely have to drink coffee.
In the past, with the low living standard of Vietnamese people, the coffee market was home to popular coffee shops with prices below 25,000 VND. The quality of the coffee here is also unstable, often mixed with a lot of impurities and not too serious about the origin of the coffee.
On the contrary, with the increasing standard of living, Vietnamese consumers are increasingly attaching importance to the quality of coffee and are increasingly demanding higher levels of coffee cleanliness, as well as being willing to pay a higher price for the quality of coffee. Enjoy a delicious, well-sourced coffee in a beautiful setting.
"Smells" the change of the market, domestic and foreign investors hastily promote coffee chains to quickly capture market share in this fertile land. So, at present, the main battle in the Vietnamese coffee market is taking place at the mid-range coffee chain, with domestic 'warriors' being Trung Nguyen Legend, The Coffee House, Cong and Phuc Long and other 'warriors'. invaders' like Jollibee, Starbucks, Wayne's Coffee, maybe Cafe Amazon soon.
Foreign giants quarrel 
In the eyes of experts, the coffee chain market in Vietnam is very potential, but not easy. Recently, CNBC There was an interesting analysis about the situation of international coffee chains when entering Vietnam as well as the reasons why they have not been as successful as in other markets, even some people have to flee. Gloria Jeans Coffee.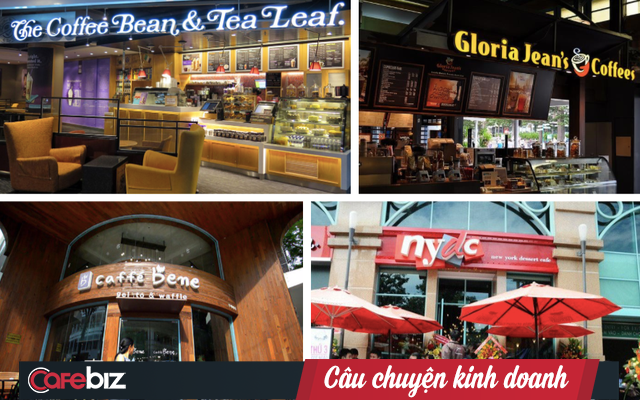 Many large coffee chains in the world have had difficulty entering the Vietnamese market. Photo: Vietnammoi
According to statistics in 2018, Vietnam has 540,000 restaurants, large and small, and 430,000 of them are street stalls. Even the 5 largest coffee chains in Vietnam hold only 15.3% of the market; in which Highlands Coffee is the leading coffee chain with 7.2%, Starbucks accounts for 2.9% market share. The Vietnamese coffee market is worth about $1 billion.
Starbucks is a global brand with more than 30,000 stores around the world. The famous Australian coffee chain Gloria Jeans Coffee has nearly 760 locations in more than 53 countries. However, in 2017, this chain sadly left Vietnam after more than 10 years of entering the market. Meanwhile, Starbucks has only opened nearly 40 locations in Vietnam and is struggling to penetrate deeper into this market.
After nearly 6 years of joining, Starbucks has only opened about 40 stores across Vietnam. On average, out of nearly 1.7 million Vietnamese, there is only one Starbucks. Compared to other markets, if in Malaysia, there is 1 Starbucks for every 104,982 people; in Thailand there is 1 Starbucks for every 175,040 people; In Cambodia, for every 913,862 people who have a Starbucks store, in Vietnam, there is only 1 Starbucks coffee shop for 1,673,109 people."
(Translated from CNBC)
That shows that the competition between foreign coffee companies and domestic coffee chains is extremely fierce. Domestic coffee shop chains are expanding rapidly and doing business more efficiently than foreign competitors.
In addition, the loss of foreign coffee chains also recorded Coffee Bean & Tea Leaf. In 2018, the Vietnamese market brought this chain 108 billion dong in revenue, but the brand reported a loss of 29 billion dong. In fact, in recent years, the Coffee Bean & Tea Leaf chain has operated at a loss in the Vietnamese market. After more than 10 years of presence in this market, the company is experiencing accumulated losses of hundreds of billion dong and negative equity. Currently, this chain has only about 10 stores across Vietnam, while in 2018 they had 15 stores.
In our opinion, the loss of many foreign coffee chains in Vietnam, the main reason is still not the right time. As mentioned above, Vietnamese people are still used to drinking mixed coffee with stronger ingredients than arabica; they need time to get used to new, healthier trends, like pure Italian-style coffee.
Of course, Vietnamese people will not switch from drinking coffee in the traditional way to completely international, but latte, cappuccino become another option besides iced coffee, milk coffee...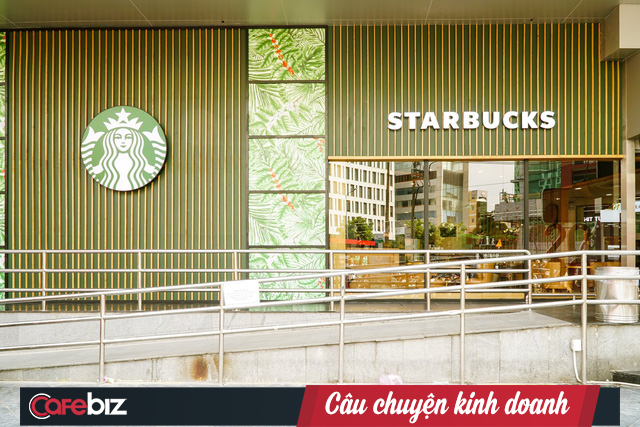 The newest Starbucks at Pico Plaza - Tan Binh - City. Ho Chi Minh City
In the case of Starbucks, it is not correct to say that they are failing or having difficulties in the Vietnamese market. It is not that this chain cannot develop fast, but the speed of market expansion completely follows the market's demand, slowly but surely. With the current price, they cannot open the collective and massively or crept to suburban districts in big cities or small provinces. In addition, they currently have 64 stores across the country, the 4th most in the market.
Not counting the beginning, just counting the investors, Jollibee Foods from the Philippines is currently the investor with the most coffee shops in Vietnam.
In 2011, the group from the Philippines spent 25 million USD to buy 49% Vietnam business division and 60% business division in Hong Kong (China) of Viet Thai group. Viet Thai is also the owner of Highlands Coffee. At that time, Highlands Coffee only had 50 stores, now they have more than 300 stores across the country.
In 2018, Highlands Coffee had more than 60 stores, which is the coffee chain with the most terrible expansion compared to its competitors. The reason why they can confidently allow franchise partners must have a significant contribution from Jollibee's more than 40 years of franchising experience.
Also in 2019, Jollibee also spent $ 350 million to buy back 80%, which owns the Coffee Bean & Tea Leaf chain of coffee shops. This is the largest acquisition that the food company from the Philippines has ever made.
Along with the addition of the Coffee Bean & Tea Leaf chain, Jollibee has more than 310 coffee shops in Vietnam, leading the market.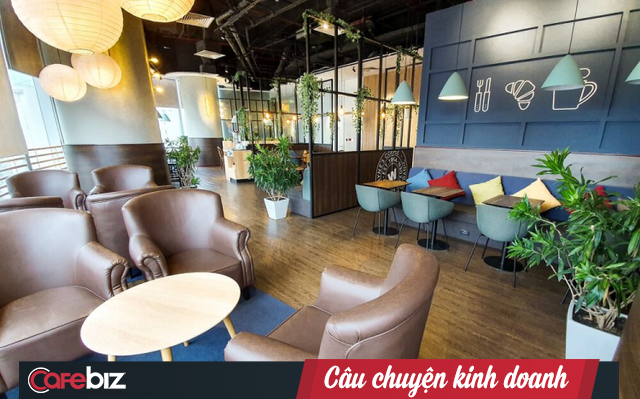 The newest Wayne's Coffee at Aeon Mall Ha Dong.
In addition, we also have to mention the Wayne's Coffee chain – a famous Swedish coffee brand that has come to Vietnam since 2018. Wayne's Coffee has come to Vietnam through an exclusive franchise by Arya Consumer Company. JSC and the Vietnam - Oman Investment Fund (VOI - Sovereign Fund of the Kingdom of Oman).
A representative of Wayne's Coffee said that the ingredients used in Vietnam are 100% organic coffee imported from Sweden. As planned, in 2019, Wayne's Coffee will open about 50 stores.
"Locations located in office areas, crowded residential areas, buildings, and commercial centers will be selected by Wayne's Coffee, with a minimum space of 100 m2 and not necessarily the downtown area. At first, we mainly cooperate on locations, after 2019 we will start franchising to partners in big cities and provinces.", said Mr. Dinh Anh Dung – CEO of Arya Consumer.
By December 2019, Wayne's Coffee only had 13 stores, 10 in Ho Chi Minh City. Ho Chi Minh City and 3 in Hanoi.
Elsewhere, according to information from Dealstreat Asia, the Petroleum Corporation of Thailand (PTT) and Central Restaurants Group have announced a cooperation to jointly operate the Amazon Cafe chain in Vietnam. Central Group is also a giant that has implemented a series of popular M&A deals in Vietnam to expand its business, including the acquisition of Nguyen Kim, Big C and Lan Chi Mart.
Launched in 2001, this coffee brand has 2.4 million customers per year at its branches. In addition to Thailand, Myanmar and the Philippines, Cafe Amazon also operates 3,000 stores in Cambodia, Laos, Japan, Oman, China and Singapore.
BangkokPost reported that the total investment capital is about 3.5 million USD. In which, PTT through PTTOR (a subsidiary of PTT specializing in retail) holds 60% shares, the remaining 40% is held by Central Group.
However, both sides did not disclose the specific time to launch the first Amazon cafe in Vietnam.
Pure Vietnamese coffee chain still fighting tenaciously
According to the data of Vietnam Industry Research and Consulting Joint Stock Company (VIRAC) in 2018, in the Top 7 coffee chains with the largest store sales in Vietnam, the number of pure Vietnamese chains has 4 named The Coffee House, Phuc Long, Trung Nguyen Legend and Cong; The remaining 3 chains are Highlands Coffee, Starbucks and Coffee Bean & Tea Leaf.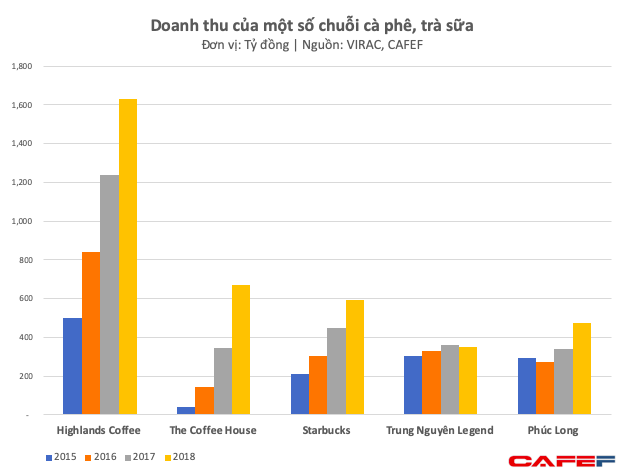 According to our statistics (based on website sources, Facebook fanpage and business representatives provided) by December 2019, the number of coffee shops of chains has changed significantly: Highlands Coffee from 240 shops to 299, The Coffee House from 140 to 160, Trung Nguyen Legend from 92 to nearly 100, Starbucks from 45 to 64, Phuc Long from 44 to 60, Plus from 63 to 61 (excluding 7 stores) overseas), Coffee Bean & Tea Leaf from 15 to 10.
In 2019, The Coffee House is the chain with the most volatility. With only opening 20 new stores in a year, this is the year that their number of new stores is the least compared to the last 2 years. With the 5-year cycle of retail, 2019 is the year this business needs to review its system as well as upgrade the coffee shops launched in the early days, whose concepts are no longer suitable for the tastes of customers. market. In addition, this chain also closed the system of Ten Ren milk tea brands to focus all of its efforts on the coffee segment.
In the same year, this startup also replaced CEO and founder Nguyen Hai Ninh with Mai Hoang Phuong - a co-founder of Seedcom. Mr. Nguyen Hai Ninh holds the position of Vice President, favoring strategy.
"In 2019, we mainly opened slow shops to build core capacity to be able to 'break out' in 2020. The Coffee House's plan is to open 100 more shops in 2020. still open and self-operate, not counting franchising.
In the retail segment, in the first 5 years, startups must build a stable system, as well as every 3 years need to upgrade shops whose concepts or locations are no longer suitable with market tastes and orientations. general of the business", Mr. Vo Duy Phu – Commercial and Marketing Director of The Coffee House, shared with us why this business suddenly slowed down like that.
With movements such as launching the campaign "From farm to cup", Go Green or Workshops on this industry, it seems that The Coffee House wants to position itself as a coffee chain representing the Vietnamese coffee industry. Nam is not just a chain of coffee shops selling coffee.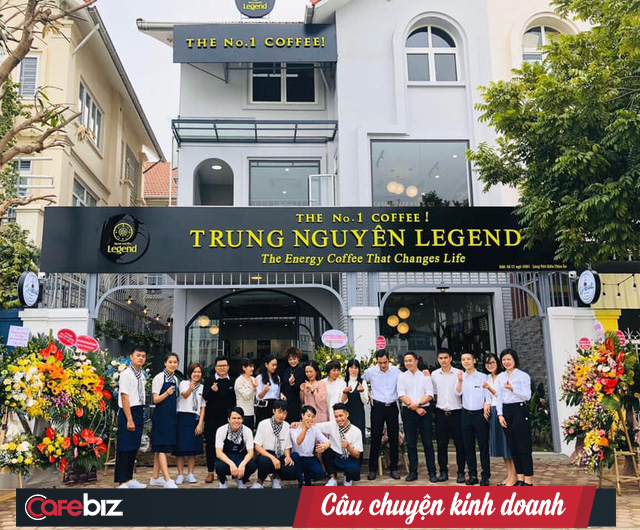 Trung Nguyen Legend's newest store in Ha Dong - Hanoi.
For Trung Nguyen, because they lost the opportunity to develop the Trung Nguyen Legend chain when they had to follow the long-standing divorce lawsuit between owner Dang Le Nguyen Vu and his wife, they had to find another way, by launching a chain brand. new coffee E-Coffee.
Officially launched at the beginning of August 2019, with the form of franchising and many other incentives during the initial launch, E-Coffee currently has 154 stores in operation and 400 new stores are promoting to open in the world. 33 provinces. According to Trung Nguyen's representative, "the average new registration speed is 10 stores/day". Trung Nguyen's goal in 2020 is to have 3,000 E-Coffee shops, while Trung Nguyen Legend will continue to develop selectively.
For Phuc Long, 2019 is also a rather special year for this long-traditional milk tea-coffee chain. In January 2019, they officially opened the first store in Hanoi, officially North. And by December 2019, they had 6 stores in the Capital, bringing the total number of stores across the country to 60.
In 2019, Cong's strategy is to focus on attacking foreign markets instead of domestic markets. On this brand's website, Cong has opened 6 stores in Korea and 1 in Kuala Lumpur - Malaysia.
Thus, after Trung Nguyen Legend, Cafe Cong is the second Vietnamese coffee chain that dares to try in foreign markets. In August 2019, Ms. Vo Thi Ha Giang - Communication Director of Trung Nguyen Legend, once told us: "In the past few years, Trung Nguyen Legend has not been able to expand the Trung Nguyen Legend chain to the international market, due to various reasons, including trademark disputes. Trung Nguyen Legend currently has around 10 stores overseas, mainly in Asia, including Japan, Singapore and Thailand.".
The Coffee House also confirmed that they are still focusing on the domestic market, and have no plans to go abroad in the near future.
With the calculations of the pure Vietnamese coffee chains as well as the determination of the foreign giants both new and old, the battle in the coffee chain market in 2020 is expected to be even more fierce in 2019. Most likely, The battlefield will move to suburban districts in big cities and small provinces.
According to Young Intellectuals