On September 26, Bosch Vietnam and Dong Nai Provincial People's Committee signed a Memorandum of Understanding to cooperate in the field of training and developing high-quality human resources, in order to meet local requirements in the revolutionary period. Industry 4.0.
The goal of the agreement is to create close cooperation between businesses and stakeholders in order to support vocational education institutions to have the opportunity to access 4.0 technology, from which vocational education institutions can able to absorb, master, exploit and effectively operate the advances of the Industrial Revolution 4.0.
This agreement also aims to facilitate close cooperation between vocational education institutions in Dong Nai province and Bosch Rexroth in the field of training and developing high-quality human resources.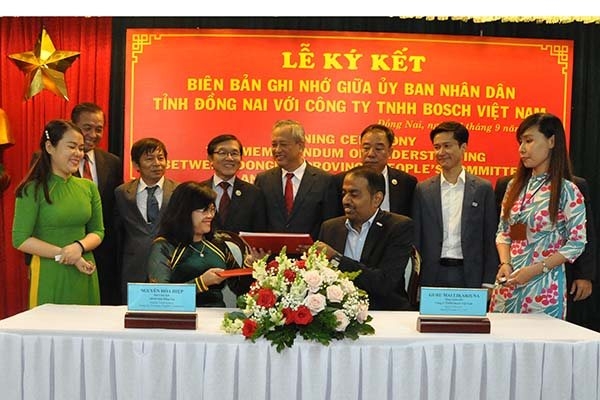 Accordingly, the parties agreed to closely cooperate with each other in the field of training and the I4.0 program, including: training and fostering the teaching staff of vocational education and training institutions in the province in public knowledge. Industry 4.0 and Bosch Rexroth's strengths such as automation, mechatronics, pneumatics - hydraulics...; Update and foster new technology knowledge. Training activities are mainly in Dong Nai and advanced training can be done abroad if necessary.
In addition, supporting schools in building and adjusting training programs according to the industry 4.0 model, integrating industry 4.0 skills into training programs; or organize seminars to disseminate, provide information, and share knowledge to raise awareness about industry 4.0.
Mallikarjuna Guru, General Director of Bosch Vietnam, said that catching up with trends and applying advanced technologies to production, training, etc., became an important factor to increase the competitiveness of enterprises. in the digital age. With a deep background in drive and control technology, and practical application experiences, Bosch wishes to impart this knowledge and technology to students/students in the most complete and practical way.
Bosch has a head office in Ho Chi Minh City, with branch offices in Hanoi and Da Nang, and a powertrain solutions factory in Dong Nai province to manufacture continuously variable transmission (CVT) belts in car. In addition, Bosch operates a research and development center for technology and enterprise solutions (Robert Bosch Engineering & Business Solutions Vietnam Co., Ltd.), as well as an Automotive Technology Research & Development Center. cars in Ho Chi Minh City.
Le Hoang
* Source: Saigon Times