Despite his great efforts at work, Nguyen Van Tuan (born 1986, residing in Yen Ho commune, Duc Tho district, Ha Tinh province) always feels that life in a big city like Ho Chi Minh City is too suffocating. Tuan feels his passing day is like a programmed robot: in the morning he goes to the office, at noon he stays at the construction site, at night he goes back to the motel room. Working hard, but the income is only enough to live through the day.
While studying and working in the city. In Ho Chi Minh City, Tuan was allowed to visit some cricket farms. Through research, realizing that the cricket was easy to raise, Tuan brought it to his room to try it out to learn and gain experience.
Feeling that cricket is his future, Tuan did not hesitate to quit his job in the city and decided to return to his hometown to set up a career.
After getting married in 2016, Tuan invested in a cricket farming facility in his hometown with an initial cost of several tens of millions of dong. Initially, Tuan invested to try 2 cages, each cage has an area of 1.2 x 2.4m. Enterprises selling seeds also commit to buy back commercial crickets.
Although crickets are easy to raise, have few diseases, but have poor resistance, are very sensitive to chemicals, and are allergic to the smell of smoke, so Tuan pays special attention to the cricket's living environment. With many documents, Tuan has manually created cages that are quiet and cool enough to help crickets grow quickly and grow quickly.
Tuan also makes use of food available at home, locally water spinach, cassava, spinach, sweet potato and rice bran, corn flour, green beans ...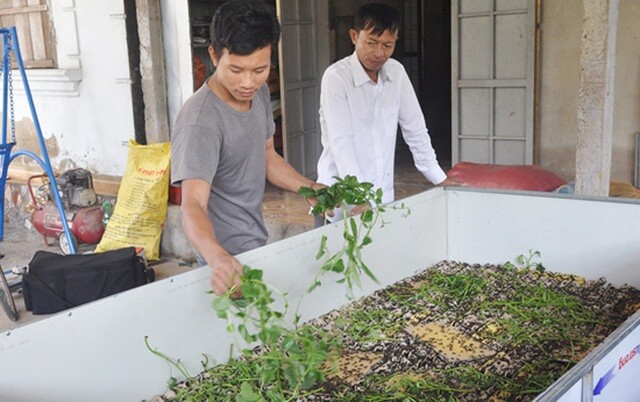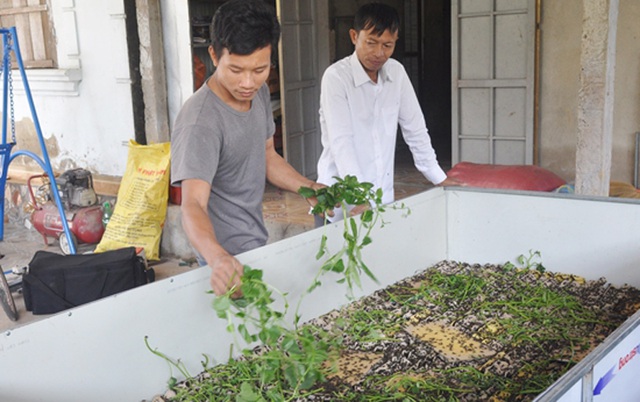 The results of the first generations of rearing, though not yet large, are enough to help Tuan confidently conquer the adopted children in this country where no one has raised them yet. Immediately after the first 2 experimental breeding batches, Tuan boldly replicated it to 6 cages. Each cage after 45 days of rearing will yield about 40 kg of commercial crickets.
Currently, every month, Tuan exports to businesses under the commitment of at least 60 kg of commercial crickets. In addition, Tuan's cricket products are also bought by some restaurants and people.
"Each cage after 45 days of farming will yield about 40 kg of commercial crickets, the current selling price is 140 thousand VND / 1 kg. Calculating for each litter, my family earns over 30 million VND. Excluding expenses, each day gives an income of over 500,000 VND from a cricket "- Tuan calculated.
With a good income compared to the income in his hometown, the work is not heavy, and he has a relaxing and cozy time with his family, Tuan finds life more peaceful and wonderful.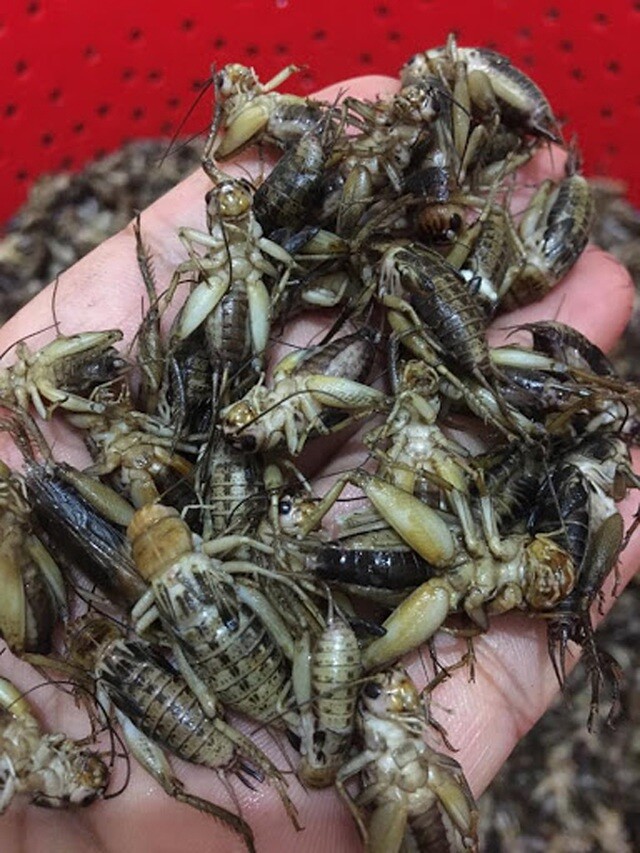 "Looking back at the past days in the city, I see that the choice to return to the countryside is reasonable. I have both an income and a feeling of relief, "- Tuan shared.
To the people, especially young people in Yen Ho, Tuan is a likable and kind person. Many people come to visit, learn to raise, Tuan does not hide his job, ready to share his experience.
According to Tuan, raising crickets does not take up much space, and does not pollute the environment. The survival rate of crickets is very high, with few diseases, farmers can breed themselves. Crickets only have the disadvantage of biting each other and eating each other, however, if fed enough, this risk will be limited.
Farmers should note that the food for crickets must be clean and should not be contaminated with water. If it is favorable and grows well, it can be harvested after about 45 days, in winter, the farming time may be longer. A few days before harvesting, farmers should stop feeding vegetables and only give green bean powder to clean the abdomen. Unlike the southern region, the weather in Ha Tinh is quite suitable, so there is no need to perform misting.
Mr. Tran Van Tien - Vice Chairman of Yen Ho Commune Farmers' Association said: Mr. Tuan's cricket farming model is highly effective and easy to do. This is a new economic way in the commune, bringing high income for farmers.
In the coming time, the Commune Farmers' Union will continue to monitor, review and propose to his superiors so that Mr. Tuan can enjoy the loan policy and expand the model. At the same time, bring members to visit, learn how to raise crickets, to open up new directions in local economic development.
ha Phuong