FWD signed a 15-year exclusive insurance distribution cooperation contract with Vietcombank and acquired the Vietcombank - Cardif Life Insurance joint venture.
The cooperation signing ceremony took place on November 12 in Hanoi. Mr. Huynh Huu Khang - General Director of FWD Vietnam said that cooperating with Vietcombank will bring the group's business activities to the next level. insurance in Vietnam to a new level, and at the same time help businesses build a leading insurance-banking model in the region.
According to Bloomberg, the value of the cooperation is expected to reach one billion USD, of which 400 million USD will soon be transferred to Vietcombank's account. This is a part of the transaction of transferring capital contribution of this bank at Vietcombank - Cardif joint venture.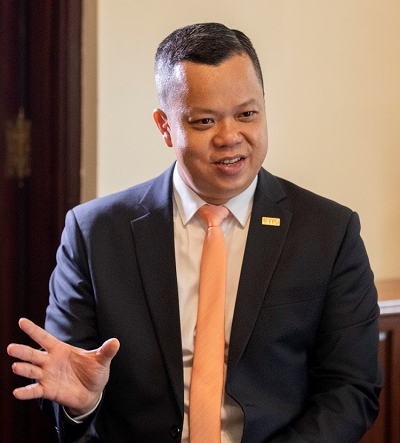 In Asia, FWD Insurance Group has extensive experience in M&A deals in the field of bancassurance. Bancassurance partners of this group include HSBC (Malaysia), Commonwealth (Indonesia), ICBC (Hong Kong), Security Bank Corporation (Philippines) and recently Siam (Thailand).
Although it has only entered the Vietnamese market for three years, the company has quickly cooperated with two commercial banks, An Binh Bank and Nam A Bank. Cooperating with Vietcombank, the leading commercial bank in Vietnam with a system of more than 550 branches, transaction offices and 18,000 employees across the country, helping to increase the reputation of this insurance group.
Mr. Huynh Huu Khang said that Vietcombank is an ideal partner for businesses to accelerate their development strategy in Vietnam. This cooperation opens up a great opportunity to access customer segments, the bank's extensive distribution network established 60 years ago.
"This is an opportunity for FWD to bring simple and understandable life insurance products to many customers and contribute to changing people's perception of insurance in Vietnam," said Mr. Khang.

Through this cooperation, Vietcombank is expected to quickly enter the top of the bank with the largest insurance revenue in Vietnam. And FWD rose to the top of the leading insurance companies in the field of bancassurance in Vietnam and the whole Asia region.
Experts say that there is a demand for these products insurance Life expectancy in Vietnam is increasing day by day due to strong economic growth and strong growth of middle class. In that context, FWD has a product portfolio that is simple, easy to understand and suitable for customers' needs, while Vietcombank has a nationwide distribution system. Both units are strategically focused on customer service and are committed to leveraging technology to provide customers with the best products and services.
Minh Anh
* Source: VnExpress