Standing in the middle of a series of slogans "We can" of the Take-off Gala program at the end of 2019, famous professor in the US Truong Nguyen Thanh - currently Vice Rector of Van Lang University (Ho Chi Minh City) shares his own experience, when young people, like many others, are ready to trade their health to pursue a career.
Young people sell their health to pursue a career, the hardest physical work is… going to the toilet and the doctor's warning
"During many years of focusing on scientific research and teaching, I have built myself a brand and a foothold in the science village. But one day, I sat in the doctor's office at the age of 51″.
"The doctor looked at me with worried eyes and said: "I have really bad news for you. Given his family history, his father died of a stroke at age 48, his mother died of diabetes and liver disease at age 62. I am 51 years old this year, and my blood sugar is very high"", GS. Thanh recounted.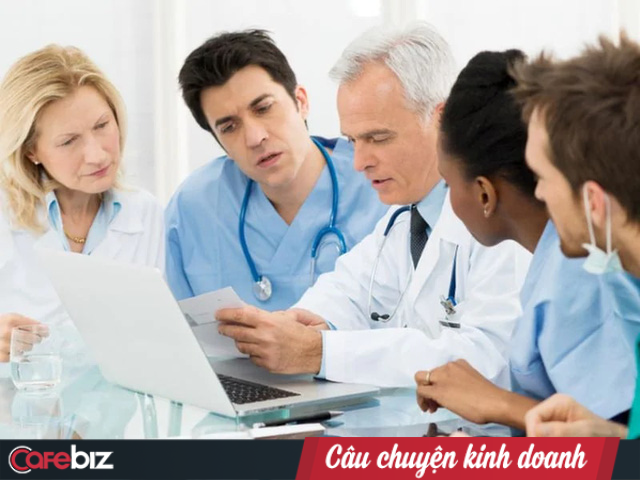 With markers of very high blood cholesterol, very high blood pressure, plus a family history, Prof. Thanh was told he was at risk of a stroke at any time.
"I left. Sitting in the car for thirty minutes in shock, unable to drive. I sat there holding the wheel, thinking that if I had a stroke then my life would be fine, but my baby was young, would he live?"
There is a study that if a person is able to do 4 dozen push-ups, the risk of stroke is very low. I tried push-ups. Only 8 pieces. 8 and 4 dozen is far away."
"For decades, the heaviest work has been to use the head. The hardest physical work is… getting up from the desk and going to the bathroom. People who work in an office environment can understand this", Professor Thanh said.
Sports, which he has not noticed for decades, is the safe zone of the professor who devotes all his time to work. But standing on the threshold of death forced him to change, in the hope that if he exercised, he might be able to accompany his son when he grew up.
"I went online to look at scientific studies on exercise. There is a study that if a person is able to do 4 dozen push-ups, the risk of stroke is very low. I tried push-ups. Only 8 pieces. 8 and 4 dozen is far away".
"At that point, I had to put my hopes up. Hope, not delusion, that next month if I do 9 push-ups, next month do 10, and if I work hard, I can achieve my goal.", GS. Thanh said.
Don't fall into the POWERFUL mentality, fail the exam thinking it's because you're stupid, the startup fails because you're a failure, your life will be over!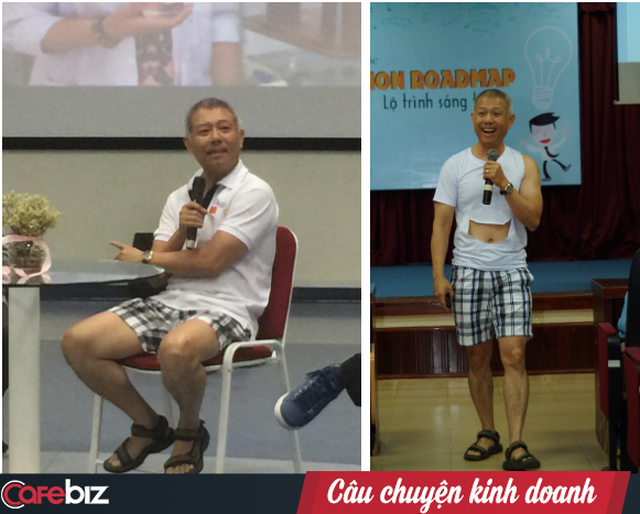 Professor Truong Nguyen Thanh is famous for wearing shorts to lecture the students.
Professor Thanh also expressed that it was this hope that motivated him to get up in the morning to exercise. Exercising for a man in his 50s, decades of not being active is very tiring, very painful. And he always motivates himself from hope for the future, believing that he will be able to do 40 push-ups a day and will be out of danger of stroke like his father.
He also warned of a psychological phenomenon, a series of psychology that can be called "toxic" when faced with difficulties - Psychological despair, helplessness.
If I accept that I'm old then there's only way down, like if you fail your exam and you think you're stupid, nothing will change.
Two years ago, after a hike in the mountains, he woke up in the morning and felt his back was sore, and when he bent down he heard a loud thud. "Looks like a tendon in the back muscle is broken', he thought to himself. And because of the pain, he had to stoop for two weeks.
"My wife would nag me every time she saw me go: "My husband, you're old, you're almost sixty years old. In Vietnam, people in their sixties started walking with canes. Husbands need to be careful, don't do anything heavy." I think and learn, this is called the psychology of helplessness. That is, if I accept that I am old, then there is only one way down, like if you fail the exam, and you think you are stupid, nothing will change."
"But you think it's just one test, maybe because you didn't prepare enough, next time prepare better, you can pass. Or you go to work to start a business and fail, you think you are a failure, then your life is over. You can't change anything anymore. But if you think: I didn't do it well the first time, I can do it next time, the story will be different", Professor Thanh said.
The back pain incident, Mr. Thanh with a stiff body, could only bend at an angle of about 45 degrees.
"I did not fall into a helpless mentality. If I didn't think like that, I wouldn't be able to do it today", the 59-year-old professor said while "splitting" his legs straight on the stage.
"Before, I could only reach here (he bent at a 45-degree angle), but couldn't reach here (he bent over and touched the tip of his foot). That was 2 years ago. It's cold, you also want to know how many push-ups I can do now?".
The professor who came to America in the 1980s took off his vest on stage, inside is a blue polo shirt, and bent down to do push-ups to the sound of people in the stands.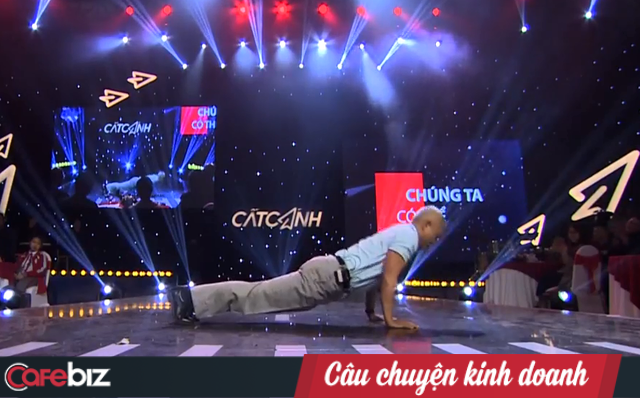 The person who saw that he was about to enter the U70 stage did 50 push-ups on the stage.
"If an old teacher who is about to turn U70 can do so, all U60, U50, U40, U30 are capable of doing so. And when every Vietnamese person can do such a miracle, the country of Vietnam will do miracles.", Professor Thanh said.
However, he also notes the "I can" will. When he was young, like many others, he often shared with friends that the most important thing was to have an "I can" will.
"But near the turn of U70, I have experienced that: Life has too many things to do, but a day only has 24 hours. So it's more important to know how to say "I can, but this I don't do""", Professor Thanh shared.
That is, not only knowing how to break your own limits, step over your comfort zone to say "I can", when the "can do" things are too much, you need to know what to prioritize in life and know how to talk. "No" to spend time on things that I find more meaningful.
According to Young Intellectuals