How to sell iPhone, iPad, MacBook to customers even if they don't have that much money? Let's take a look at Apple's 10 master sales secrets to learn.
In 2019, Apple For the ninth time in a row, it topped Forbes' list of the world's most valuable brands. At the present time, the brand value of "apple defect" is about 205.5 billion USD, much higher than Google, Microsoft, Amazon and Facebook. This year, the iPhone 11 launch was streamed live via YouTube, attracting up to 5 million viewers.
How does Apple attract so many customers and why are they willing to pay large sums to buy Apple products even if they are not really rich? Let's take a look at some of Apple's master sales tricks over the years.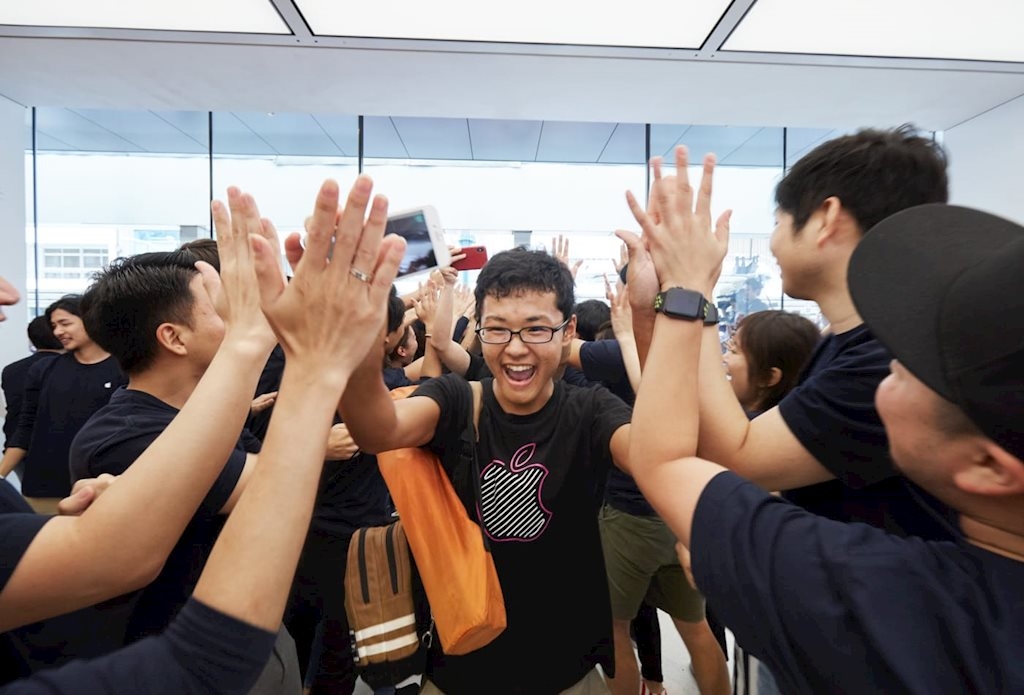 "Lazy" customers are an advantage of Apple
iPhone and MacBook are especially easy to use because the average user is very "lazy". They don't want to download, install or set up anything, that's why Apple does everything for them. They just come to buy and use it. Users are "addicted" to this simplicity and eager to buy the next iPhone. In addition, Apple devices are not compatible with any other operating system, so when they buy an iPhone, they will want to buy a MacBook, Apple Watch, AirPods.
iPhone becomes obsolete faster than other devices
When the new iPhone comes out, Apple users will want to buy it right away because they realize that the old iPhone is no longer fast. For example, it doesn't load Facebook fast enough, the screen isn't big enough for entertainment… In fact, users are influenced by both psychological and marketing factors. When updating to a new operating system, the old iPhone starts to work more boring. After the new model came out, they noticed every single bug on the old machine, even if it wasn't a big deal before. This is the reason why they want to buy a new machine immediately.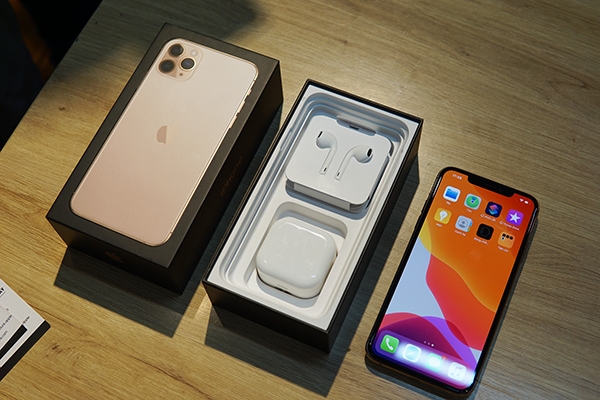 Apple doesn't sell products, they sell stories
Apple's strategy is to create the greatest possible effect around the new smartphone. No other brand can do this like Apple. Even the fact that the three-lens camera cluster on the iPhone 11 is manipulated is the result of a methodical strategy.
Every Apple Store emulates Fifth Avenue
Apple has very high requirements for Apple Store locations: near a transit station, located in the most popular or most beautiful location in the shopping center. The design is always minimalist Scandinavian, using only three materials: stainless steel, natural wood and glass. This idea comes from Apple Fifth Avenue in New York (USA).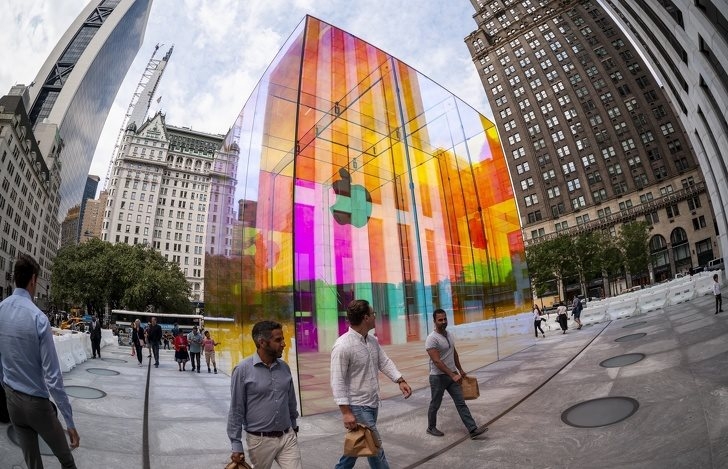 The floor is bare for a reason
When you enter the Apple Store, you will see a large empty space inside the store. Products only take up a quarter of the room area, the rest is for Genius Bar, a special consulting area where support staff works. They are here to help customers forget about time, find out their needs quickly and accurately, encourage them to buy something. There is no cashier or cashier desk. You can pay by card with any employee and are usually limited to cash. You are free to walk in the Apple Store all day if you want. For many Americans, it's normal to visit an Apple Store just to surf the web or check email.
Principle "APPLE"
APPLE principles include: Approach, Probe, Present, Listen, End. Initially, staff will approach customers gently with a friendly smile (usually takes at least 10 seconds). Then they will ask a few questions. Next, they find a solution that meets the customer's needs (it doesn't need to be the most expensive, just the most suitable). And yet, they will listen to the customer again and ask more questions. The perfect ending will be the customer withdrawing money to buy the product.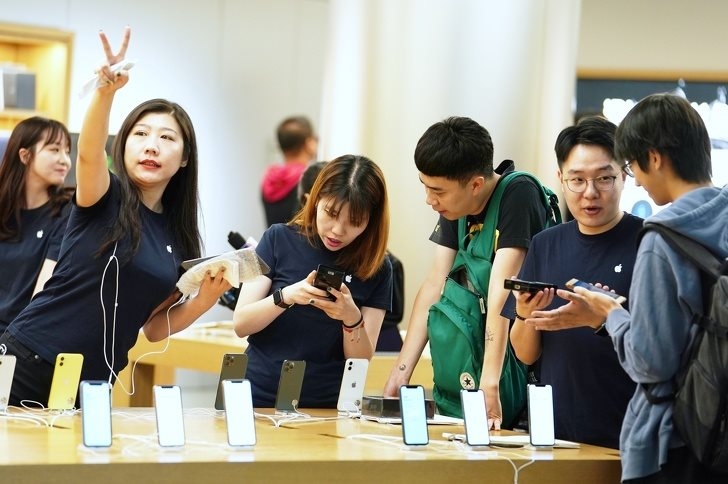 Employees are not allowed to show where to put iPhone
Apple Store employees are not allowed to point out product locations to customers. The company believes that customers don't like someone pointing them somewhere. This is why employees usually accompany customers to where they need to be in a polite manner. Here, they will help customers understand how the product works. If that's not enough, they also give one-on-one instruction to guests, not only on how to use it, but also on other lessons such as photo editing, video editing, etc. Sometimes, Apple also offers a free course. Although it does not bring in revenue, it will increase user loyalty.
Uniform Resource Locator
In 2015, Vice President Angela Ahrendts decided to make new uniforms for employees and chose blue as the main color, pushing the logo "missed apple" from the middle of the shirt closer to the heart. The Apple Store uniform features t-shirts, collared tops, and long sleeves. They are also environmentally friendly using 10% recycled materials. However, now Apple employees switch to black or dark blue.
MacBooks often appear in movies, but Apple doesn't need to pay
In 2011, Apple products appeared in 891 movies and TV shows. Apple's chief marketing officer, Philip Schiller, confirmed the company has staff dedicated to collaborating between Apple and Hollywood, promoting products on the screen. However, Apple never spends money on this, and the manufacturer still chooses Apple devices, not hiding the company logo. Product presence Apple make the film more "elite".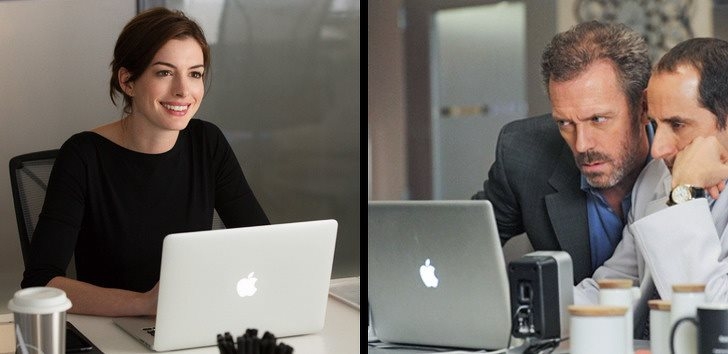 Du Lam (According to Brightside)
* Source: ICT News