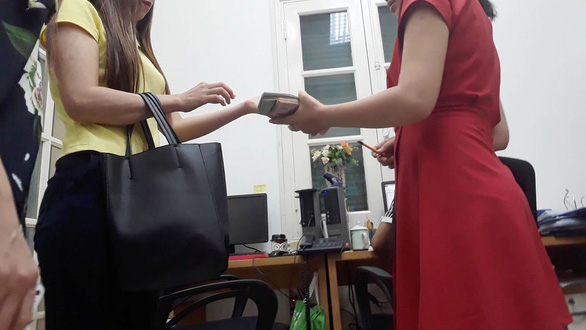 Many creditors have to cut a percentage for their debtors to recover capital, even a part of it – Photo: TAM LE
At 8:00 am on the last day of the year, NT Co., Ltd in Nam Tu Liem district, Hanoi opened early. A corporate accountant came to the bank before 8am. The remaining three financial staff, the one who called to urge, the one who checked the bills, the one who talked to the boss full of worried.
I hired a good accountant and put me in charge of the public in debt, to monitor and propose solutions as soon as the debt reaches an alarming level. But this frustrating problem can only be reduced to a small extent.
Mr. TRUONG NAM MY
Waiting every minute for the money to come back
"What time does XC say they transfer money?" – Director Nguyen Xuan Hien asked the accountant. "They reported early in the afternoon, and the XM Company said they were waiting for the money to come back like me, maybe the day after tomorrow" - Ha employee replied. "I urge them to hurry up, Tet is the best," sighed the director...
In the accounting room, the voice of the phone call was pounding, sometimes emotional, sometimes grumpy. "They owe it, I can't claim it. I owe it to someone else. But we owe them swearing calls, so sad!" – the sullen accountant.
One person ran to the director's office to report: "The VS Company said that they pay cash through Saturday, but they don't transfer money". This woman just finished the exchange, another person said: "The accountant of the other company said that I cut 10%, then they transferred 450 million to me".
It took a while to discuss, the director and accountant decided to cut 10% to receive the debt payment, the amount the company needed at the end of the year.
Mr. Hien said last year one place also owed his company 4 billion dong. For the whole month before Tet, all employees have to ask for money, and finally have to give them a percentage to pay in installments. Large, difficult-to-negotiate debts will be convincingly called by the direct director, sometimes tough, sometimes soft, humorous.
"Every year end, vicious circle dues – Paying this debt makes us very tired" – Mr. Hien lamented. His company NT specializes in manufacturing and supplying construction materials, including stone of all kinds, crushed sand, raw materials for cement and concrete factories...
Hanging a debt collection banner is not enough
Can't make phone calls, text messages don't answer, even go straight to the company or home to sit and wait… but those are still friendly debt collectors anyway. Many people even hang banners, hire lawyers, even rely on professional debt collectors...
Mr. Nguyen Van Lan, director of a branch of a company that specializes in rolling shutters, spends every year with debts.
He lamented: "The company mainly only owes materials, almost every construction party owes each other. The general contractor owes the subcontractor, the investor owes the general contractor, creating a vicious circle. The initial solution is often "terrorist" by phone, texting urging. If it is not effective, continue to let the accountant come to the company to see how the commitment is to repay the debt…".
Mr. Lan said that businesses that do good business often avoid taking tough measures, unless they "break the battle". In the case of hiring "gangsters", only places for loan sharks. Most genuine business people hire lawyers. The debt collection method is also professional and scientific.
There are debt collection groups that are all female, with soft voices and sometimes easy persistence successful.
Mr. Le Dinh Thiem, deputy director of a construction company, said that for many years he was owed 2.9 billion VND by a partner. Through the relationship, he knew that their company had been paid by the investor, but the director took the money for personal consumption and bought real estate.
Many times for employees to come to claim, but only to drink tea and then return empty-handed, he had to print a debt collection banner hanging in front of the door. He even had to rely on a professional debt collection team. They included a male lawyer and two female assistants who came to see him to discuss the contract with the division of 40/60%.
Seeing that the percentage was too high, he decided to hire a "private detective" to track the home address after this person moved to apply pressure. In the end, he also had to pay in installments.
"The lesson for me is to never be so excited about debt for supplies. In the contract, I noted that a few hundred million must be paid before providing further" – Mr. Thiem confided.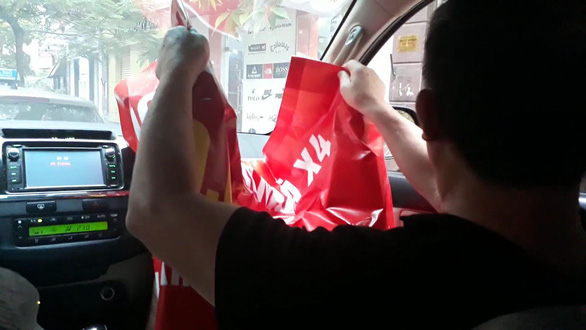 Print banners hanging to collect debt but still difficult to collect – Photo: TAM LE
Take sleeping pills to relieve stress
Mr. Truong Nam, owner of a packaging paper business in Ho Chi Minh City, also complained throughout the last month of this year that he often had to… take medicine to sleep.
"Doing decently, debt overlap is common, and our business must accept this rule of the game. But in fact, there are many bad debtors, they have money and still do not pay, just slouch to take advantage of partners' capital to make a profit for themselves "- he pressed.
Mr. Nam currently has more than 10 bad debtors, some due to difficult business and many people who have money and do not want to pay. Meanwhile, he is under intense pressure from banks for loans to invest in factories. There are famous banks that will sell the real estate he mortgaged for them forever.
"At the end of this busy year, I have to go to Dong Nai and Binh Duong, and go to Can Tho to collect debt. They are too sluggish. My accountant is still being bullied" – Mr. Nam complained that he went to collect debt but had to sweetly invite the debtor to… the restaurant to beg.
Someone hid, he had to park the car with the driver in front of the door to wait for the "debt boss" to come back and "pick him up" to the restaurant. Just last week, he went to Can Tho to collect a debt of 3 billion VND and broke his promise 7 times.
"I went to collect debt, but I had to bring a pair of Chivas wine and a box of oats as gifts for them" - Mr. Nam told the debtor to eat and drink, then gave gifts and begged. In the end, he even gritted his teeth and cut off 8% of profits to get the debtor to nod and promise to repay the debt, but the whole week has not yet seen them transfer any money.
More than 10 billion dong of unclaimed debt, while being "smitten" by the bank and looking at the "sad" face of the employee who did not have a bonus at the end of the year, caused Mr. Nam to suffer a lot of stress. He confided that going to debt collection to meet a business partner had trouble making him worry, but meeting someone with money and being inactive made him worried, angry, and stressed at the same time.
"I don't have money to turn. They just upgraded the life of luxury cars and big houses but refused to pay their debts." Mr. Nam said.
Some friends advised him to ask a professional debt collector, but he did not dare to think about it. Because not only the cost is too high, even "double sawing" can also arise many complicated things unpredictable…
Only a few days left until Tet, but the morning coffee table is full of worries. Mr. Nam has 10 billion dong in bad debt, his friends are also in a vicious circle of debt collection and are in debt.
Mr. Tran Van Hien, owner of a building materials shop in Binh Tan district, is also contorted because he still has nearly 4 billion VND in debt from the contractor for materials. not allowed.
Mr. Hien looked for a contractor, but that hand said the investor had not paid. But when he called the investor, he heard them say "the payment is almost over, only the warranty money, but nothing more". He turned to track down the contractor, when the phone was out of coverage, when "yeah, yeah, I'm busy", then shutdown!
Like so many times before, every year they "muck" in this miserable situation, they secretly promise: next year they will definitely not give such debt again. But then they all "dance like careful", because doing business now without giving debt to each other can't be done...
Authorities are not interested handle
According to some entrepreneurs, many people currently do not trust the transfer of financial contract violations to the authorities for handling.
"It's very complicated, it takes time and effort to travel, but many places don't even want to accept it, even after processing it, you still can't get your money back," said a creditor.
They want the authorities to pay attention to handle this issue to contribute to a healthy economy. Because bad debt is a "poison drug" that kills businesses. The slower the bad debt is resolved, the more painful death will be.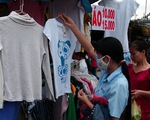 Workers – the joy of Tet holiday – Lesson 2: The burden of debt