Production team: JAYbranding
Who is that person episode 2: The heroine chose the wrong foreign gay guy
Although she was unsuccessful in her journey to find the right guy, the female lead Diem Quynh had the opportunity to meet many new friends after the program.
Who is that episode 2 – season 3 just aired with a panel of advisors including guests Midu, Trinh Thang Binh, Mac Van Khoa and Miss Huong Giang. The female lead in this episode is named Diem Quynh. Having a solid career and self-control in life, so in love, Diem Quynh has only one requirement for a boyfriend, which is loyalty. However, happiness did not smile on her yet. Diem Quynh hopes to find a suitable single man to help her forget the pain of the past.
Diem Quynh - the beautiful female lead in episode 2.
The appearance of the 5 boys continued to make the stage explode. After the introduction, Diem Quynh decided to choose Nam Pham because of his coldness towards her. However, contrary to the advisor's comment, Nam Pham appeared in blue throughout the stage. "My mother raised me alone, but I have not taken care of my mother much. I locked myself, I haven't known anyone in 3 years. I feel that I have not been able to cover for people. Recently, I want to open my heart to find the right person", Nam Pham said about his mother and also explained why he did not look at the girl from the beginning of the program.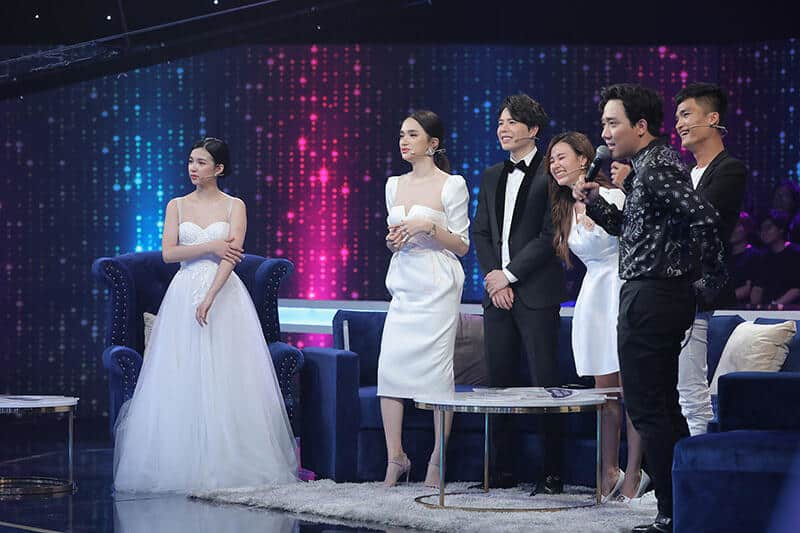 The funny mentors make many people excited.
Farewell to Nam Pham, the remaining 4 boys continued to be transformed into a guy who just went out with his lover but had to please his little sister. The mastery in every act of acting next to a baby and the coldness with the co-star made the advisory board confirm the boys' colors.
"I would like to choose Mr. Nghia Binh", Diem Quynh's second closing sentence shocked the advisory board. Claiming this guy is purple, the heroine argues for her choice. However, once again, luck did not smile on the female lead, Nghia Binh showed up with the single blue palette.
Immediately, Midu immediately took the opportunity to "listen": "Do you know that the earth is round? If the heroine doesn't choose, then there's Du." Although very embarrassed, Nghia Binh still did not forget to send happy wishes to the female lead before leaving the stage.
In the final round, despite being enthusiastically advised by the advisory board, Diem Quynh ended up taking the risk to choose to give flowers to a foreign guy, Luan Vu. As expected, Viet Hoang appeared in full red with a beautiful girlfriend. Not forgetting to give advice to the female lead, Viet Hoang believes she will find happiness.
The heroine decided to give flowers to Luan Vu - an American guy.
The next guy, Hoang Phuong, kept changing colors and eventually stopped at purple. Besides, Hoang Phuong's story is as surprising as the reveal. Appearing with him also has a young daughter. Sharing about himself, he said: "This is my daughter, it was an incident, but please keep information about her secret. Coming to the program, I think it's time to be brave enough to be true to yourself. I was grateful to my middle school teachers, every time I met them, they asked me why I didn't get married. I don't want to lie to the teacher, even though the lie is harmless. I myself have lived in poverty, so everything is for my children, for my family."
The touching story of Hoang Phuong and her daughter.
The last fragile hope of the female lead for the guy Luan Vu. However, the guy showed up with a sudden blue-to-purple color that made the advisors and the female lead faint. Sharing about himself, Luan Vu joked: "I am Portuguese-American and very passionate about Vietnam. My love is also Vietnamese". The guy also revealed that he had a lover for 4 years, got married and moved to the US to live, but after only 3 years, he divorced. "First I want to apologize to you, because you chose me. But it's not wrong because I can be a sister. I will add a friend", the guy told the heroine.
Diem Quynh was confused when choosing the wrong gay guy.
Who is that person episode 3 will continue to air at 8 pm on May 22 on HTV2 with guest advisors including Miu Le, Anh Tu and Anh Duc.