The hotel "unicorn" startup from India said it will invest 50 million USD in the Vietnamese market.
Hotel chain OYO has just launched the Vietnamese market with the first 90 franchised hotels in 6 provinces, including Hanoi, Ho Chi Minh City, Da Nang, Phu Quoc, Vung Tau and Nha Trang. OYO plans to invest more than 50 million USD in Vietnam in the coming years, creating about 1,500 direct and indirect jobs.
"Vietnam is an important market for us. We aim to expand our business to 10 cities with more than 20,000 exclusive rooms by the end of 2020," said Mr. Dushyant Dwibedy – General Director of OYO Vietnam. .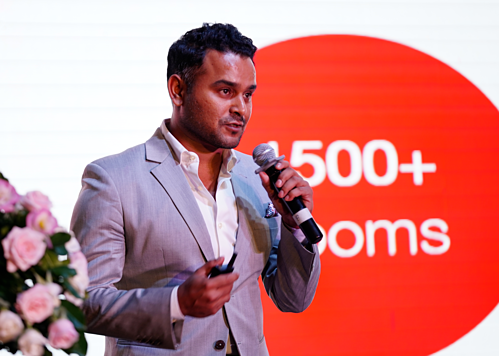 Established in 2013, OYO operates in the form of a franchise, in cooperation with mid-tier hoteliers. Partnering hotels will receive training on service standards, use of OYO management software and applications, and access to the company's online and offline guest source. In Vietnam, this startup targets hotels with less than 100 rooms and sets an average price of about 400,000 VND per room per night.
"Vietnam's tourism industry has grown steadily over the years and has contributed significantly to the development of the country. Vietnam is expected to welcome 103 million guests in 2019, which is a great opportunity for us to build a sustainable hotel and resort ecosystem," said Anil Goel – Global Product and Technology Manager. of OYO Hotels commented.
Vietnam is expected to welcome 103 million visitors in 2019.
According to information announced by OYO, this is the 5th largest hotel chain in the world, the largest in South Asia, the second largest in China and the fastest growing in the segment of franchising, hotel rental, and housing. , living space.
Globally, OYO has more than 23,000 hotels and 46,000 motels. Currently, with the participation of Leisure Group, the company's branded hotels are present in more than 800 cities of 80 countries, including: USA, China, Europe, UK, India, Malaysia, Indonesia, Philippines, Japan and Middle East region.
This startup raised a billion dollars from SoftBank, Lightspeed, Sequoia and Greenoaks Capital last September and is valued at up to $ 5 billion. At the beginning of the year, Founder and CEO OYO – Ritesh Agarwal revealed that he decided to increase the budget to 200 million USD to conquer the Southeast Asian market, instead of 100 million USD as before.
Telecommunication
* Source: VnExpress