Only about 5 minutes after the start of the live video (also known as the livestream), a famous Chinese streamer, Xin Ba account, has sold 42.5 million sets of Whoo Korean skin care products, bringing in revenue up to 400 million yuan ($57 million) on 11/11 Singles' Day. This is information officially announced by Kuaishou, a video sharing platform backed by Tencent, a Chinese technology giant.
For many Chinese, it is an overnight "dream of life" and it is the development of today's mobile society that has created an opportunity for them to realize the dream. With famous global brands, internet "popular" characters, also known as KOLs (social media influencers), become an extremely effective advertising channel. through which, brands will have the opportunity to reach hundreds of millions of Chinese consumers.
Xin's full name is Xin Youzhin, from a farming family. His selling point is that product quality must go hand in hand with value for money customers spend. His communication skills are considered to be typical of the people of northeastern China. This area is very famous because it is home to many actors and entertainers who have a fairly fast speaking speed. The economy here is "struggling" with industrial overload.
"Northeasterners tend to be more open to flexible improvisational communication, so the content they create is very appealing to viewers across the country, even those from the region. nam," said Hao Wu, director of a documentary about the lives of Chinese streamers, which was released in 2018 as People's Republic of Desire.
In the early days of the livestream trend, northeast China was considered a "cradle" of streamers. Many viewers are willing to support them through virtual currency gifts.
In fact, the three provinces of the northeast have the highest number of professional streamers in China, as of 2018 alone, according to information published by social networking platform Momo. Citing official figures, the above report said that as of mid-2018, China had more than 425 million streamers.
And this "piece of cake" is getting bigger and bigger.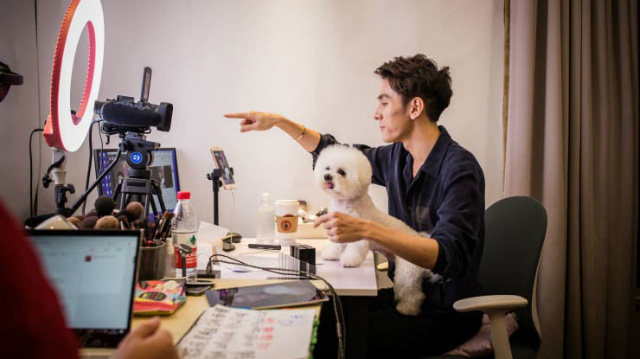 Austin Li Jiaqi, 27 years old, is one of the most attractive beauty bloggers in China. Image: Getty Images.
For Kuaishou accounts with more than 1 million followers, the trading volume through these accounts has increased 9 times, while accounts with an average of about 200,000 followers, this number is even higher. higher: 34 times, Wang Yulin, CEO of Mockuai, a partner of Kuaishou, speaks at a conference held in Beijing, December 17, 2019.
A representative from Kuaishou emphasized that these are only statistics of 3rd parties and did not share anything more about rumors that the company is planning to IPO in the US in 2021 with a small valuation. at least 25 billion USD.
Raise barriers to entry
With positive results, even lesser-known brands seek help from KOLs. However, this form of online sales is still completely overwhelmed by the big names, and the demand for professionalism is also increasing.
About a year ago, videos created by one user could easily gain traction from viewers, but now that person needs the help of a large behind-the-scenes team. , according to Kelvin Zhao, who has 4 years of seniority working for a famous content creation company in Beijing.
"For individual individuals, their heyday is over," Zhao said. He emphasized that the cost to create a good viral livestream video online is even equal or higher than the cost of making a movie broadcast online.
"It will be more difficult to stand out, but not impossible. But your investment in products will certainly be much higher."
According to a report published in March 2019 from TopKlout, a market research company, there are currently at least 5,000 advertising agencies that own multiple multi-channel promotion networks, which are doing the work of connecting the media. KOL with brands, and sometimes support them in the content production process.
Pedro Yip, a retail partner at consulting firm Oliver Wyman, says intermediaries can collect from 10% to 25% in commissions, which includes money to pay KOLs.
"The income of KOLs will depend a lot on how popular that person is in the market," he said. "Often the price can go up exponentially."
Will livestream last forever?
Even for those with a solid footing, job instability remains relatively high.
It's been five years since Wu started following up with a few streamers to gather material for his movie, and throughout the process, he said, their income doesn't seem to have changed much. The growth rate of followers of this type of sales has also reached saturation, when new video platforms such as TikTok have appeared in the market.
"They all have a backup plan," Wu said. "But think about it, those people don't have college degrees. Nor do they possess a better social capital than the average person, they don't know how to run a business. They tried to raise capital to open restaurants and bars, and they all failed."
Even Xin, who has nearly 34.7 million followers on the Kuaishou platform, is self-aware that a livestreaming career won't last forever.
During an event held on the December 12 shopping festival, he said he needed to continue to improve to attract more followers online. He will also try to develop his own product supply chain. However, he also refused to answer further questions surrounding his personal life.