Although net revenue in the third quarter decreased by 6%, the gross profit of Kangaroo water purifier company increased by 36% over the same period thanks to the sale of products with high gross margin.
Consolidated financial statements for the third quarter of Viet Australia Refrigeration Electrical Equipment Corporation (Kangaroo) announced turnover Net in the past 3 months of the water purifier company was VND 501 billion, 6% lower than the third quarter of last year.
However, with a sharp increase in gross profit margin from 30% to 43%, Kangaroo achieved a gross profit of 215 billion dong, 36% higher than the same period last year. The business explains the growth comes from the company's focus on trading products with high gross profit ratio.
In the last accounting period, financial revenue and financial expenses of Kangaroo decreased by 91% and 50% over the same period to 505 million VND and 7 billion VND respectively. The company said the cause was the effect of exchange rate differences, focusing on inventory control, and reducing short-term bank loans, leading to lower interest expenses.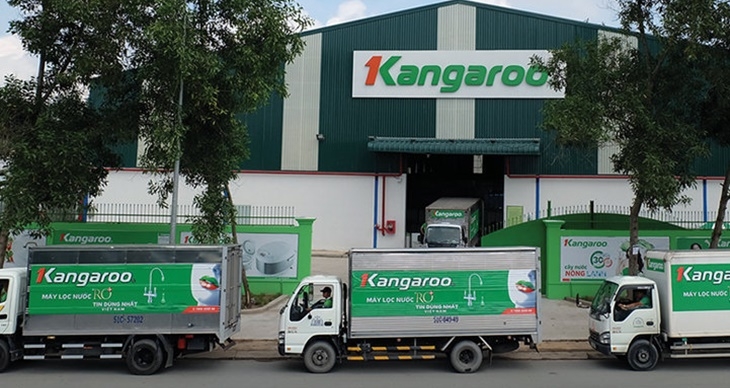 Meanwhile, Kangaroo's selling and administrative expenses increased by 20% and 18% over the same period, reaching VND 166 billion and VND 30 billion, respectively. The company explained that there have been some changes related to sales policy and income mechanism for sales staff.
Specifically, in sales expenses, staff expenses increased from 46 billion VND to 56 billion VND, promotional expenses increased from 39 billion VND to 61 billion VND. These are the two expenses with the strongest increase of Kangaroo.
After accounting for all kinds of expenses, Kangaroo had a net profit of 13 billion dong from business activities in the third quarter. In the same period of 2018, this target of the company lost 14 billion dong.
However, in this period, other income of Kangaroo decreased by 85% from 18 billion dong to 3 billion dong because the discount support from suppliers decreased.
Deducting corporate income tax expenses, Kangaroo reported an after-tax profit of 11 billion dong after the past 3 months, an increase of 175% compared to a net profit of 4 billion dong in the same period last year.
Accumulated from the beginning of the year, Kangaroo achieved net revenue of 1,775 billion dong, up 9% over the same period. Profit after tax of the enterprise is 83 billion dong, higher than the previous year 17%.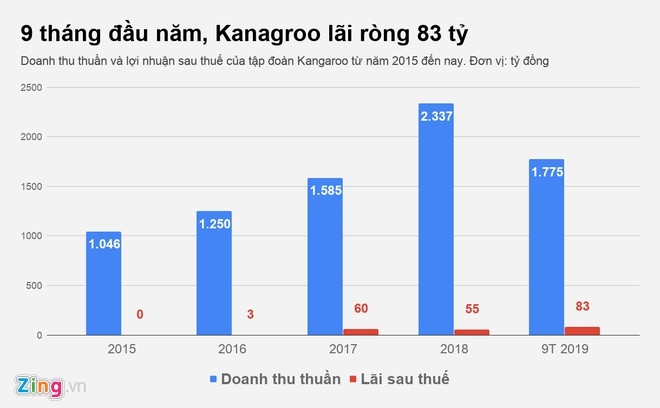 In 2019, Kangaroo sets a target of VND 2,810 billion in net revenue and VND 116 billion in after-tax profit. Thus, after 3/4 time, the water purifier company has completed 63% revenue target and 72% profit target.
Kangaroo was established in 2003, currently has a charter capital of 700 billion VND. The company's main business products are water purifiers, household goods, and kitchen equipment with a proportion of turnover more than 80%.
In 2019, Kangaroo is expected to list on the Ho Chi Minh City Stock Exchange with the expected stock code of KGR. In July, Kangaroo closed the list of shareholders to register for securities and list securities.
The current Chairman of Kangaroo's Board of Directors is Mr. Nguyen Thanh Phuong, husband of Vietnam 2016 runner-up Thanh Tu. Mr. Phuong is currently the largest individual shareholder of Kangaroo, holding 5,88% shares. In addition, he also holds an additional 25% company shares through the legal entity Global High-Tech Import-Export Joint Stock Company.
Vietnamese Germany
* Source: zing News