"Disagreements can happen, but positive arguments and mutual respect lead to more effective work, more cohesive teams." That is Mr. Hien, Sales Director, about the relationship between Sales, Marketing and Trade at Marico SEA. How did the 3 departments work together to execute the X-Men GO launch plan?
Brands Vietnam had a talk with Mr. Duong Hoa Hien, Sales Manager about "ownership thinking" and "empowering" at Marico SEA. Interested candidates can find out more about the vacancies at this.
X-Men GO: Sales' New Weapon
* We are told that X-Men GO is very different from the main X-Men series or X-Men For Boss. How do you and the Sales team comment on this difference?
More than a sales story, X-Men GO gives Sales Team the ultimate "sales weapon". It's been a long time since I've seen such a well-developed product, differentiated strategy, commitment to quality and determination to win. This is a product with high expectations of the company, the responsibility of the Sales team is quite large, but we feel confident, not pressured. Why?
Because Sales has been involved in the product development process since day one. Every few months, we are given test samples, survey samples for you to use and evaluate. Along with the results returned from many other departments, R&D relied on it to improve the formula. I was quite surprised by Marketing's invention, when it came up with a product line of "functional benefits" that went beyond the usual "anti-dandruff" feature. The idea of "Detox" with "activated bamboo charcoal" to help "Remove 5 pollutants" is quite trendy, making it easy for the Sales team to remember, sell, and convince customers.
In addition to renewing the formula, the product's packaging and design were also comprehensively changed. This represents a commitment to being completely different, not simply "adding an anti-dandruff agent to an existing product to make a new product". The angular bottle design, bearing the idea of "diamond slice" of X-Men GO, is different from the previous design of the X-Men and X-Men For Boss lines. Such a comprehensive product improvement makes it easier for Sales to showcase the product and capture the retailer's attention more effectively.
Standing in the current product category, X-Men GO can be seen as a "young adventurer", The most modern, responsible for refreshing the market, following the success of the main X-Men series for "real men" and X-Men For Boss for "successful businessmen".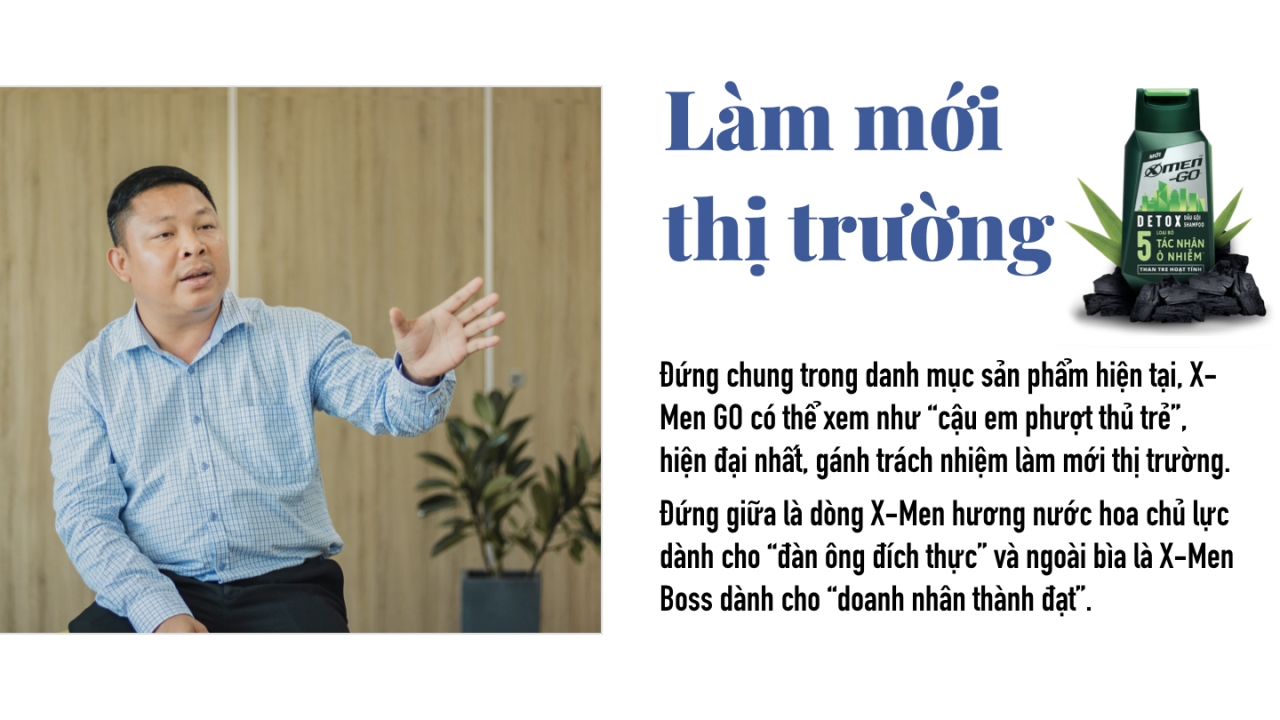 * What did the Sales department do to sell the "Detox" story, "functional benefits" of X-Men GO and not be equated with other "anti-dandruff" products on the market?
In a deeper perspective and updated with more features, X-Men GO gets to the root of dandruff by preventing and "Removing 5 pollutants" from the environment. This is the difference in the sales story that I conveyed to you to see Sales in product launch events in each region.
To show this, the Sales team must actively clarify the functions and product ingredients in the "sales story" of X-Men GO, such as emphasizing the element of "activated bamboo charcoal", the active ingredient " climbazol" effectively treats dandruff but still makes hair soft and smooth, superior to other dandruff treatment formulas, completely new design packaging... Understanding and explaining product knowledge clearly not only helps Sales to sell more effectively, but also helps customers not to confuse the anti-dandruff effect of other products on the market.
Not only relying on the information provided by the relevant departments, the Sales Department also offers its own strategies and plans to promote the sales process effectively and suitable for each customer. statue.
* How did you and the Sales team cover X-Men GO in the launch campaign?
Launching a new product is always a fierce battle. That is evident in the market, on every shelf, not only in a modern channel like a supermarket, but also in a traditional channel like a market or a grocery store. With X-Men GO, the challenge is not in product quality or story. The challenge lies in the speed of coverage, the level of price convincing, and the profit for distributors as well as retailers.
In order for the Sales guys to be more confident when going to the market, the Sales team has combined with the Marketing department and also Trade, Organized many Launch Conferences to spread the fire, share and guide the "sales story". This activity helps the team master the new products of the product as I shared above, know how to overcome questions and convince customers when compared with competitors, with current product lines… All both to prepare you to face difficult situations. Fortunately, all three of our departments always have a harmonious and good coordination with each other.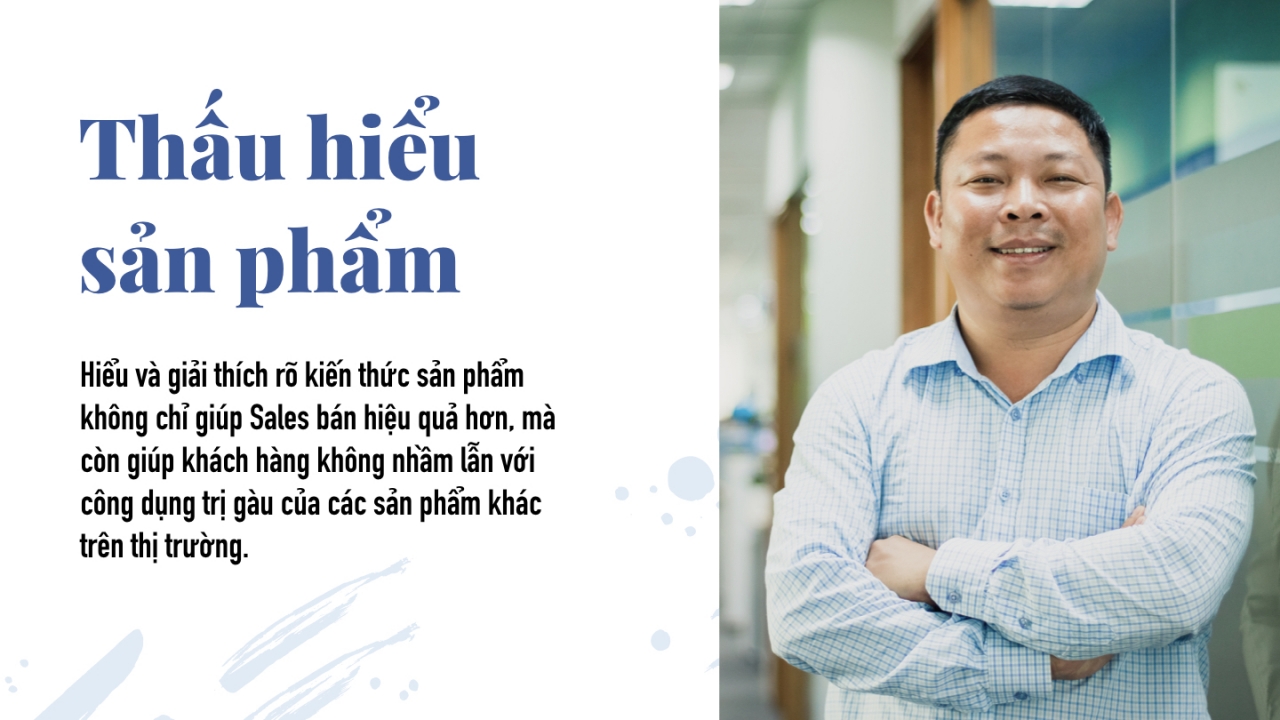 Next, to convince customers, there is not only the sales story, but also the actual product experience, and the profit problem.
One simple strategy is to give samples to retailers and distributors to try before they launch. The Sales team has a budget for this, but Marketing has requested additional support to make sending samples to distribution partners more thorough, efficient and faster.
Marketing also shares communication plans with Sales members through sales toolkits. Thanks to that, you can present to customers, demonstrate the company's commitment to new products, thereby making it easier to bring products into the store. I still remember, when Marketing's ads hit the milestone of 1 million views in the first days of launching, and then 6 million, we had a pretty convincing "excuse" to present to our customers about our love. consumer preferences for the product.
"Goods can be sold if they can be sold" is the most specific commitment on the profit problem for customers. In addition to our commitment to consumer-oriented marketing activities, we also have buyer-oriented activities at the point of sale, ensuring that the covered goods are fully displayed. Specifically, the Sales team collaborated with Trade Marketing to organize "fast coverage" contests - awarding prizes to the brothers who sold the most stores in the first 1-2 months, and the contest "display effective" – deployed to 6,000 showrooms in 4 consecutive months. This can be considered as the longest sales support program in the company's history.
Culture of Listening, Insight and Understanding
* How do you comment on the relationship between Sales team, Marketing department and Trade Marketing?
At Marico SEA, all decisions must be agreed upon by all departments. Everyone has the right to express opinions and contribute ideas. This culture creates openness, sharing, listening, receptivity and change throughout the company.
For the Sales Department of Marico SEA, thanks to direct contact with customers, we have the opportunity to listen, collect and synthesize customers' questions and opinions about the product in an authentic way. From there as a basis to present and communicate with Marketing and Trade in particular, and other departments in general, to jointly come up with a reasonable solution and quick response.
However, Marketing or Trade does not always offer appropriate policies. We also have arguments and disagreements sometimes. But I think this is normal; Even such positive arguments, "grounded disagreements" will help develop a more complete program idea, much better than "flattering without contentment".
For example, when there is a debate about the effectiveness of a program, the role of the Sales Department is to compare, survey, and consult with partners whether these policies meet the needs of customers or not. are not. From there, we boldly proposed other more satisfactory alternatives, and were listened to by other departments. This was very well received and supported at Marico SEA, demonstrating a "mastery mindset" and a willingness to speak up. We have the opportunity to shine and be in charge of our work.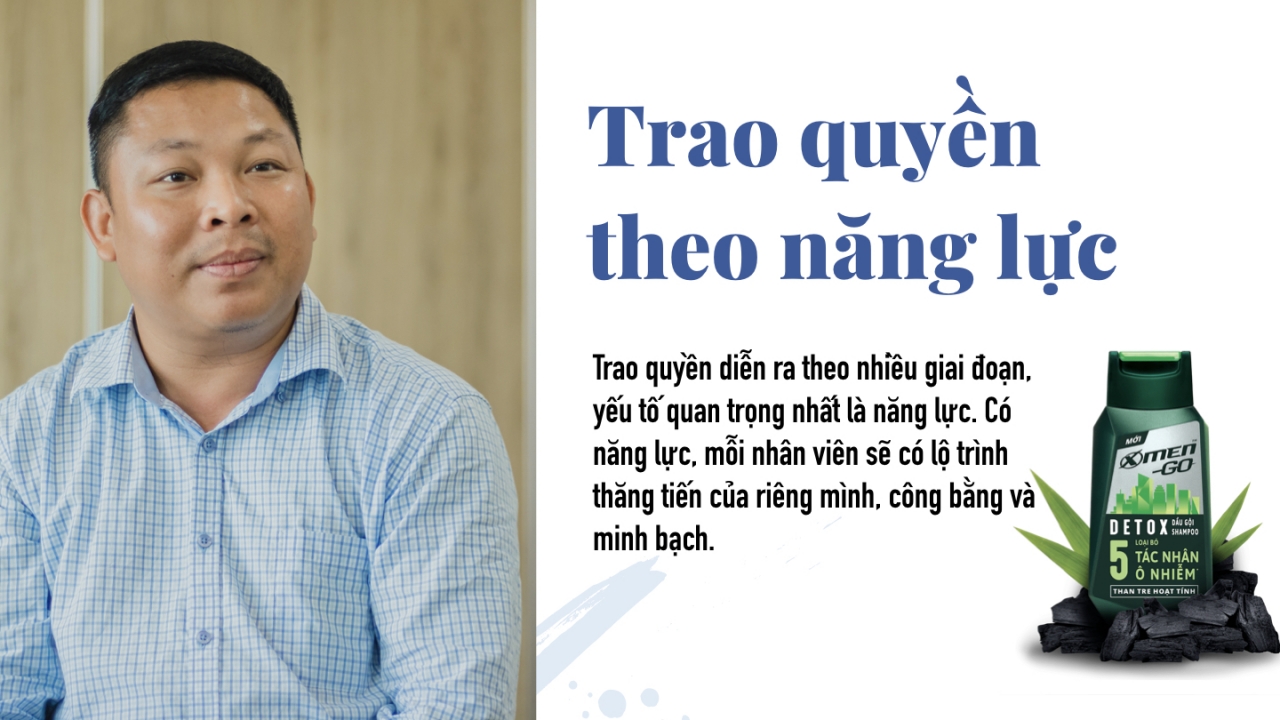 * In your opinion, what values did Marico SEA create and bring about changes to ICP?
At the time of merger with Marico SEA, ICP was the leading domestic cosmetics group, able to compete with multinational companies. With Marico SEA, ICP was expanded into a multinational corporation, with stronger resources, brand portfolio, values and competitiveness than before.
At Marico SEA, in my opinion the most outstanding element is the "culture of empowerment". The trust to assign important responsibilities and tasks in the company does not depend on age, rank, experience or seniority. Marico SEA is ready to give opportunities to those who are really capable, brave, qualified and devoted to the company. Each employee will have his or her own promotion path, fair and transparent.
In addition, in terms of cultural factors, this is a very open working environment. Employees of all levels can have a voice and be heard by management. Specifically, the Board of Directors at Marico SEA are very close people, often go to the market and organize "bridge" activities to connect with employees.
I still remember the last X-Men GO launch, there were 8 senior leaders of the corporation, spending 4 days in a row, every day from morning to night, going with the sales team to rush into the markets, Going to the market, observing brand activities, meeting retailers, distributors, eating with the brothers... The main purpose is that they want to observe the market, listen to and understand the thoughts and aspirations of the Ministry. Sales department, thereby finding ways to perfect the business apparatus.
* What is it about Marico SEA that appeals to a Sales Executive or Supervisor?
In terms of salary and bonus, remuneration policy, training, and working environment, Marico SEA is similar to other multinational corporations. I think the difference in Marico SEA is "having martial arts land". Because this is a multinational environment that is in the "fast-growing" stage with many challenges and opportunities for talented people to develop their capabilities.
If you are capable, ambitious, like to conquer, want to make a name and a career for yourself, then Marico SEA is the perfect choice. This is where you will be able to "shine" with your abilities, making an impact on your brand and career. You will also receive support from departments, and be noticed and recognized by the Board of Directors when contributing.
* Thank you for sharing!
Uyen Nguyen
Source: Brands Vietnam