Aeon - Japan's largest retail group in terms of revenue will change leadership for the first time in 23 years. Accordingly, members of the founder's family will step back in the context of the company's difficulty in entering the e-commerce field.
Specifically, Vice President Akio Yoshida, 59 - who is in charge of opening new shopping centers and heads the group's digital business, will become the company's President on March 1 to replace So Motoya Okada.
This change comes at a time when Aeon is competing with online competitors such as Amazon.com, profit pressure to switch from a business strategy that focuses on opening a store network.
"Aeon has grown enormously and missed many business opportunities by not being able to make the necessary decisions and actions," admitted Chairman Okada. Yoshida "has expertise in handling projects involving large investments".
Founded by the Okada family as a clothing retailer, Aeon has changed a lot so far.
Motoya Okada took over as president in place of his father at the age of 45 in 1997. Since then, successive acquisitions have been made in tandem with the opening of more malls, which has inflated the size of the company. company under a strategy of increasing competitiveness through scale.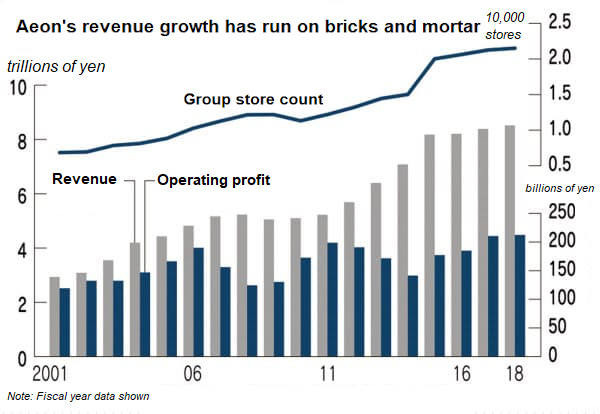 However, despite the rise of e-commerce, the online business only accounts for 1% of Aeon's 8.5 trillion yen in annual revenue - or about 77.6 million USD - too small compared to that of the Chinese market. 6% average number of Japanese retailers.
"Our digital transformation hasn't really taken off. And I feel quite embarrassed if I stay in the position of president for too long", Mr. Okada admitted.
Yoshida plays a key role in Aeon's expansion strategy. He is involved in the planning and opening of new stores both in Japan and abroad, especially in China. In addition to leading Aeon Mall, he is also the head of another key unit, real estate, which generates nearly 40% profits for the whole group.
In fact, Yoshida has always been seen as Okada's successor. However, the responsibility in the coming time with his new position is very difficult.
Amazon, Rakuten and other e-commerce companies have gradually taken over the revenue of Aeon's shopping malls and are entering the vegetable business, threatening the group's supermarket business. Scale is no longer an important weapon in today's rapidly changing business environment.
Although leading Aeon's digital business since March 2019, Yoshida's background shows that he has deep experience in e-commerce.
In response to the changing market, Aeon has made a few notable moves. It set up its digital business in China last April and in November announced a partnership with Ocado, the UK's largest online supermarket.
However, the emphasis on scale as a key factor for survival remains deeply rooted in Aeon's organization, especially among some members of the founder's family, such as Okada's aunt Chizuko Kojima. As a result, Aeon may face difficult decisions in restructuring its physical business.
Yoshida said that Aeon "will use the power of a real-world presence while accelerating the formation of online segments".
Chairman Okada asserted that the issue was related to the formulation of the "long-term strategy" of the group but "most of the existing power will be vested in the new chairman".
According to Young Intellectuals/Nikkei