Recently, FPT Shop has continuously opened and sold imported watches at a number of stores. Up to now, FPT Shop has 5 stores that sell watches in Ho Chi Minh City according to the Shop-in-shop model, taking advantage of available advantages in terms of premises, staff, etc. to optimize profit margins (compared to the current model of Shop-in-shop). stand-alone shop model).
It is known that the same company Mobile World (MWG) targets the middle segment with brands from Taiwan, Hong Kong (SK), Japan (Casio, Orient, Citizen, Kitten, Sinobi), USA (Bulova, Tommy Hiffiger), Switzerland (Candino), ), France (Freelook, Lacoste, Rossini), South Africa (Daniel Klein)… the price range is from 150,000 VND to 14 million VND/piece.
According to the sharing from the owner FPT Retail (FRT), this is also one of the experimental models of the Company, following the forms of cross-border sales (Fado), selling eyeglasses, cosmetics and pharmaceuticals (Fado). F.Beauty) last time.
Noting, in the context that the ICT industry is gradually saturated, the pharmaceutical chain is still in the investment stage, FPT Retail is constantly experimenting with new products, but the results are still not significant, even some areas have to stop.
For example, the handshake to sell electronics with Nguyen Kim after about 6 months of implementation has stopped, according to observers because a general agreement has not been reached; or Fado many comments are not attractive when most product descriptions are in English making it difficult for customers to read and international delivery times are long.
The absence of good signals caused the Company's FRT stock to continuously drop in price, in 2019 alone "evaporating" 64% capitalization, equivalent to more than 3,100 billion dong. Currently, FRT continues to detect new bottoms, trading at 21,950 VND/share.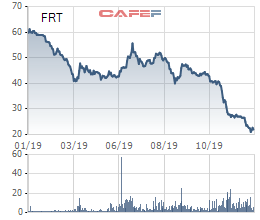 FRT transaction last 1 year.
However, with the two latest models, similar to MWG, selling eyeglasses and watches at existing stores has received high expectations from the market, typically with the positive results recorded at MWG.
As for the official watch market in Vietnam, it is estimated that the scale is up to 700 million - 1 billion USD and 4 million products/year (relatively suitable when compared with other countries in the region).
In particular, the market is fragmented, leading to a great potential for participation with units starting the system again. Before MWG joined, the famous market PNJ was a large retail chain participating but only focused on the high-end segment.
Going after, the MWG segment is aiming to be the affordable (50-100 USD) and mid-end (200-400 USD) segments: it is estimated that these two segments have a size of 400 - 500 million USD, accounting for 60 - 70% market share. .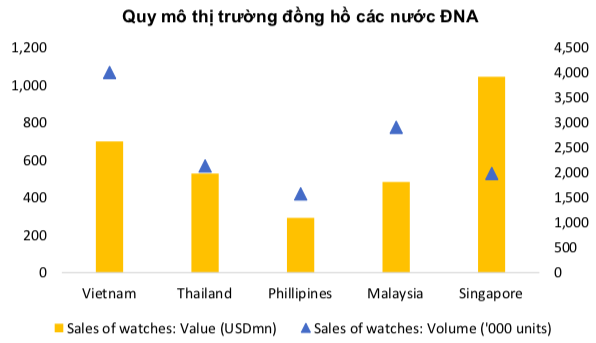 Each MWG watch shop has an average sales of 10 - 20 products/day with the price of 1.5 million VND/product and the average revenue of 600 million - 1 billion VND/month. Gross profit margin for the watch segment is estimated at 30% (actually, the gross margin of the watch segment can be up to 50-100% depending on the product, the estimate has taken into account promotions to boost sales).
Accumulated to the end of November, there were more than 315 thousand watches of all kinds sold at 227 watch shops (shop-in-shop in Mobile World and Dien May Xanh), equivalent to the value of revenue of nearly 630 billion dong.
According to analysts, opening a watch shop in the Mobile World store brings two main benefits:
(i) Product bundling between fashion watches and phones helps drive watch sales. The majority of customers who buy watches at MWG initially do not intend to buy, but buy when there is an attractive offer
(ii) Cost advantage over stand-alone shops: MWG can offer better prices while maintaining attractive profit margins Watch segment: market size small but still bring significant profit thanks to the shop-in-shop model
And with 500 stores in 2020, Bao Viet Securities (BVSC) estimates that the watch segment brings about 4,000 billion in revenue and 500 billion in profit.