Recently, Thien Minh Aviation Joint Stock Company expected that Canh Kite Airlines will take off in the first quarter of 2020 with 6 aircraft, with an investment of up to 5,500 billion VND.
The Ministry of Transport (Transportation) supports the airline air Wing Kite entered the market to diversify products, promote the aviation market to develop in the direction of freedom and improve competition.
Many rookies help diversify the aviation market
According to the Civil Aviation Authority of Vietnam, Vietnam's aviation market currently has the participation of 5 domestic airlines and more than 70 foreign airlines in exploiting the market share. Up to the end of 2018 until now, the aviation industry has continuously recorded many new recruits, such as: Bamboo Airways took off in early January 2019, Vietravel Airlines, Vinpearl Air are also preparing to take off. Thus, by the end of 2020, if going as planned, Vietnam will have up to 8 airlines with a scale of more than 380 fleets.
According to Mr. Vo Huy Cuong, Deputy Director of the Civil Aviation Authority of Vietnam, the addition of new airlines promotes the market to develop in the direction of liberalization and high competitiveness through diversification. products, giving customers more choices.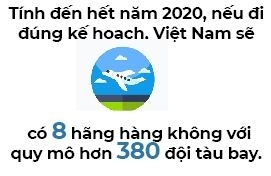 Talking to the media, Mr. Nguyen Ngoc Dong, Deputy Minister of Transport said: Vietnam's aviation has grown very rapidly, in the past 10 years, the growth rate has always remained from 15-17%, currently has room for development. aviation is still there.
"The position of the Ministry of Transport is to support new airlines entering the aviation market, because this brings many benefits to airline passengers. When firms compete more, the price will be better for customers," said Deputy Minister Nguyen Ngoc Dong.
Vietnam Airlines is a delicious piece of cake?
According to IATA's forecast, Vietnam's aviation industry will grow fastest, becoming the 15th largest market in 2035. According to that growth momentum, in 2025, the number of passengers is expected to pass through Vietnam's airports. is 185 million people. In the first 9 months of 2018, this number was 79.3 million visitors, with the proportion of international visitors being 34%. Based on such great potential, the ground service industry with services such as airline meals, duty-free sales, and restaurants in isolated areas has grown strongly thanks to international visitors. Thus, in addition to exploiting the fleet, Vietnam's aviation industry is also attracted by other conditions. Therefore, many new "players" still want to participate.
Returning to Thien Minh, presenting about the Kite Air aviation project, Mr. Nguyen Manh Quan - CEO of Thien Minh Aviation Joint Stock Company said that currently, the total investment capital of the project is 5,500 billion VND, of which, capital fixed at 4,500 billion VND. Fixed capital is expected to include 28% from equity (1,530 billion VND), the rest 72% is borrowed from domestic and foreign financial and credit institutions (VND 2,970 billion).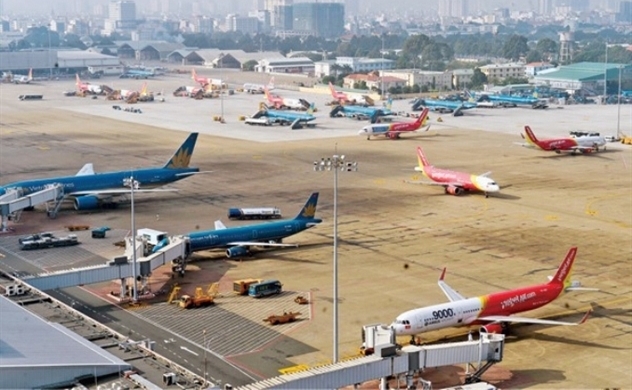 Quan also plans to operate the first commercial flight in the first quarter of 2020 with 6 ATR72 or equivalent aircraft. By the 5th year of operation (2025), the fleet will increase to 30 aircraft, including 15 ATR72 aircraft and 15 A320/321 aircraft or equivalent. The market of Canh Kieu is located at 4 airports: Dien Bien, Ca Mau, Kien Giang, Con Dao and the whole Mekong sub-region has a large space.
Although the plans, figures and plans are specific, the leaders of the Civil Aviation Authority of Vietnam and many representatives of the Ministry of Transport also asked Thien Minh to clarify more about issues related to revolving capital, financial plans. specifically until the end of the loss and profit after the official flight.
It can be said that the growth rate of Vietnam's aviation is very impressive and attracts a lot of attention from investors and private enterprises, most of which are new "players" who want to encroach on the field. this.
However, aviation also has many potential risks for businesses themselves. The recent declaration of bankruptcy by Thomas Cook is a very remarkable warning for businesses whose starting point is a tourism business that wants to encroach on the market. air like Vietravel or Thien Minh.
Trang Le
* Source: Investment bridge