At 16:30, the Bitcoin price stood at $7,365, up 0.99% over the past 24 hours.
In the top 10 largest coins, 9/10 have increased in the last 24 hours. In which, Bitcoin SV and Bitcoin Cash increased the most, increasing 7,18% and 6,31% to $ 105.36 and $ 223.8 respectively. Other coins such as Ethereum, Binance Coin, and Litecoin also increased strongly, increasing by 1.69%, 1,47% and 2,83% respectively. Tether alone was reduced by 0.32% to the level of 1 USD.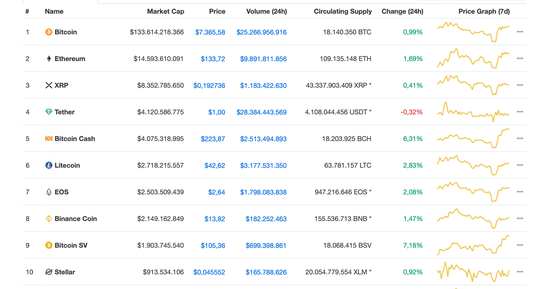 Source: Coinmarketcap
The total value of the entire digital market grew to $195.83 billion. The market was in the green, although some officials warned against putting the central bank's digital currency into use.
Specifically, the President of the German Central Bank, the Bundesbank, Jens Weidmann, warned against the immediate introduction of a central bank digital currency without careful consideration of the urgency and potential consequences of the central bank's digital currency. this coin.
According to Mr. Weidmann, in a market economy, companies have to offer services that match the requirements of customers. Banks should provide a payment method that is the fastest, with the lowest possible cost, without leaving customers looking for coins like Libra (by Facebook) or similar digital payment systems.
In addition, the President of the Bundesbank also suggested that Libra should be closely supervised when this digital currency is born, as well as the need to appropriately apply competition laws to prevent too strong a position in the market. Facebook's school.