Assessing yourself, do you think Chan La Ca of 1 year ago and Chan La Ca of present are much different?
For me, Chan La Ca from 1 year ago, even the name itself is still skeptical. Before embarking on YouTube work, having to choose for myself a name to impress everyone, I wrote a list of about twenty names and then asked each one of them which one to choose.
1 year ago, I struggled to find the identity for my brainchild. At present, I am fortunate to have a "small family" who are young people who are passionate about traveling, always supporting and following Chan La Ca's journeys. I'm not a celebrity, but I'm proud to be remembered by people who share the same passion. From time to time, we still chat, share our experiences of discovering beautiful roads, enjoying delicious food…
So you must have had a lot of trouble when starting this job?
For a "dream guy" like me, that's for sure (laughs). Although before that, I went online to watch and learn a lot about how popular digital content creators make a video. However, the feeling of taking the camera out for the first time is "embarrassed" like the feeling when you first learn how to hold chopsticks to pick up food. Vlogging in Vietnam is still new to many people, so it is quite challenging to hold a camera while walking and talking amidst the gossip and curious eyes of people around.
Not stopping there, after completing the filming, I struggled to know how to edit the video, how to connect the story to make it interesting. Before, I used to say "oh, this is simple, definitely can be done", but when I started, I realized that everything was not as I thought. I am not a technical person myself, so learning and getting used to the camera equipment, machines, editing software, and English terms also takes a bit of time at first.
The last "no small" problem is balancing passion and economy. In the beginning, I invested a lot of money in machinery. Buying expensive specialized laptops, investing in camcorders, lenses and drones is more than hundreds of millions. Then the expenses for trips, airfares, hotels, transportation... so much so that in the first 6 months of doing YouTube, I just "got out, not in". The feeling of struggling to balance passion and finance at that time was not pleasant at all.
Honestly, I have never allowed myself to think about giving up, but there are times when discouragement is always present. Working as a freelancer, with no income, modest views..., I am skeptical about my own ability as well as the path that I have chosen. However, sweet results are only for those who are patient and try, I always motivate myself like that because of the case studies of famous YouTubers in the world that I know not everyone suddenly becomes a star overnight. chief.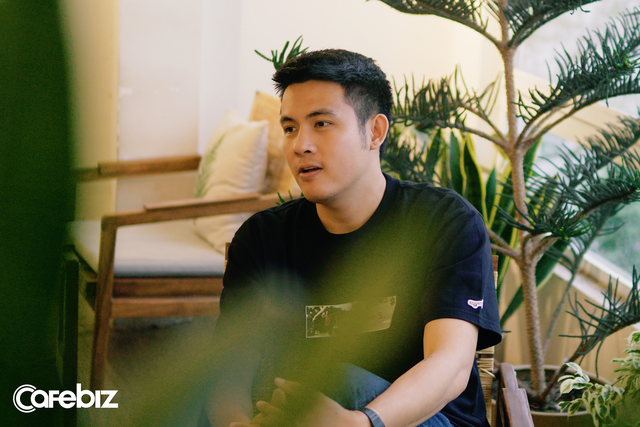 Referring to the phrase "freelance", was he an office worker before?
I used to work as Partner Manager & Event Manager at METUB Network, YouTube's multi-channel network in Vietnam. My daily job is to cooperate and support digital content creators in Vietnam, singers, actors and many famous people, to advise on strategies to orient content as well as help their videos. they reach more viewers, have a higher rate of reaching the top trending. I also join the company team to organize annual music events for leading digital content creators and artists in Asia such as WebTvAsia or Viral Fest Asia...
Everything was going to be fine until I took a leave of absence from the company to participate in a 2-month cruise at sea through many different countries in 2017 – the voyage that changed my life. There is another turning point in his career. 60 days of traveling helped me realize that my soul now belongs to the waves, the windy roads, the rivers, the mountains, the trees, the grass... not the desk with the sheets. The paper details the deadline and the green and red KPI too. I plunged into learning about travel vlogger work with the desire to soon realize the dream of moving for my soul that is longing to go wild.
About 5, 6 months before I quit my job, I learned and equipped myself with the necessary information about the profession such as filming, editing or color correction. 3 months later, I submitted my resignation to pursue my dream, my dream of becoming a travel storyteller, a professional digital content creator.
Faced with such difficulties, was there ever a time when you regretted your decision to quit?
Up until now, I have never regretted a second or a minute. For me, this is the best career choice in my life so far. When I was a kid, when I watched artists perform on TV, I said to my mother, "Mom! In the future, I want to be like them, to be creative, to contribute, to be recognized by everyone."
I thought it was just a dream of a child who did not understand, but now that dream comes to life again when I work at METUB. As someone who "behind the scenes" (behind the scenes) supporting celebrities, I always observe and follow them. I felt the joy and happiness in their eyes as they stood in front of the sea of people singing their life songs, telling their stories, creating with their own products.
Although my mouth did not dare to speak, I felt my heart longing and burning. I want to be like them, to dedicate myself to creating products that have a positive impact on people. Before, I was the one behind supporting celebrities, but now, leaving the office, I step forward to become like them. I dream of spreading positivity and kindness through my creative products and travel vlogs. My current me is happy and happy doing this job.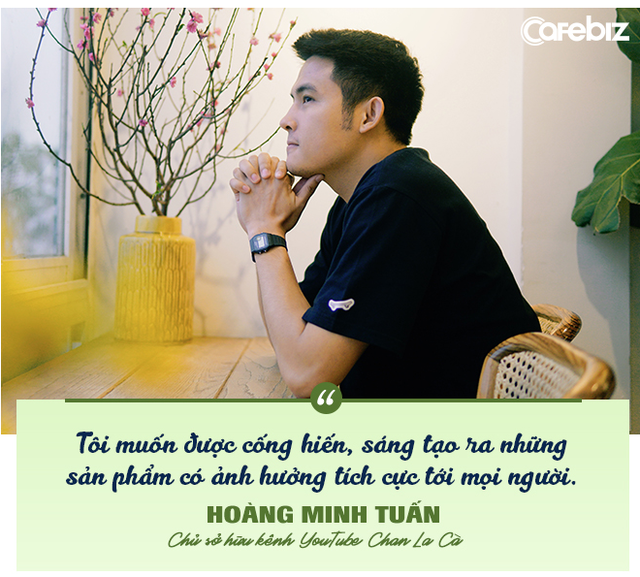 So, does a person like you with a strong desire to be free, to be true to yourself feel like it's a waste to have to work "under" other people?
I think that any decision about work gives me valuable experience and lessons. Looking back at the time I worked as a "salaried employee" in the past, I am thankful that I have learned and developed myself a lot. Suppose, in the past, when I worked with artists, or you created content, together with them, I thought of a strategy, now as them, I take the way I used to do it to apply it to my work. Current jobs such as how to develop content on different platforms, SEO on YouTube platforms, then Facebook, Google ads.
Before, I was a rather "low-tech" person, not very knowledgeable about technology, but working at the old company also gave me certain experience and knowledge to do the job like now. I feel grateful for that.

Some comments said that his YouTube method is quite similar to travel vlogger Khoai Lang Thang. As the owner of Chan La Ca channel, how do you feel?
The most famous painter of the 20th century Picasso once said "Good artists copy, great artists steal" meaning that an "ordinary" artist will simply imitate others, and a good artist will be " selectively steal from the good of the pioneers, then create and develop in their own special way. I really enjoyed this saying.
Khoai Lang Thang is a pioneer in this field, so it is understandable to be compared, at first when I saw such comments, I was also sad and thought a lot, then I realized that doing this job is like doing it. With hundreds of surnames, nine people and ten ideas, the most important thing is still what I think, instead of being sad and thinking I spend that time to travel more, meet more, create more to tell stories about the people, the lands that I go through for everyone to see.
Me and Khoai are also friends in real life. The brothers sometimes meet to share about work and travel. Khoai also gave me a lot of advice when I was a beginner, I was inspired a lot by you and am happy about it.
I think most jobs or professions are the same, at first you will have to learn from the best people in the same field. Watch, learn, learn, distill their good ones as a reference source, then develop and create products with their own personal imprint. In my videos, instead of simply reviewing a landscape, or a food, I want to tell a story, a story about a destiny, a life, a land or a culture.
So, instead of positioning myself as a reviewer, I want people to see me as a travel storyteller, content creator (a digital content creator).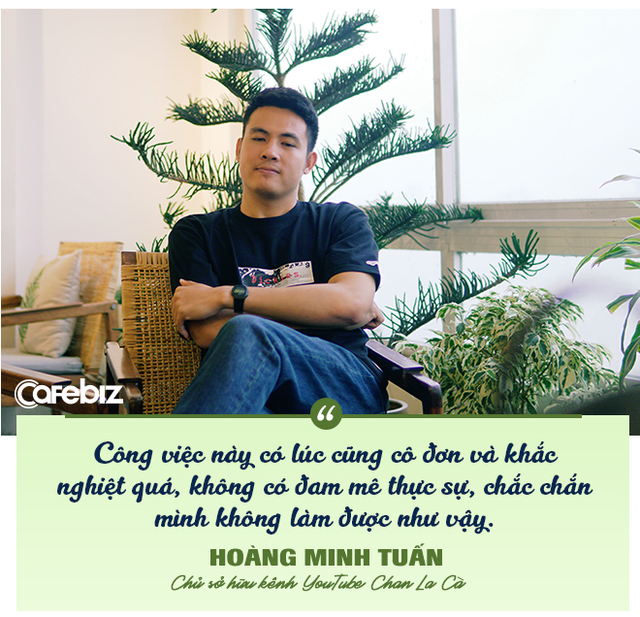 Every job, every profession has its downsides that few people understand and want to understand. For you personally, does being a YouTuber ever make you feel lonely?
Of course I do and that feeling has come to me many times in the process of doing this work. My most recent trip in Cao Bang, there were times when I found the work I was doing so harsh and lonely!
As a child born in a hot country, having gone to the highlands to shoot travel videos, experiencing the severe cold here can deeply understand the harshness of the climate on this. One day, I had to travel by motorbike from Cao Bang to Ban Gioc waterfall in Chongqing to shoot a video. On a long way, the wind blew through the gap in my shirt and cut into my skin, my skin was cold and my bones were cold, my nose was running and my whole body was shaking because I was shocked by heat, I felt extremely miserable and secretly thought: "This job is lonely and harsh at times, without real passion, I certainly can't do it." I comfort myself.
There are scenes people see on videos that are only 2-3 minutes, but it took me one day to move and almost half a day after that to shoot. Some days, when I arrived, it was already dark, I had a cold and shivering heat stroke, I had to cover my body with a warm blanket, drink hot tea and sleep overnight to warm up my body temperature after a long journey, and wait until the next morning to record.
If I still work at the office, on cold days like this, am I sitting in a cozy room, drinking a hot cup of coffee, wearing headphones and typing on the keyboard!?
In addition to the sad memories of the trip, what happy memories do you remember until now?
I vividly remember the feeling of first arriving in An Giang, that day was a beautiful sunny day, this land welcomed me with cool breezes and satire of middle-aged aunts and uncles in the West. Asking people in the area, they found out that Mr. Binh's family - who is known as the "King of picking jaggery" in this country. I came to the house, asked to go climb jaggery with him for a day and had a wonderful experience.
At noon, after picking jaggery, I and his children went to the fields in the sun. It was hot and sunny. The children went to pick bunches of sacks to eat, then went to dig holes to catch mice in the field, the laughter and the crisp Western voices of the children melted the whole field. I clearly remember the words of the kids: "Oh uncle, when will you come back?". "I'll be back tomorrow." Finally, the children shouted: "Come on, uncle, you stay and play with us, uncle, come back on Thursday." Being a nostalgic person, I listen to them from time to time, those words are like sharp knives that cut into my heart so beautiful and clear cuts, just like that, I love the children and this Western land. extremely. That's why I often feel that the work I'm doing is the best job in the world.
Well, in my videos, I often tell people that I'm afraid of heights, mice, and ghosts (laughs). Once driving from the dark Ma Pi Leng pass to Dong Van town, I was startled because I suddenly saw an old gray-haired old man sitting by the roadside looking at me. I drove past and wondered how it was so late to have someone sitting so close to the abyss. When I turned around, I got goosebumps all over my body when I shone the light on, but I couldn't see anyone.
To reassure myself, I drove past the only shop on that pass, I begged the shop owner to come back with me to see if anyone had fallen into the cliff because the valley was very deep and dangerous. return. Honestly, I guess I'm the most cowardly travel vlogger in Vietnam. Although I am shy, but I also like to challenge myself, going through such things, I feel happy because I have the courage to face it.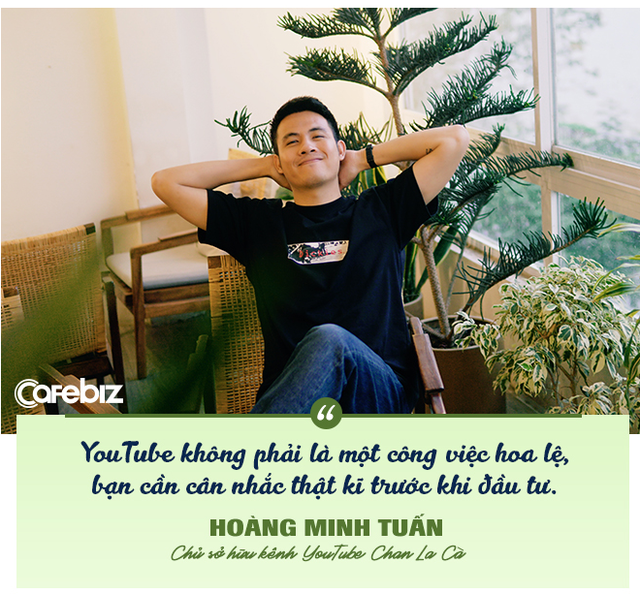 As a senior in the YouTuber career, do you have any advice for those who are looking to enter this profession?
Actually, I'm still just a "dream guy". Last year was a flourishing year for the platform with the red play button, when most stars to digital content creators chose YouTube to "send gold". When looking at the huge revenue numbers of YouTubers that the media has mentioned recently, many people may think: "Wow, this job is great, not limited in time, just going out to eat, Going out and filming and making a lot of money."
I would like to compare the work I am doing like a cake, it looks like a very delicious cake but not everyone can taste it, the cake is cut, sweet or bitter depending on the effort. and everyone's luck.
Therefore, I personally think that the YouTube playing field is quite fair: Those who work seriously, will have success, those who are creative will definitely have a place. Equip yourself with good skills, a clear plan, and a firm step. Regardless of the profession, any job needs to be conscientious, serious and professional. YouTube is not a splendid, easy job, you need to consider carefully before investing effort, time and money to become a digital content creator.
Thank you for this conversation! Wishing you a very successful and happy new year!
According to Young Intellectuals