E-commerce businesses won Black Friday with sales increasing by nearly 20%, to approximately $7.4 billion, across 4,500 websites tracked by the Adobe Analytics platform. .
The first days of the year-end shopping festival have just begun, but the signs are already showing who is ahead and behind on the track.
Black Friday 2019 has become the second-biggest online sales day in history, behind only Cyber Monday last year ($7.9 billion in sales). Adobe also forecasts Cyber Monday 2019 will surpass last year's figure with a growth rate of approximately 20%, revenue of $9.4 billion.
Not only do consumers shop more online, they also want to avoid waiting for delivery. The number of online orders registered to receive products in stores has increased by a record 43%. This is a signal that the "mechanism of connecting online and offline retail" that retailers often mention has been successfully applied.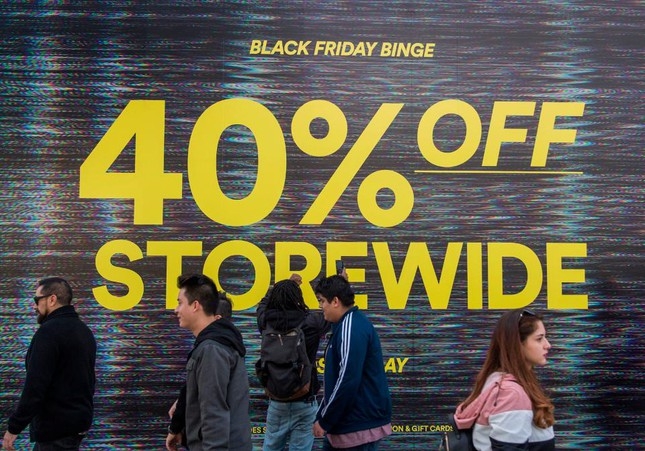 The average value of online orders increased 6%, to $169. Adobe said that "consumers have become more comfortable with buying more items of greater value on e-commerce platforms".
However, the shopping centers did not reap positive results. RetailNext, which owns about 10,000 stores operating under its smart store platform, recorded a decrease of 2.1% in visitor numbers, a decrease in average transaction value of 6.7% and a decrease in total revenue of 1. 6%. However, the rate of customers visiting and buying goods increased by 1.7%.
A report released on the morning of November 30 from Oliver Chen of Cowen also reinforces this point. The report indicates that the decrease in customer visits is the reason why Black Friday is no longer as "hot" as before.
While predicting that Black Friday's sales growth rate will be 20-30%, Chen believes that the growth of the whole year-end shopping festival will generally only increase by 2-3%. Meanwhile, the National Retail Association gave an expected number of 3.8-4.2%.
"We believe declining visitor numbers, unpredictable weather trends and shortened holiday schedules could hinder holiday spending," said Chen, adding: "We believe purchasing power. remains strong because of low unemployment and rising wages. However, this dynamic will not be evenly distributed across businesses."
This year's retail leaders are Walmart and Target thanks to their omnichannel strategy, wide range of products and powerful shopping platforms.
This year's retail leaders are Walmart and Target thanks to their omnichannel strategy, wide range of products and powerful shopping platforms.
Chen expects Nordstrom to be a business that goes against the above general trend: the number of customers visiting the store is increasing this year, and they are very interested in men's footwear and clothing items. "We believe promotion coverage remains similar to last year and expect to see higher customer engagement rates thanks to special discounts and streamlined distribution plans, " Chen commented.
Black Friday also recorded much deeper drops. Michael Kors brought the sale up to 70%, while last year it was 50%. Coach is also 50% off best-selling items and 30% off online on select products. The aforementioned drop indicates that these premium brands seem to be in a desperate situation.
Not out of the game, brands in the lower segment such as Gap or Banana Republic also offer 50% promotions. Health and beauty brands like Macy's, American Eagle, Sephora, Ulta, Bath and Body Works and Victoria's Secret are more cautious this year in their promotions, but there are still products with deep discounts. to attract visitors.
Chen warned brands like Gap, Macy's and Kohl's to be careful when relying too much on women's clothing. He believes women's clothing will be a "disruptive" segment without any new trends, carries inventory risks and is not able to attract young people.
Pamela N. Danziger
* Source: Forbes Vietnam