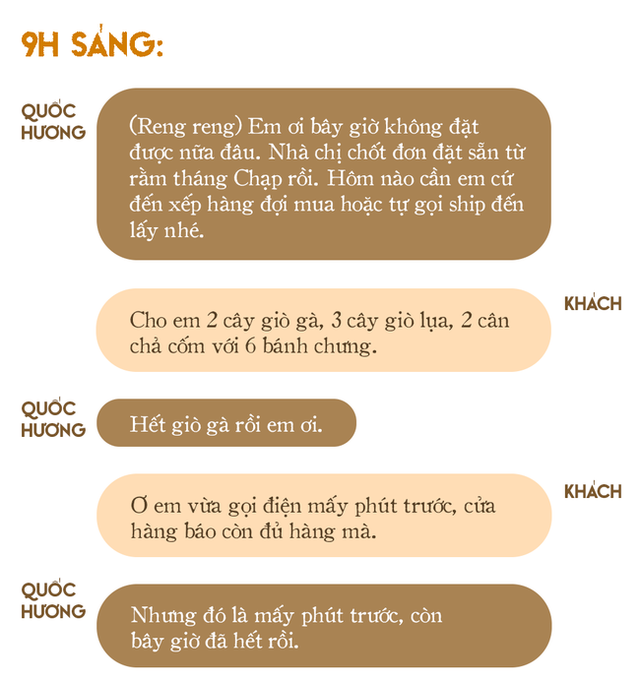 It was a typical New Year's morning at Quoc Huong spring rolls shop. But it is not 9 o'clock that Quoc Huong opens. From 7 a.m., hundreds of banh chung are piled high above the head. Hundreds of trees, chicken feet, round beef legs, look delicious and neatly arranged. In the kitchen, in one corner are several 5, 6 trays dry beef drying ovens operating at full capacity. The other corner is the person who marinates the meat, braises the meat with the seasoning, and smells the whole house.
After just over an hour of opening the counter, the mountain of goods was completely gone, some dishes were sold out after half an hour. In the small stall, one person specializes in answering phones, answering orders, advising customers, one person quickly wraps packages for customers waiting in line, another person moves in and out, another group sits and labels labels. product…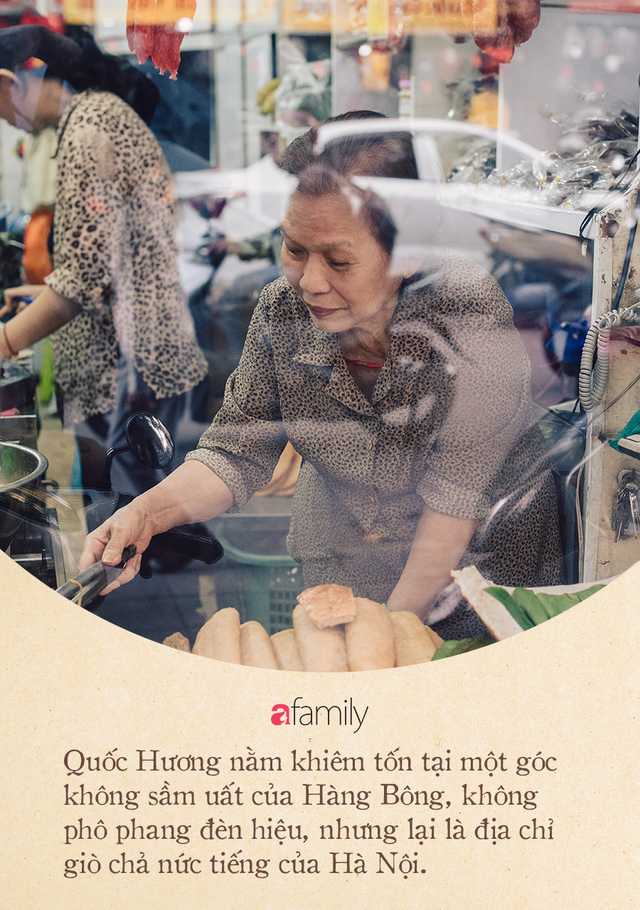 Such a bustling, urgent atmosphere is a daily thing at Quoc Huong spring rolls, in the days of December. After the full moon, and then Mr. Cong Ong Tao onwards, the store staff did not even have time to eat, drink, and cook, pack, answer the phone, place orders...
Each batch is calculated by the number of hundreds of banh chung, hundreds of spring rolls of all kinds bustling in and out several times a day. Quoc Huong's house does not set a rule that customers can only buy a certain amount, but buy as much as they can. However, not all customers can buy all the things they need in one queue, because the goods often "sold out" very quickly.

In that busy scene, there is one person who is still quietly observing the overall picture, every inch, that is Mrs. Nguyen Thi Chan, the shop owner. With bright eyes, warm hands, a gentle voice, and a gentle demeanor, if you don't ask her age, no one will think that Mrs. Chan is 85 years old.
Receiving guests, Ms. Chan proudly showed off the square stamped license card granted in 1959 to her and the restaurant with eight rolls of rice and rolls Quoc Huong, address in Hang Buom. Every year there is one such sheet, from the time of the grandparents, grandparents, parents and then grandma, I don't remember how many, but all of them are lost, now only "this little bit of information remains as a record".
Last year, the license paper in Mrs. Chan's hand just turned 60 years old, but in fact, the business of Quoc Huong's family since the opening time has been approximately 200 years. It has been more than 65 years since Ms. Chan's degree alone.
65 years have passed like a futile dream, she said, if she didn't look at the papers, she wouldn't have thought she'd been floating in this profession for so long. The life of the heir to the 200-year-old brand of the Nguyen family, from the chance of the first heart, the mind, and the storm, is associated with the joss tree, the log that comes out.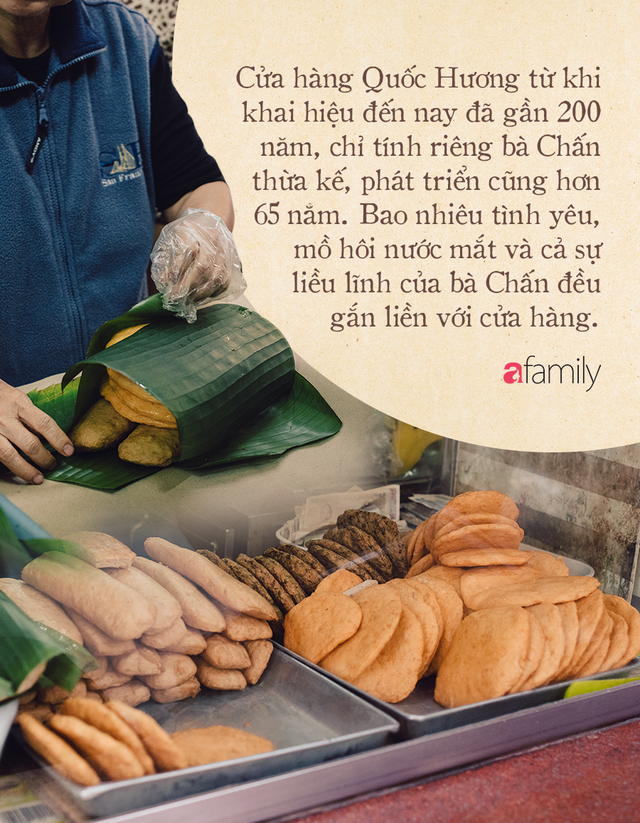 At that time, at the age of 20, the young lady of Hang Buom Street was both beautiful and famous and was sure to receive many invitations from rich princes, including the young man of Hang Hai Street (later the street name was known as Hang Hai Street). rename, merge with the old Hang Bong street to the current Hang Bong city). But her mother, with the pride of the heir to a third-generation inheritance, put forward a strange wedding challenge: Whoever can make the most satisfactory leg will be worthy of being a bridegroom.
The young man's house on Hang Hai street is from the same hometown of Uoc Le, in the old days, the old men used to do business, but in his youth he only knew the word, but never had to touch the mortar, the banana leaf. . Trot fell in love with the lady of Quoc Huong's house, he was determined to make the best spring rolls. During the Lunar New Year that year, he came to her house with the gift of… a tray of silken rolls to everyone's surprise. Seeing the spring rolls all clean, smelling the scent spread throughout the house, her mother smiled instead of agreeing.
The young lady that year got married and built her own business with an eight-spring rice shop, a small but well-known business on Hang Buom Street. But times changed, the dish brought a good relationship to her, when in the subsidy period, it became a banned commodity and was considered a "luxury product". In 1960, she temporarily stopped running her own store and became a trader of a state catering company.
She thought she had given up on the family business, but after a few years of liberation, when the situation seemed to be calm, she immediately returned to making spring rolls. Difficulties are still difficult, because the door has not been "opened", but also because on New Year's Day, looking at the offering tray without a plate of spring rolls is like looking up at the altar without the smoke of incense, she silently resumes the tradition of the transmitted spring rolls. .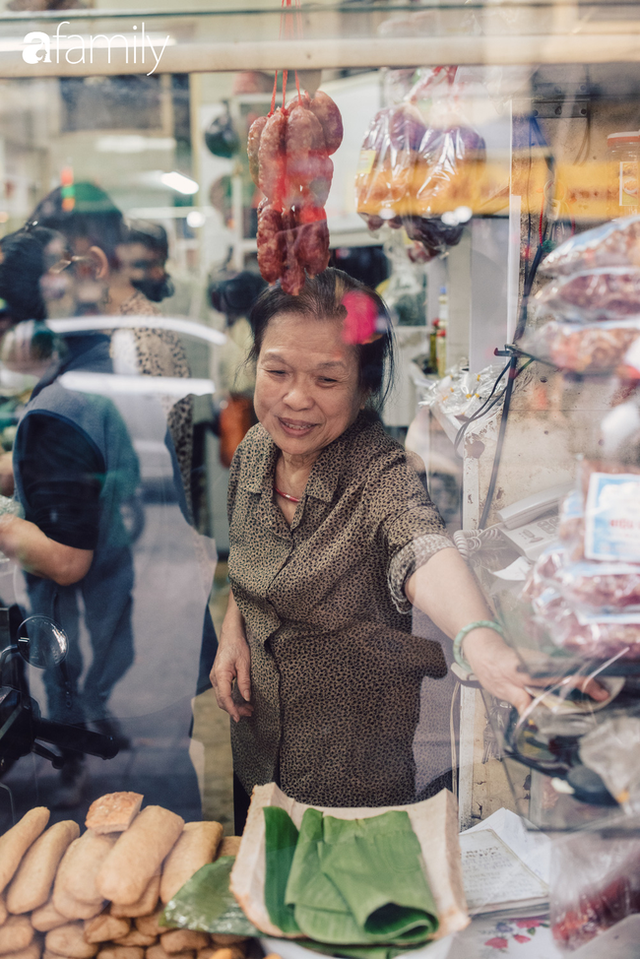 Having managed to find a hot piece of meat that had just left the slaughterhouse in a time when commercial meat was as scarce as gold, she opened Quoc Huong at the current address, which was the property of her husband's family. How much love, sweat and tears, sadness and joy, and even recklessness in Mrs. Chan's life seem to be associated with the tree of spring rolls, the career it continues to play, and then becomes a short story of life. she is so natural.

Mrs. Chan confided that although the times revolved, there were ups and downs, but no matter where and when they work, the people of Uoc Le hamlet are also picky about meat and cherish a delicious piece of meat.
People sometimes have to wait from dawn at the abattoir, let the meat finish draining, and take the butt back to make it right away. That's when the meat is still hot, still "good", look at the color to know that each cell is still alive, but when the cells are dead, making shrimp rolls is also less delicious, let alone making sausages.
She told me how to tell if the cells were dead or alive, that's the 500-year-old secret of the villagers, it can't be revealed, but one thing's for sure, if the cells die and still try to pound, the meat will melt. water can never be made into a piece of pork, let alone a delicious ham!
"Buying meat at the market, I can't make delicious spring rolls, but I don't accept making sausages and cold meats. The principle is simple, the meat is delicious, the fish sauce is delicious, if you pound it well, it will be delicious, but pounding is the most difficult process, because just let any drop of water or foreign object fall into it, it will spoil immediately, boiled. will be mushy.
The faster the spring rolls, the more sticky, smooth and elastic like a paste, but when boiled, it will be firm and tough. Fish sauce is up to the house to choose its own flavor that creates the typical aroma of the spring rolls, while my family only uses one with a fragrant, sweet taste for all dishes that need fish sauce.", she said.
After wrapping, it must be put into the pot to boil immediately. When you put the spring rolls in the pot, light a stick of incense, but it must be true to the old incense, it will burn for exactly 1 hour before it fades, the remnants of the incense are just cooked, must be washed immediately with cold water. When I opened the banana leaf, I felt fragrant, cut a "smooth" piece of pork, with a peachy pink color and smoky surface, eating a piece of pork like that can see Tet is right in the mouth, not far away.
Mrs. Chan still loves the taste of pounded pork belly in the past, with a little lime to eat betel nut, molasses, pounded by hand in a jackfruit wood mortar, absorbing sweat and the emotions of the profession. But the good-bye spring rolls are a matter of years old. Over time, Mrs. Chan's family also changed to grinding by machine, molasses, lime juice also stopped adding.
Then the business grew more and more prosperous, especially with a huge volume of products on Tet holiday, the small shop in Hang Bong could not do all the work, she had to hire people to do the goods for her. She does not hide the fact that she outsources, partly because she does not want to lie to customers like "I do it all by myself", partly because she is confident with her strategic way of doing business.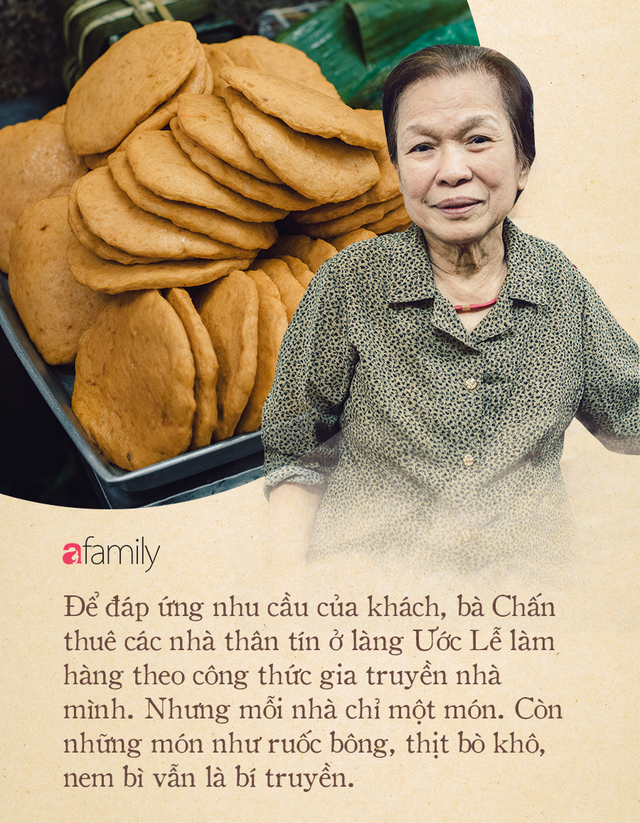 She placed close friends and relatives in Uoc Le with long-term professional experience and high technology to pass on the recipe to them, ordering them to follow strict requirements like she has always done, fish sauce as well. must buy the right type, ensure the product meets the standards of Quoc Huong.
Those outsourced shops can't lie or deviate even if they want to, partly because Ms. Chan is very strict and "high-skilled", partly because making goods for her house is more profitable than making ordinary goods and retailing them. . She is also not afraid of anyone stealing her job, because each house, she only assigns to make exactly one dish, no one duplicates anyone else, and she doesn't order any house to produce more than one dish. The partner is also a relative in the village, respecting prestige, so Ms. Chan believes that if she openly shares secrets, paying well will keep people.
Particularly, cotton balls, dried beef, and spring rolls are still "esoteric", only those who work in Hang Bong know through speakers. Mrs. Chan is very proud of beef jerky, a dish that was only available in her time. That dish, she learned from her trips to the South to visit her family, and saw people selling it. She bought it to taste, analyzed the taste and then noticed how they made it herself. Just like that, she went home to mix the spices and seasonings until the taste was the same as she used to eat, wondering how and how to dry it to become the standard flavor it is today.

"You see, is there anyone who is 85 years old and still runs a business like her? (Laughs) God still gives her health, but a clear mind still needs to be managed and operated. Sometimes she also goes to America to visit the children, a couple of times a year or something, and then goes out on the streets, instead of sitting all day hugging the store.
She still feels secure when going out because her children can handle it, the employees are well-organized, and they continue to develop, but for 65 years since its release, the Quoc Huong brand has been maintained and directed by her alone. , take responsibility for everything, but not completely hand it over to the children".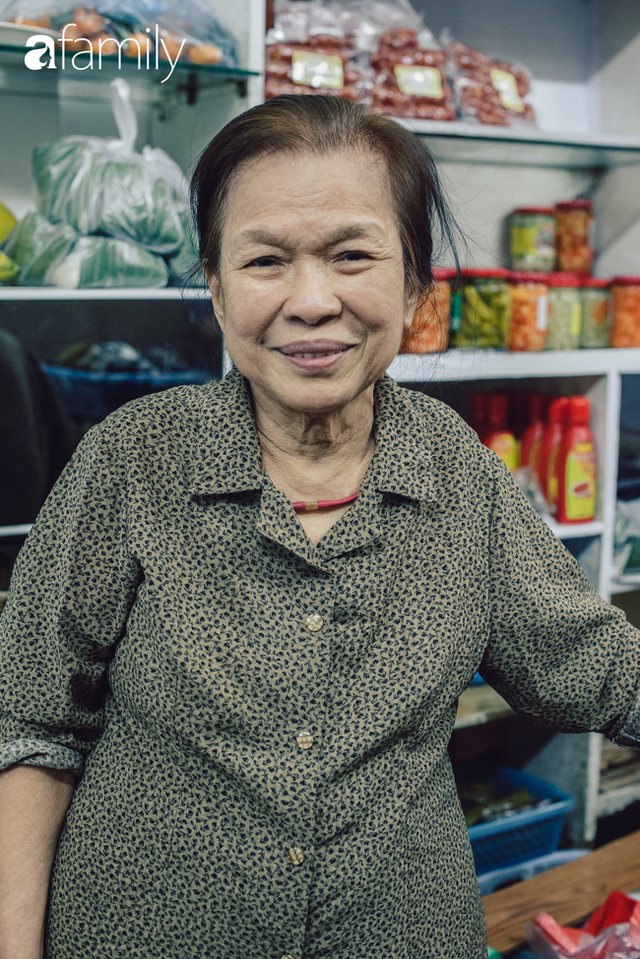 Her whole life floating and sinking has reached the age of nearly nine decades, Mrs. Chan loves the sausage job very much, loves the inheritance she inherits and develops, but it is strange that from a young age, she had the intention... not to teach the profession to others. child. But she really did. During the time of her great-grandparents and before that, the grandparents quietly taught their children to be familiar with the profession of spring rolls from a young age, all children were proficient in the profession, grew up carrying the brand far away, went to the US to France, Canada enough. Even, there is a grandmother who is still here in Hanoi and follows the profession as a matter of course.
But in her time, Mrs. Chan raised her children in a different way and taught them differently from the elders. In the past, when she needed it very much, she asked her children to help with some chores, but she definitely did not teach or guide her career, but made every effort so that her children could go to school and follow the righteous path.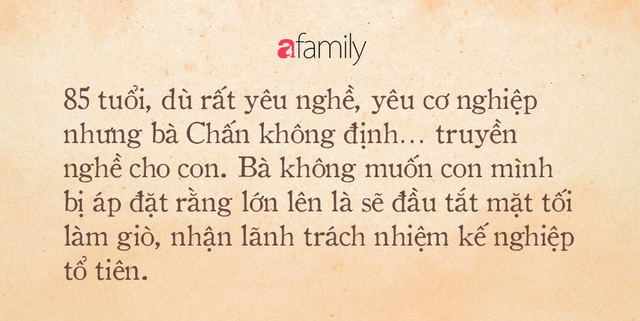 She said that she did not want her children to be forced that when they grow up, they will turn their heads off and take on the responsibility of inheriting their ancestors. On the contrary, no matter how arduous, one must study. She is proud that her children are "many words", are both doctors, two are doctors, one is a banker, the other is a finance person.
Even like him, after the launch of the musical assistant, she almost didn't let him touch the sausage, just focused on working at the office. She alone steered and managed the business from eight rice stalls until the difficult time to prevent the river from banning the market, until the brand honoring her family was famous until today, only when she was busy, she asked her son to help sell it. goods, but definitely not vocational training.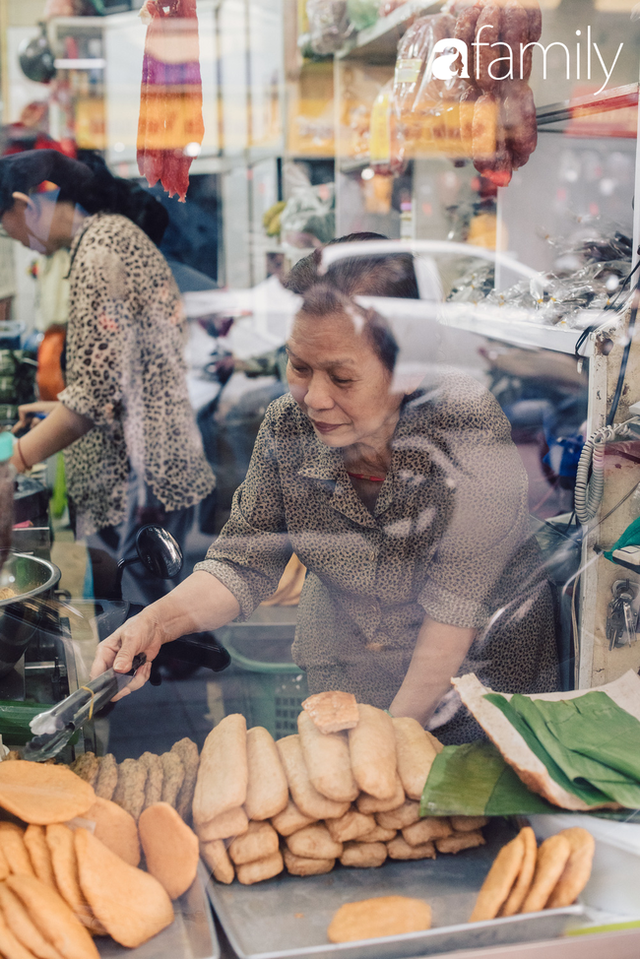 She said, she does not see herself as disadvantaged, just wants to take care of herself, so she is free, self-reliant, healthy and happy, not dependent on anyone. She firmly and honestly waited for 30 years, then 40 years after her children had fully experienced the sweetness and bitterness of the life of an intellectual who lived fully with the career of their choice, retired and then let them participate in the work. family business. The generation of her grandchildren and great-grandchildren, she also told them to study, go to work, and only do their professional work, without thinking about continuing the career.
At 85 years old, his eyes are still sharp, his mind is still sharp, each transaction is still managed, and the children still… no one knows how to make sausages, because according to her: "Business people may not need to do a great job, just have a good grasp, understand the product and know how to use their head, that's success. I only pass on business secrets, working processes and relationships so that later, when my knees get tired, my children still take over the business and keep the Quoc Huong brand.".
She said, after hundreds of years of the grandparents' time and more than 60 years of their takeover, 4 generations have done their jobs well, and the next and next life can do better, that is their choice.