Investment in 360-degree display at the point of sale, commitment to strategic cooperation with customers, creativity in programs to attract buyers are the impressive activities of the Trade Marketing team at Marico SEA. in the X-Men GO launch campaign. How has the difference made by Marketing been realized by Trade Marketing?
Brands Vietnam had an interview with Ms. Huynh Thi Ngoc Nur, Senior Manager of Commercial Marketing at Marico SEA about the story of "empowerment" and "persistence" during the launch of X-Men GO. Interested applicants can read more X-Men GO stories and vacancies at this.
Empowerment – Motivation to be different and work hard
* In the Marketing interview, we see many different efforts of Marico SEA when launching X-Men GO. Can you share your comments on these differences?
This X-Men GO product launch campaign has officially marked a different milestone, bringing a new breath from strategy to product formula. In the past, products with "functional benefits" have been launched but have not been successful because they are still weighed down by the X-Men's shadow.
But, the more we listen to consumers, the more motivated we are to do otherwise.
In the period 2004 - 2011, X-Men successfully built the image of a heroic man, "masculine bravery" to protect women. That is the right concern for the 18-24 year old target group (7x, 8x generation) at this time.
But also at the age of 18-24, today's Generation Z loves adventure, challenges, experiences and traveling to new lands, wants to express themselves to be able to do what they like. Today's male charm comes from a variety of experiences. Understanding that mentality, X-Men GO tells its story with the idea of "passing" to love discovery, not chasing the motifs of the old X-Men.
In particular, the hot and humid climate and polluted environment in Vietnam today make men face many harmful agents such as dandruff, dust, car smoke, sebum and bacteria. Therefore, X-Men GO was born with two product lines "Detox" and "Refresh" to solve the above problems, helping men confidently conquer new journeys.
Those are the values that the Marketing team and the leadership of Marico SEA have strived to bring to consumers through the X-Men GO product.
As for me, although I am a newbie, I consider myself quite lucky to be trusted by the Board of Directors and colleagues to plan this launch. The Trade Marketing team and I were "empowered to do differently", doing things we had never done before at Marico to make a big difference. When seeing these values, the Trade Marketing team becomes more and more passionate to bring goods to consumers in the most drastic and effective way.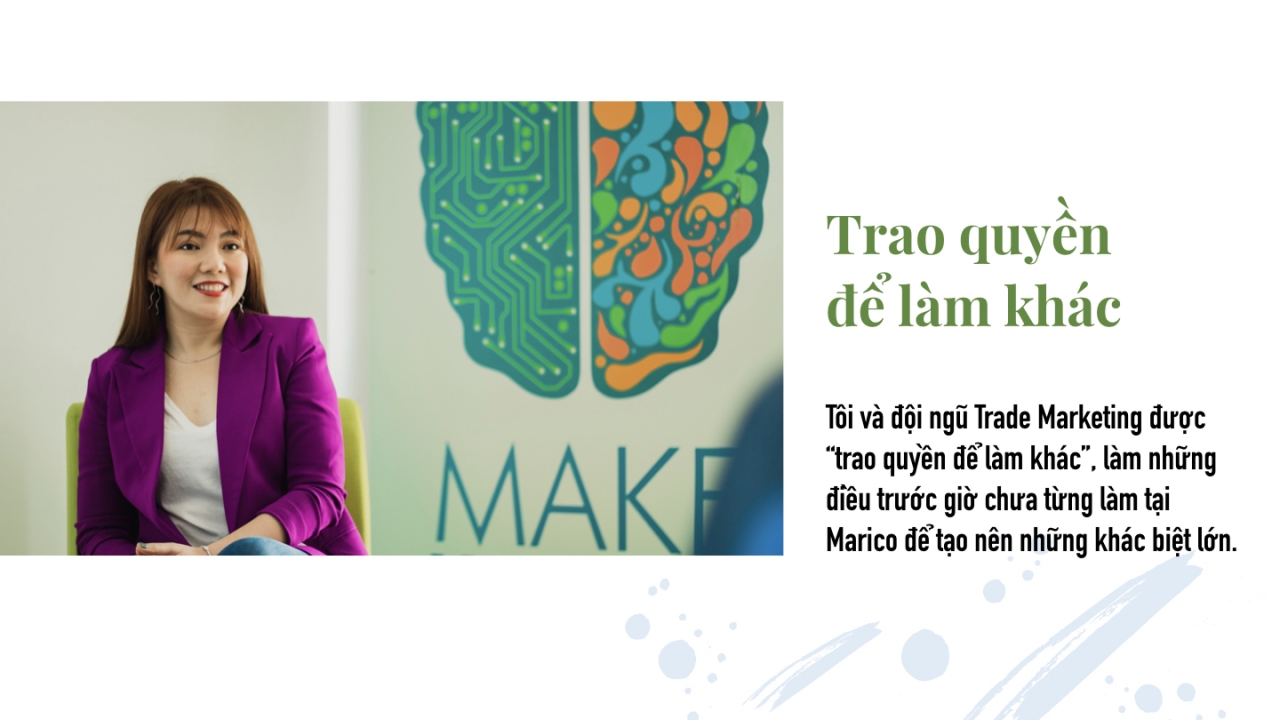 * What activities did Trade Marketing take to support the Sales team in launching X-Men GO?
"If you want to go fast, go alone. If you want to go far, go together."
In the X-Men GO launch activity, Trade Marketing plays the role of connecting 3 objects Sales Team - Retailers (Customers) - Shoppers to help launch new products to the market. the fastest and most impressive school. Our activities are also divided into 3 milestones: Igniting the fire of the sales team (Sales Engagement), Engaging the partnership with Retailers (Customer Engagement ) and Putting shoppers at the center (Shopper Engagement ) ). The most important factor is the shopper engagement factor - "love and understand" shoppers at each different sales channel, putting shoppers in the center of attention to come up with a corresponding plan, thereby helping the sales team trust, blood fire and focus more sales.
In order to connect the Sales team (Sales Engagement), within the first 3 months of launching, Trade Marketing organized many activities to meet and inspire the sales team nationwide.
The first activity is to organize Sales Briefs throughout Vietnam to share product knowledge, create conditions for Sales to "try, trust and feedback" (Try, Trust & Feedback), thereby creating confidence and pride in the new product. In particular, Trade Marketing always encourages the Sales team to contribute new ideas and ideas to have a plan to reach consumers and convince them to buy products and try them out.
The second activity is the contest "Covering goods quickly" for the first 15 days of launching X-Men GO to promote display activities and new product shelves.
And finally, the contest "Creative display shelves" for Sales to create unique and beautiful models of shelves at supermarkets, trade centers, or markets based on the idea of "Pho", using Big displacement Jeep model.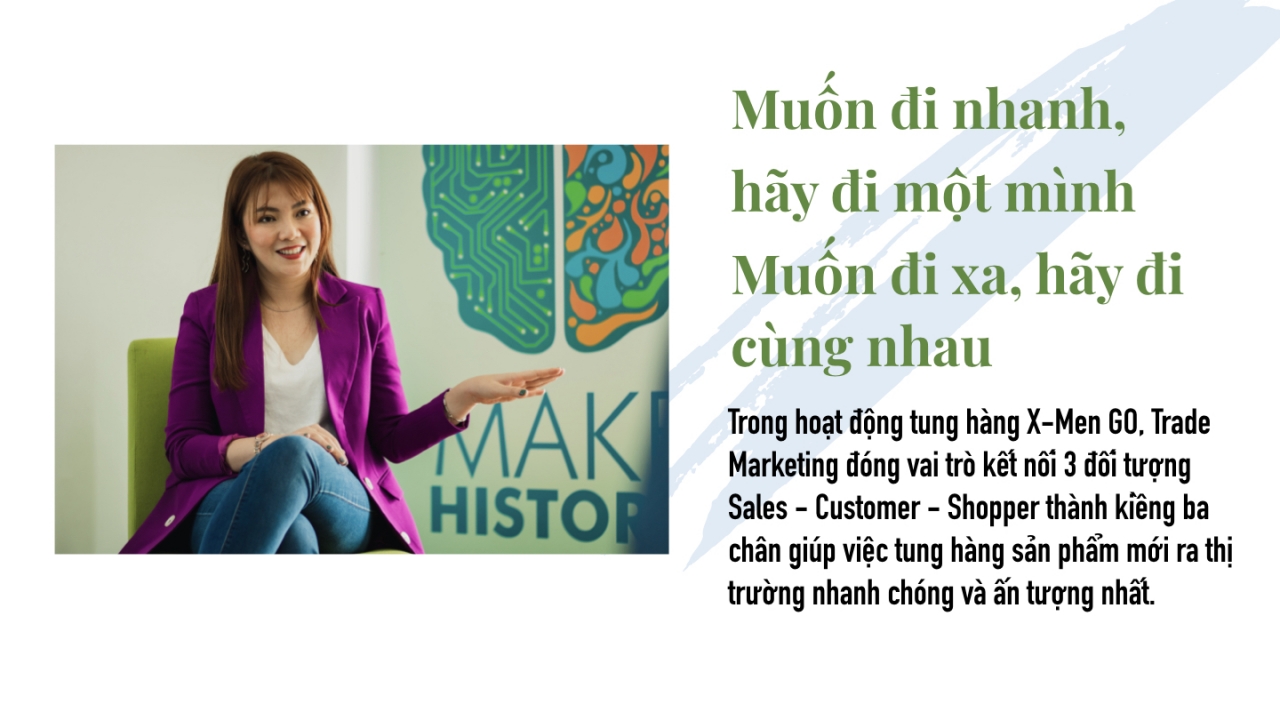 * How is the activity of reaching and connecting retailers (Customer Engagement) by the Trade Marketing team in the X-Men GO launch campaign?
The Trade Marketing team considers connecting with customers (retailers and distributors) a very important activity. This activity helps X-Men GO receive support from customers, in order to facilitate product delivery to shoppers.
Two months before launching, the Trade Marketing team held many meetings with customers and big retailers in Ho Chi Minh City. Ho Chi Minh City and Hanoi such as Coop Mart, BigC, Vinmart, Circle K, Guardian... with the goal of sharing product features and messages and offering many strategic cooperation activities. The launch plan is designed "tailor-made", to suit the unique shoppers at each retailer.
Besides, the Trade Marketing team also shared the sales plan for the next 3 months to convince customers and make them believe in Marico's determination and the product's ability to succeed. We also added more strategic display locations to affirm our commitment to invest in new products and create trust for customers.
* For Trade Marketing, the activity of approaching and attracting the attention of shoppers (Shopper Engagement) at the point of sale is considered the focus of the campaign. How is the Trade Marketing team's plan implemented for X-Men GO shoppers?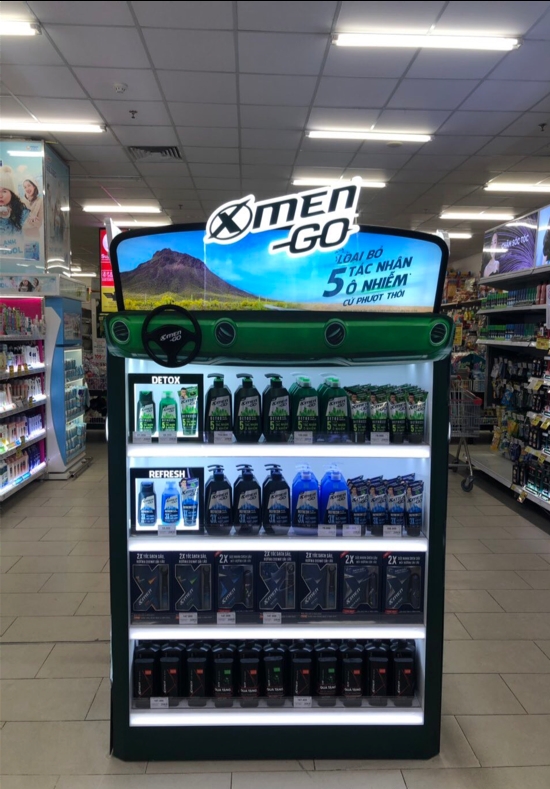 Following the shopper's shopping journey closely, understanding them, loving them and offering the right "sales solutions" is our guideline.
In the first days of launching, Trade Marketing has ensured that the goods are fully stocked, on shelves, and on promotion. Next, we invest in 360-degree displays that reach shoppers throughout their shopping journey, from the moment they enter the store, until they reach the promotion section, the main shelf.
Display publications (POSMs) are uniquely and creatively designed to attract the attention of buyers. At large commercial centers and supermarkets, we invest in installing digital gondola-ends, using eye-catching electric lights and motors to make the model move like a real thing. , creating curiosity, excitement, and attraction for shoppers.
In addition, we also increased investment in the Beauty Advisor team at key stores in 5 major cities, in order to approach, introduce, distribute samples and increase sales.
In particular, we have the activity of converting buyers in the women's shampoo stalls (unisex) by increasing the display locations near the women's shampoos. We can reach male customers who have a habit of using female shampoo; then combine with Sampling activity (when customers buy any shampoo, they will get 1 combo of 3 trial products of X-Men GO) to convince them to switch to using X-Men GO.
Finally, strategic cooperation activities with key retailers to offer attractive promotions for a certain period of time increase the chances of getting X-Men GO products into the hands of shoppers. .
* Can you share some of the difficulties Trade Marketing team faced in launching X-Men GO products?
No job, no beginning without difficulty – all beginnings are difficult. However we see each challenge as an opportunity.
Typically, the X-Men GO product set includes 2 main product lines, Detox and Refresh. Each product line is expanded into 3 categories: shampoo, shower gel and facial cleanser. There should be a total of 12 item codes. With a large number of product codes as above, customers are not confident to open and sell all these new products due to the small area of counters and shelves. To overcome the challenge, I have only one word: patience. Patience in approaching and persuading customers, patience in the battle to increase each display on the shelf, patience in continuously observing and understanding shoppers. Besides, we always have to be patient to maintain the empowerment, fire and trust for the sales team, to "go together and go far".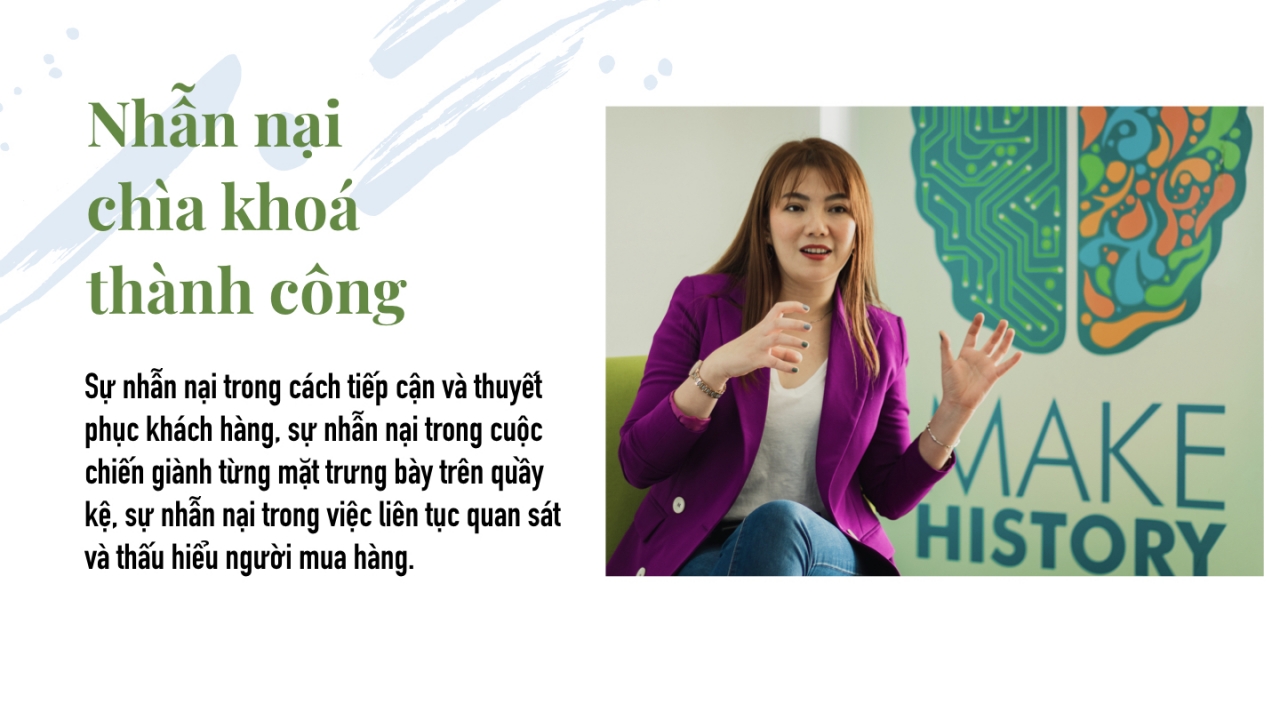 * People often talk about the battle between Sales and Marketing in the business. As a bridge between the two sides, does Trade Marketing at Marico SEA have this problem?
I see that Sales and Marketing are two halves of a yin and yang circle, put together to complete and complement each other.
Marketing team are those who understand the behavior and psychology of consumers, offer products that are both suitable for consumer tastes and different from other products, and use communication and advertising to introduce to consumers. And the Sales team will be responsible for implementing the ideas and communication concepts of Marketing to the market, bringing products to customers. Without Sales, Marketing can hardly sell products; and vice versa, without Marketing, Sales will not easily persuade and bring products to retailers and shoppers. Especially different, breakthrough products like X-Men GO.
In the process of working, or when there are conflicting opinions, Trade Marketing acts as a bridge, "transmits information" and "respects the difference" between the two Sales and Marketing teams. Therefore, the Sales - Trade Marketing - Marketing circle always operates smoothly to effectively bring products to consumers.
X-Men GO and the values of Marico SEA
* In your opinion, what values does Marico SEA bring to renew ICP?
I see that, Marico SEA possesses the value of the "consumer-centric" business philosophy and vision. Marico SEA listens to the needs of Vietnamese consumers to create the best products, with international standards, but still true to the needs and tastes in Vietnam.
Another thing I want to emphasize about the value at Marico SEA is that we always receive clear direction, empowerment and support from the Board of Directors. Therefore, every action of the Trade Marketing department always puts the shopper at the center, the sales team is the foundation and the customer is the strategic partner.
* How is Marico SEA's ambition in the X-Men GO campaign shown?
With this X-Men GO product, Marico SEA's ambition is to expand penetration into the men's personal care industry, creating a new turning point for this industry. Since then, making X-Men GO the market leader in men's personal care based on the philosophy of listening to the consumer.
Finally, Marico SEA wishes to bring a separate product line for men, forming a habit for them to not have to "use" their wife's shampoo, contributing to expanding and maintaining the No. 1 position in the market.
* Thank you for sharing the above!
Hanh Bach
Source: Brands Vietnam