In 2019, the startup didn't have the "shocking" stories as was the case with Theranos in 2018, but the collapse of MoviePass was also a big surprise.
From these startups, people can see examples of hard work from the founders. They have unique ideas, with promising products, but can't be lucky to get to the finish line.
Here are a few of the biggest and most impressive startups that closed in 2019.
Anki (2010-2019)
Total raised capital: 182 million USD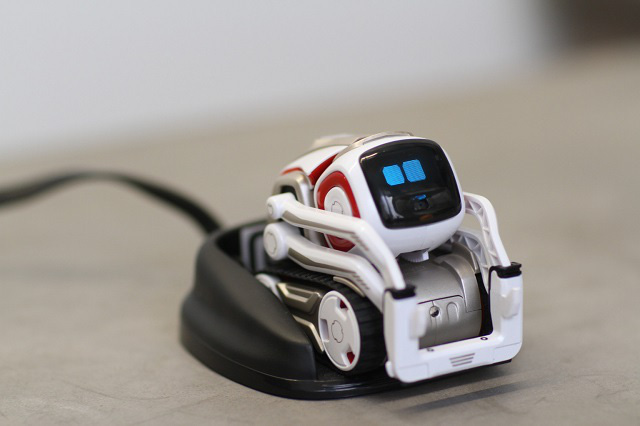 Raised more than 180 million USD, Anki still failed. Image: TechCrunch
In 2013, a promising young hardware startup launched a new generation of remote control cars at the Worldwide Developers Conference. It's an admirable achievement for a fledgling startup. Big Apple is very impressed with the way Overdrive (the name of the model car product) is controlled by the iphone, something that no one expected before.
Three years later, Anki launched Cozmo. The tiny robot is the result of a huge investment, which includes the company's re-hiring of visual creators who've worked for famous animation producers like Pixar and Disney. Dreamworks, aims to create emotions that users can feel through the eyes of that robot. At the end of 2018, the company introduced the Vector robot product, aimed at adult customers. But in April 2019, Anki officially stopped working, even though the company had sold 1.5 million robots before, including "hundreds of thousands" of Cozmo versions.
Chariot (2014-2019)
Total raised capital: 3 million USD, then acquired by Ford in 2017
Chariot sold back to Ford in 2017. Photo: TechCrunch
Chariot is a transportation startup, with the goal of redefining the traditional transportation market. The company owns many vans for passenger transportation. The route of the car is decided by the majority of people on the car.
After acquiring Chariot in 2017, Ford officially closed the company in early 2019. The company did not release many details related to this event, other than revealing that "in the context of the market is always changes, the needs of customers as well as in big cities are constantly changing".
Daqri (2010 – 2019)
Total raised capital: 132 million USD
Daqri closed in September 2019. Image: TechCrunch
Daqri, a company specializing in the field of virtual reality received a lot of investment and became the focus of the market in recent times, but officially closed in September 2019 after completing the sale. its entire property. The company is one of many businesses operating in this field that accepts failure when it cannot "attract" to corporate customers, and also loses in the battle with big rivals like Magic Leap. , Microsoft…
Daqri once contacted a large private investment firm to develop a financial plan for the IPO process, but when the technical difficulties faced by companies specializing in virtual reality Faces began to emerge, the company decided to "kill" its previous intention, and the IPO plan completely collapsed, according to information that TechCrunch Collected.
Sadly, Daqri isn't the only virtual reality company to shut down in the past year.
HomeShare
Total raised capital: 4.7 million USD
HomeShare had about 1,000 regular users before shutting down. Image: TechCrunch
HomeShare strives to "deal" with the rapidly increasing housing cost problem in many cities. This company provides a solution to help connect people who need to rent or buy a house together, and they will together divide their shared apartment into rooms with a "super small" area. The company said that as of March 2019, it has about 1,000 regular users of its service.
However, after the shutdown, a Homeshare representative said that customers will not receive the previous deposit, however, they will still have the right to keep or sell the small rooms they already own. possess.
Jibo (2012 – 2018/19)
Total capital raised: 72.7 million USD
2019 was a tough year for many robotics companies. Image: TechCrunch
If you look at the case of Anki and Jibo, you can see that 2019 was a difficult year for companies that manufacture robots to serve the diverse needs of life.
But the fact is, there has not been a year that is considered easy for companies operating in this field. At least that golden period has not yet come, as of now. Just like the departure of Sony's previous robot dog Aibo, the demise of Jibo also brings a lot of sadness to users when they have to watch their cute robot "friend" officially "breathe" last breath". Jibo officially closed in April 2019. The company shares with its customers a message through the robot that, "I want to say that I really appreciate the time we spent together. Thank you very, very much for believing in me."
MoviePass (2011 – 2019)
Total Fund Raised: $68.7 million, and later acquired by Helios and Matheson, in 2017
MoviePass encountered many difficulties before officially shutting down. Image: TechCrunch
When TechCrunch On the 2019 list of "falling off" startups, one of the members of the editorial team was adamant that MoviePass had shut down years earlier. That's because, the process of this movie ticketing service company going to failure is a long process.
In fact, almost every week, the company faces a series of challenges such as financial "bleeding", limited services, running out of capital, borrowing money, and then falling into a state of disrepair. crippled and exposed a lot of important data. Not stopping there, the John Gotti movie that the company invested in producing was really a "disaster". And all of that, led to the demise of MoviePass.