During the Tet holiday, brands rush into the media battle to boost year-end sales. However, insight on this occasion is not much, so how should businesses attract customers' attention and create a successful campaign?
Tet is a bustling time and brings many opportunities, but it is not easy for businesses to succeed in becoming a top-of-mind brand, especially when facing fierce competition from competitors in the industry. .
Lunar New Year - a bountiful season for businesses, a key season for communication and advertising activities
The fact is that Tet does not have too many insights, insights such as family reunion, connecting people, luck and fortune, etc., every year, there are brands to exploit. But why still see media effectiveness growth year over year?
To answer this question, according to Mr. Ta Minh Hai - Project Manager of Brand at Tet: "The exploitation of the above insights is not new, but it is never old because it still touches the deepest desire in the world. every human being on the biggest holiday of the year."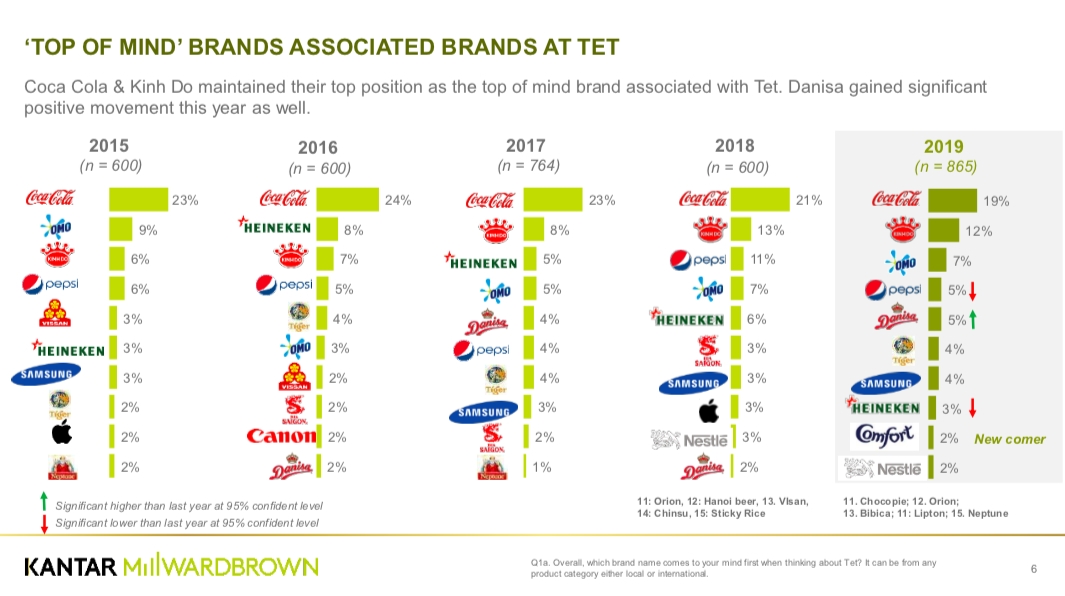 A good example of exploiting old insights with new approaches can be mentioned Coca - Cola. In the past 10 years, Coca-Cola has always persistently exploited traditional elements such as Family, Connection, Gathering, and the "sweet fruit" that this brand received as its top-of-mind brand. Tet holiday for nearly a decade.
Or another more multidimensional example is in Tet 2019: Both Pushmax Cam and Tiki chose insight as the heart of the bride when staying at her husband's house. While Tiki chose the couple Truong Giang and Nha Phuong in the viral clip: "Being a bride is the end of Tet?" with a witty, playful perspective. Then Pushmax brings a more touching and painful story to gain the sympathy of the audience, target audience and make the campaign enter the top 10 of the most prominent brand campaign rankings on social networks. Tet season 2019.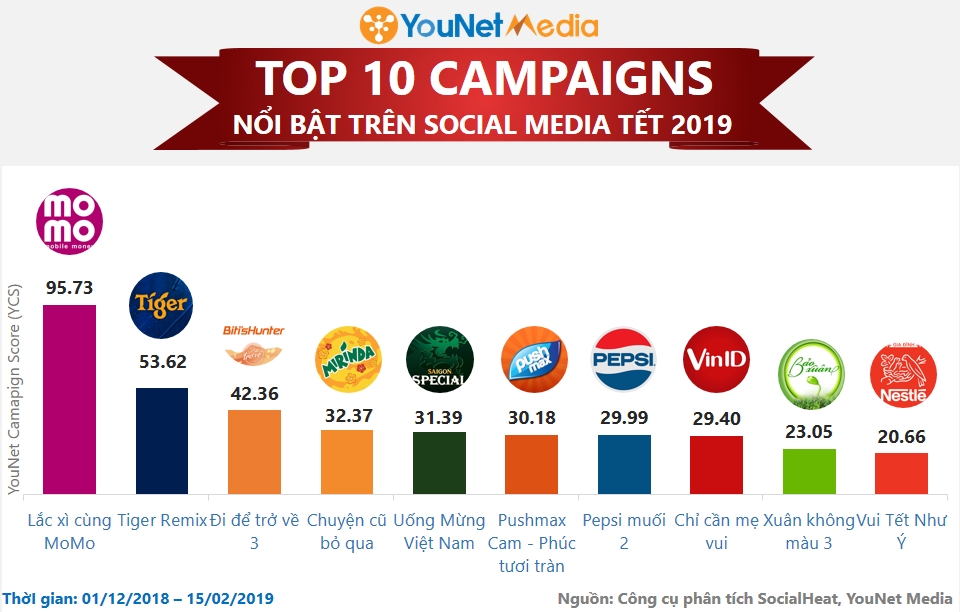 In summary, the Tet communication story is not only for the big guys but also small and medium-sized brands can still find their own "piece of cake", it is important to "hit" customer insight through:
Multi-dimensional exploitation of emotions from consumers.
The expression is close and natural, both solving customers' problems and expressing the rational and emotional values of products and brands.
The direction is clear, but the question is: How to exploit an old insight effectively and prominently during Tet?
Experiment with music
The effectiveness of this method has also been proven through many successful campaigns of brands. Music advertising has two ways: Composing a new song or rewriting familiar tunes, in which, rewriting lyrics is often preferred by brands because it takes advantage of the melody. familiar songs are available in the customer's mind. Customers can forget images, forget words, but sound is something they can hardly forget because it is the language of the soul and has a very strong suggestive power.
"The exploitation of the above insights is not new, but it is never old because it still touches the deepest desire in every person during the biggest holiday of the year."
Music advertising is not without its difficulties. The difficulty comes from choosing the right songs and melodies for the target audience but still having to be skillful in the way they lead the product, which are the issues that require the sensitivity of the creative units. .
It can be mentioned that in the last period of May, VinID Scan & Go product was launched by Vingroup to the market, the media campaign conducted by Orion Media with the participation of runner-up Tu Anh has achieved many successes. by skillfully choosing the melody of the song "There is a lady" in the movie Hoan Chau Cach Cach for the main media. The tune in this television series from the early 2000s may be unfamiliar to today's youth, but it's very familiar to the vast majority of women aged 25-30, the target audience of women. VINID Scan & Go.
As for the new songwriting direction, it is impossible not to mention Orion Media's Rap Battle series, which is loved by many brands such as Mobile World, Cho Good, etc. young customers.
Create empathy with short films
92% customers are more sympathetic to ads in the form of storytelling. The rise of viral video is also true in the Vietnamese market and is reasonable with the world trend
According to 2017 research data from Onespot - an American content marketing company, 92% customers are more engaged with ads in the form of storytelling. The rise of viral video is also true in the Vietnamese market and is reasonable with the world trend. A film with a storyline throughout will help the brand fully express its campaign message. To be successful, the promotional short film must balance both factors:
As a short film: The plot is compelling, the plot is compelling, and the audience sympathizes.
As an advertisement: Ensure brand identity, campaign messages, and products of the brand are fully conveyed.
Typical can be mentioned short film: "As long as mom is happy" by VinID brand. The film exploits an old topic of family affection during Tet but still receives great attention because it hits the right thoughts from many children about: "The mother's excessive frugality". In addition, VinID's products are cleverly placed in the film by integrating the image of a piggy bank associated with each person's childhood. In particular, it is impossible not to mention the emotional contribution of Ha Anh Tuan, who created an impressive promotional short film, reaching the top 10 outstanding campaigns on Social Networks of the 2019 New Year season.
Not only "As long as mom is happy", other promotional short films made by Orion Media during the Tet season for the Pushmax brand are "Tet Debt" combined with Soobin Hoang Son and "The bride-to-be to celebrate New Year's Eve with her husband's family". The collaboration with Huyen Lizzy also created a great resonance, attracting a lot of discussion from criticism to sympathy, 2 consecutive years in the top 10 on the ranking of outstanding campaigns for the 2018 and 2019 New Year seasons.
It can be seen that all three campaigns focus on exploiting the element of family affection during Tet, but when approached from different angles, it is still capable of creating a significant effect on social networks. during the release phase.
Don't forget to "choose to send gold"
Besides quality content, it is impossible not to mention the calculations in choosing KOLs to participate. Horror short film: "Son Tung in Zombieland" by Otiv brand recently is a typical example.
Based on the image of young people suffering from pressure and stress in life leading to insomnia and lethargy, Orion Media has developed a bold idea of the Zombie-themed horror film with the participation of the actors. KOLs are "popular".
Specifically, Chairman Son Tung - MTP represents young startups; designer Mac Van Khoa is a young, ambitious employee who wants to assert himself; accountant Le Giang is a modern woman, but she has to face the burden of "being good at domestic work, doing housework"; student Kieu Trinh is trying to overcome exam pressure and is compared with "other people's children", financial director Quang Minh represents a group of successful middle-aged people who daily endure 2 words "responsibility". responsibility" weighed heavily on his shoulders.
50 million views and more than 400 thousand interactions after only 2 weeks of release. Orion Media believes that, without the acting and influence of these KOLs, the campaign could not have achieved such great success.
It can be seen that, Tet is a big business season for businesses, to seize this opportunity, investment in communication activities in a methodical and professional manner is indispensable. Inspiring to share feelings together, wishing for good things for the new year or reminiscent of family reunion, etc. are key messages in Tet campaigns over the years, but in order to reach customers. brands, brands need to focus on choosing the right form of expression and KOLs.
Orion Media Joint Stock Company is a prestigious leading company in the field of Communication and Advertising in Vietnam. With the motto "Continuously researching and creating ideas and solutions to help businesses improve the efficiency of communication and advertising activities", OMG was created by the harmonious coordination between a team of experts and experts. Experienced communicators and young dynamic and creative people. The services OMG provides are not only focused on the production segment but also on the overall campaigns deployed for big brands, in various fields such as Vingroup, Samsung, Golgen Gate, Chotot, Thegioididong, Shopee, VPBank, etc. Besides, OMG also owns a diverse ecosystem on social networking and video sharing platforms, including many groups, fanpages, channels with millions of subscribers such as: Loa Phuong, Trang TV, Hanoi, OMG Radio,…

Orion media contact information:

Head office: 98 To Ngoc Van, Tay Ho, Hanoi.
Ho Chi Minh City Office: No. 4 Nguyen Thi Minh Khai, Dakao Ward, District 1.
Website: http://orionmedia.vn/
Email: [email protected]
Hotline: 0948319193 (Mr. Ha Nhat Linh – Account manager)
* Source: Orion media