At the Smarties Vietnam 2019 event organized by Mobile Marketing Associations on October 25, Unilever Vietnam made a great impression with 9 excellent awards, coming from 5 campaigns that marked the results of digital transformation.
Unilever's brands with marketing campaigns shortlisted for Smarties Vietnam 2019 include: OMO, Lifebuoy, Clear, Clear Men, Lipton, Dove and P/S.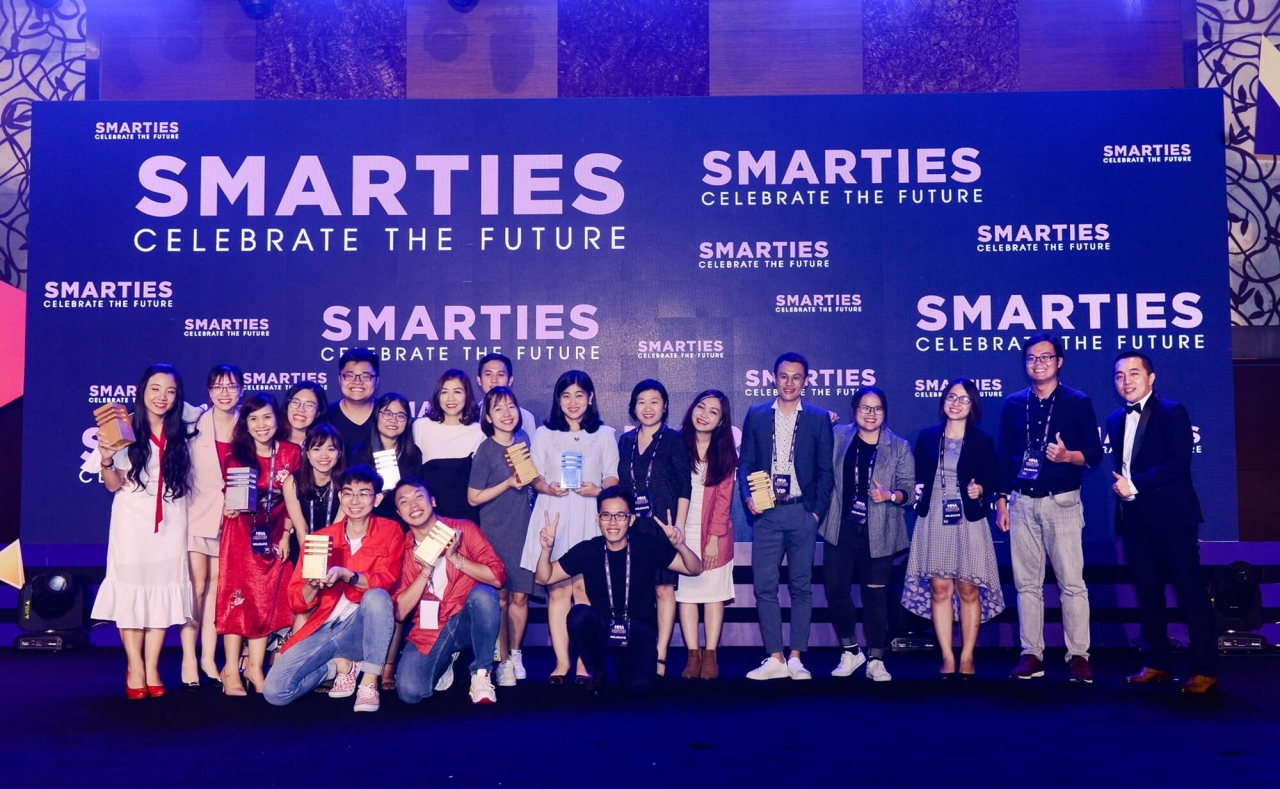 Unilever's "Marketer of the year" lineup was named in most of the important award categories of Smarties Vietnam 2019. How did they do it?
Conquer the leading challenge of marketing in the digital age with FMCG brands
Changing consumer behavior in the digital age poses many challenges for marketers. For FMCG companies like Unilever Vietnam, there are two top important keys that must be grasped to continue successfully decoding in the technology era:
First: The formula for communicating a common message with mass reach communications has gradually become less effective in the digital environment.
According to Forbes, an internet user can be exposed to between 4,000 and 10,000 ads per day(1). This huge number makes them less patient when viewing content (each person's attention span is only 8 seconds according to Microsoft).(2)). And so, generic content (1-for-all) is easy to overlook because they find it irrelevant to them. Survey from Aimia Institute(3), Millennials - the main users of the internet - are the most inclined (44%) to disconnect from the brand permanently if they receive a lot of such "generic" messages.
Therefore, to effectively convey messages in the digital age, marketers need to "measure" diverse experiences and content, dedicated to many customer groups. More importantly, it is necessary to find the relevant context for the brand to appear and be best received, instead of receiving the "skip" button of online users.
The second challenge comes from the "low involvement" characteristics of the FMCG home care/family care industry and requires improved customer experience.
Compared with technology, entertainment, and beauty products, the home care/family care industry like Unilever suffers from a "low involvement" industry, because home/family care is a topic that has already been covered. familiar for decades and little attention. Therefore, it is imperative for Unilever Vietnam to make the most creative use of the latest technological advances, to "tell a new story", to provide the optimal experience for increasingly difficult customers. computing and demanding in the digital age.
The message "1-1" is "tailored" by Unilever Vietnam thanks to big data and AI
The prerequisite for winning in "relevant contexts" with "relevant messages", is to analyze big data to know who - where - when - how will be "relevant". .
With the project Lifebuoy – Infection Alert System (Automatic disease warning system), the brand sets a seemingly impossible goal of predicting what kind of disease (flu, hand foot and mouth disease, dengue fever, etc.) diarrhea…) will be at risk of outbreak at any time, in which province, to customize relevant messages and send warnings to the people of that area (in the right way – at the right time – in the right way). content).
This difficult problem is solved by a statistical model that analyzes data factors including weather, temperature, and number of searches to find the correlation index with the pathological data. As a result, Lifebuoy predicts that locality A may face epidemic X, locality B is epidemic Y... and through Google's automatic advertising tool "Ruled by weather" to deliver tailored content. for each locality, reminding the community to increase hand washing and body hygiene with Lifebuoy to prevent disease.
Also "data-driven", but "Express it, don't text it" by OMO Matic and "We know when you are going to say cheers next" (Clear Men Dzô! 100% Clear Men's "Invincible Team" has a different approach, applying even the most breakthrough technology in the 4.0 era - artificial intelligence (AI).
Collecting and analyzing big data from public content on the internet together, if OMO Matic's 1-day-only campaign on Mother's Day uses AI from Google Vision to identify messages through images and YouTube Director Mix to create hundreds of instant ads corresponding to hundreds of "real-time relevant contexts" connecting mother and family, Clear Men used Grapeshot from Oracle to build a predictive model. ), predicting upcoming celebratory moments in the future to include the message, inserting the "cheers" image of Clear Men Beer accordingly.
These "1-1" experiences following the "right people - right content - right context" strategy thanks to big data and AI have brought great success in sales for all 3 brands.
"Telling a new story is not new" with mobile, chat bots and AR
Choosing how to invite the community to accompany in social issues or educating children about regular brushing properly are the topics that "OMO - Take dirt to give dirt" (Voluntarily dirty & Play safe). and "P/S – The adventure with King Leo and friends" wants to convey.
Thanks to mobile-first thinking, with understanding social chat behavior and superior AR technology, the new-not-so-new stories have been put on an attractive and impressive shirt – the shirt of the digital age!
Especially with the smartphone next to the mother, reminding the baby to brush his teeth every day is also automated through the extremely convenient chat bot messenger, helping the baby form good habits after 21 days. With this campaign, at the global MMA 2019, P/S also won the Gold award in the "AR/VR" category and the silver award in the "Messaging" category.
As for OMO's community campaign, each user can really get "dirty" with the AR camera on their smartphone and share their image as a call to action for a future without children. drowning.
Not only excellently winning a series of awards in important categories at Smarties Vietnam 2019, the OMO brand also won the Bronze - Media Strategy award at TANGRAMS 2019 (a prestigious award to honor the most effective marketing campaigns in the region). Asia-Pacific region) and the 2019 Global MMA Bronze Award with the campaign "Leave the screen, experience life". TANGRAMS also simultaneously named Clear Men in the Digital Strategy category to award the COPPER campaign "Data Driven Emotion Mapping".
* Source: Unilever