The sharp drop in market share due to fierce competition from local competitors, high labor costs... are the reasons why Samsung decided to close the last smartphone factory in Vietnam. China.
On October 3, the electronics company Samsung announced the closure of its last smartphone factory in China.
As part of its efforts to improve efficiency at its manufacturing facilities, Samsung has taken the difficult decision to shut down its Samsung Huizhou plant, the announcement said.
The announcement did not specify when the specific closures or how many workers were affected.
Samsung Huizhou factory in Huizhou city, Guangdong province, was built in 1992. Korean media reported that in 2017, this factory employed 6,000 workers and produced 63 million smartphones. Late last year, Samsung also closed its smartphone factory in the city of Tianjin, China.
Thus, Samsung officially "stopped the game" in the Chinese smartphone market, at least in terms of production.
In its heyday, Samsung Huizhou factory produced 20% smartphones that were sold in China every year. At the beginning of this year, there were rumors that this factory was about to close.
On October 3, the news site Zhiwei Tech (China) posted a video on the social network Weibo showing workers signing for free smartphones at Samsung Huizhou factory. The bulletin posted with the video said that it was a farewell gift for workers who have been with the company for 10 years or more.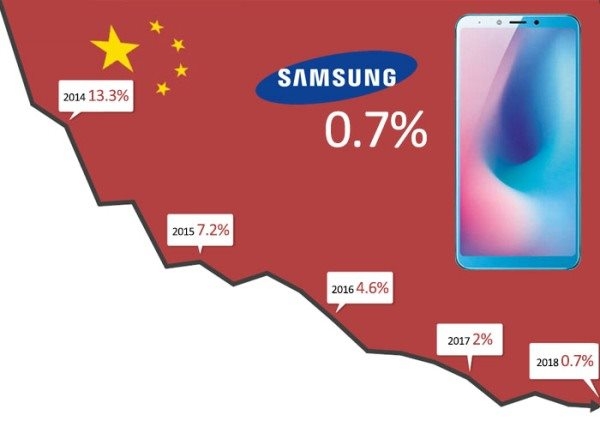 Analysts say that completely stopping smartphone production in China is an inevitable move for many reasons. First of all, Samsung's smartphone sales in the world's most populous market have continuously declined over the years.
Flora Tang, an analyst with market research firm Counterpoint Research, said that in 2013, Samsung was in the list of the 5 largest smartphone manufacturers in China with a market share of about 20%. But Samsung's market share has declined rapidly since the end of 2016 when demand from Chinese customers plummeted due to the crisis caused by the explosion of the Galaxy Note 7 smartphone.
Samsung's slow responses have eroded Chinese consumer confidence. By the first quarter of this year, Samsung's market share in the country was only 1%, according to Counterpoint Research.
As estimated by market research firm Strategy Analytics, in the third quarter of 2018, Samsung sold only 700,000 smartphones in China, accounting for only 0.7% market share.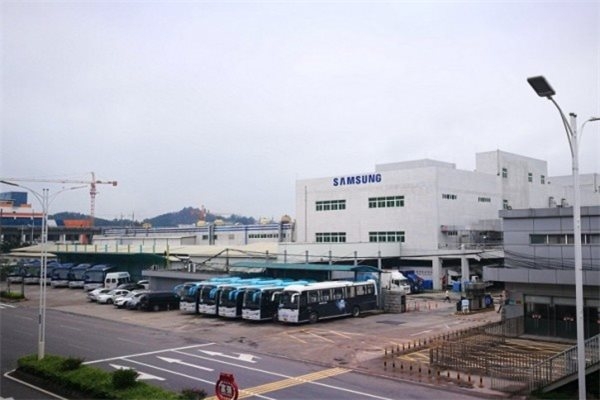 Another big reason for Samsung's market share shrinking is the rise of local rivals. Over the past few years, Chinese smartphone brands such as Huawei, Oppo, Vivo and Xiaomi have increasingly captured the hearts of domestic consumers. These competitors have "captured market share from Samsung with its diverse product portfolio, low-cost products, and localized ecosystems as well as extensive sales and distribution channels," said Flora Tang.
"In China, consumers prefer to buy low-cost smartphones from domestic brands and buy high-end smartphones from Apple or Huawei. Therefore, Samsung has little hope of recovering market share in China," said Park Sung-soon, an analyst at Cape Investment & Securities.
Besides, the Chinese smartphone market has fallen into a state of saturation in recent years, the first decline in 2017 and continued the strongest decline in the first half of this year. That is also one of the reasons why smartphone sales in China have declined.
Meanwhile, labor costs are rising in China. "Samsung does not need to stay in China because of high labor costs and almost non-existent market share. They can make smartphones more efficiently in India and Vietnam," said Greg Roh, an analyst at Hyundai Motor Securities.
Samsung is expanding production in emerging markets where it can benefit from lower costs including cheaper labor. According to market research firm Canalys, Samsung is producing 60% smartphones in Vietnam.
Samsung is expanding production in emerging markets where it can benefit from lower costs including cheaper labor. According to market research firm Canalys, Samsung is producing 60% smartphones in Vietnam.
Samsung is also trying to consolidate its share of the smartphone market in India. For many years ago, Samsung held the leading smartphone market share in India until it was surpassed by Xiaomi at the end of 2017. Now, the two companies are competing fiercely in the world's second most populous market with Xiaomi. 25% market share for Samsung, slightly less than Xiaomi's 28% market share in the second quarter of 2019.
Last year, Samsung opened the world's largest mobile phone factory in Noida city, near New Delhi, India. Samsung says the new plant will double its mobile phone capacity in India.
In an announcement on October 3, Samsung said that equipment manufactured at Samsung Huizhou factory will be shipped to other production locations around the world depending on market demand.
Analyst Flora Tang said that closing Samsung Huizhou factory is a good solution for the company to minimize losses and strengthen profitability. She said: "The smartphone business of Samsung much more active in Southeast Asia and India than in China."
Khanh Lan (According to CNN, Reuters)
* Source: Saigon Times