Uniqlo representative said that real estate prices in Vietnam are too high, so it takes a long time to find a suitable location for the store.
Appeared at an event before the store's opening Uniqlo Dong Khoi On the afternoon of November 14, Mr. Yukihiro Katsuta, Senior Vice President of Fast Retailing Group, Head of Research and Development Department Uniqlo, explained the reason for the delay in opening the first store in Vietnam despite announcing how to open the first store in Vietnam. here 2 years.
"Finding a good location will be more valuable than spending money on marketing. But in Vietnam and several other hot spots, property prices are skyrocketing. Therefore, it is difficult to find a place with a prime location, suitable area and affordable price," he said.
Uniqlo Dong Khoi is located at Parkson Saigontourist Plaza, at the corner of Le Thanh Ton - Dong Khoi intersection (District 1, HCMC). This is known as the fashion crossroads where welcomes the first stores of most international brands such as Zara, H&M...
Although the specific cost of space is not disclosed, according to statistics from Colliers International Vietnam in the second quarter of 2019, the rent at Vincom Dong Khoi opposite Parkson Saigontourist Plaza is 102 USD/m2, in the top 7 commercial centers the most expensive in HCMC. The buildings around this central area also have rental prices from 54-90 USD/m2.
With this ground, Mr. Yukihiro Katsuta affirmed that Vietnam is a key market of Uniqlo in Southeast Asia. At the same time, the vice president also expressed his belief that the products "will definitely sell well" thanks to the Lifewear philosophy - which values the simplicity, utility but fashion of the item.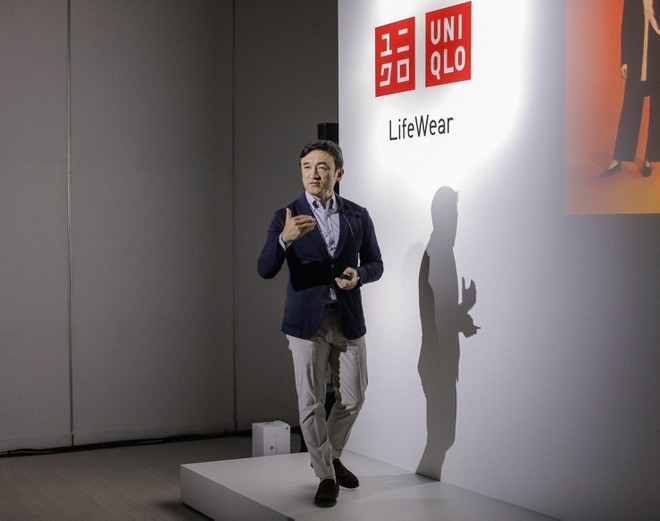 However, he declined to talk about specific targets in the Vietnamese market. "Our first priority is to make Uniqlo Dong Khoi successful. The first store hasn't opened yet, doesn't know how to do business, what will profit and loss be, how can you think much about the future?", he said.
Answering to Zing.vn about the production problem, he said that he has long worked with a number of outsourcing units in Vietnam.
"The trend of moving factories from China to Vietnam has many objective reasons, but the most important thing is that products manufactured in Vietnam are increasingly sophisticated, meeting high requirements. The very meticulous accessories on Uniqlo's jackets, sweaters... are made in Vietnam", he affirmed.
Uniqlo Dong Khoi will open on December 6, with 10 featured product lines. At that time, all three biggest fashion names in the world Zara, H&M and Uniqlo were present in Vietnam. This is a market that was valued at $5 billion in 2018, and is expected to reach $7 billion by 2023, according to Seedcom investment fund.
Uniqlo Vietnam Co., Ltd was established on October 2, 2018 in the form of 100% joint venture with foreign capital. Accordingly, Fast Retailing in Singapore holds 75% of capital and Mitsubishi Corporation holds 25% of capital. On September 9, the charter capital was increased from more than 201.5 billion VND to over 364.6 billion VND.
From September 19, Uniqlo also opened a branch legal entity in Hanoi and started looking for employees to work at the store in the capital
Lan Anh
* Source: zing News