In the survey "Usage of payment applications on mobile phones in Vietnam" conducted by market research firm Asia Plus, there are more than 20 electronic wallet in Viet Nam. In the fierce competition between intermediary payment units, 94% market belongs to MoMo, ViettelPay, Moca, AirPay and ZaloPay, with MoMo accounting for 68%. Although ViettelPay holds the second position, it only accounts for 8% market share, Moca 7%, Airpay 6% and Zalopay 5%.
"Payment apps on mobile phones are gradually changing shopping habits in Asian countries, and that trend is also gradually spreading to Vietnam. Vietnam is the fastest growing mobile payment method in 2019. This has created fierce competition between providers in the past year, and MoMo seems to be leading. leader in this payment market", this report assesses.
Also according to this survey, Momo reached a recognition level of 97% and 77%, users said they thought of MoMo Wallet payment application when asked about the brand that comes to mind first (Top of mind service). Also according to this survey, MoMo Wallet won overwhelmingly in terms of coverage (over 80%) in fields and daily essential services such as: Payment at convenience stores (CVS), supermarkets, and coffee shops. , milk tea, restaurant; Payment for utility telecommunications services (Internet, electricity, water, television, apartments,...); Consumer finance…
This phone payment application is currently highly appreciated for owning many good incentives and promotions for users; have an extensive payment acceptance network; diversified system of products and services; established a good customer network through word of mouth referral channels; and highly convenient for users when they can be used at familiar stores and services.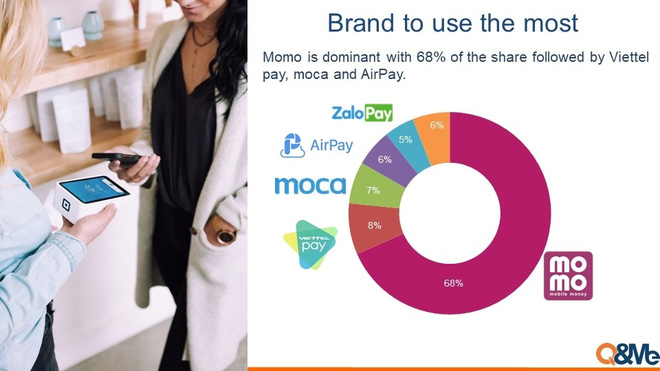 The survey "Usage of mobile payment applications in Vietnam" was conducted with 383 mobile payment users in Ho Chi Minh City and Hanoi aged 18-39 (46% men and 54% women). gender). The results show that the main driving force of users towards mobile payments stems from ease of use, speed and convenience.
There are 70% survey respondents who said they use mobile payments at least once a week, of which 21% use it every day. More than 50% users use payment applications to top up phone scratch cards. In addition, they also use it to pay for some services such as: bills (Internet, electricity, water (41%)), money transfer to friends or relatives (40%) and tickets at the cinema (35%)...
Sharing about the results on Mr. Nguyen Ba Diep (Vice President, Co-Founder of MoMo Wallet) said: "We are very proud that MoMo Wallet has received support and has become the main payment method of Vietnamese people. . The results of this survey are a convincing proof of MoMo Wallet's relentless efforts and prove that Vietnamese intelligence can make products that compete fairly and have an advantage over foreign companies in Vietnam. Vietnam market.
We hope that, in the near future, MoMo Wallet will continue to receive the support of domestic customers, and at the same time attract more Vietnamese talents abroad, contributing to building a Vietnam. mighty".
Besides utilities, mobile payment applications also have certain barriers that make some people afraid to use them. First, 32% feels worried about data security and they don't really trust payment applications, they worry that their personal information can be stolen. Second, 31% people do not know how to use payment applications. Finally, the number of stores that can pay with apps is also limited, in fact they still have to use cash in some stores.