VinSmart Research and Production Company (under Vingroup) has just announced a cooperation agreement with Google, to develop Vsmart brand smart TVs with attractive Google features.
According to the cooperation agreement, VinSmart will work with Google to develop smart TVs on the Android TV operating system platform, version 9.0, in order to bring a breakthrough experience to customers.
In addition to using a copyrighted operating system, Vsmart smart TVs will integrate attractive features from Google such as Voice Search, Google Assistant, Chromecast screen playback, etc., and open up an endless world of entertainment from Google Play, YouTube… Especially, Vsmart smart TV has voice search feature, Google Assistant smart virtual assistant in Vietnamese, providing a convenient and comfortable experience for users.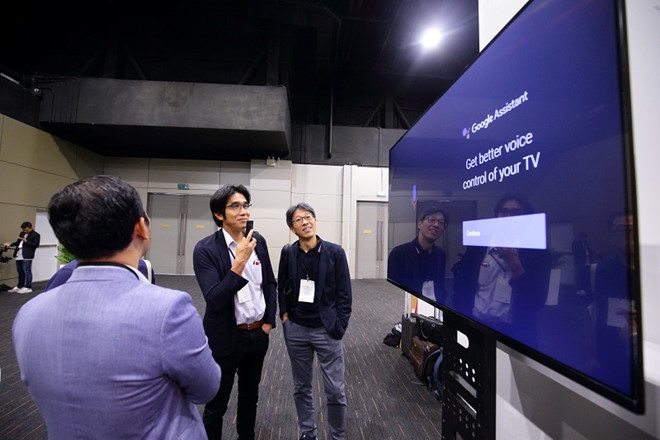 Along with a simple, friendly and easy-to-use interface, Vsmart TVs also have built-in Chromecast (smart wireless connection) that allows projection from smartphones quickly. The product is also fully equipped with wifi, Bluetooth, and HDMI connections for the ultimate entertainment experience.
In terms of form, Vsmart smart TV is designed to be ultra-thin and delicate with a 3-sided overflow screen, 4K resolution, suitable for all living spaces.
In terms of quality, to ensure that it meets global standards from Google, Vsmart smart TVs must undergo at least 12 feature tests on the automation line. Products must pass durability tests before they can be shipped.
In addition, to provide the best audio and visual experience, VinSmart Company has cooperated with industry leading names such as Dolby to equip products with high-end audio technology. Similarly, the board design and software are also coordinated by the world's leading chipset vendors. Vsmart smart TVs will be manufactured at the VinSmart factory complex in Hoa Lac Hi-Tech Park.
It is expected that VinSmart will have 5 smart TV product models using Android TV. TV models will be officially introduced to consumers in December 2019.
Vsmart smart TV is the company's second electronic device to be produced, after 8 smartphone models have been launched.
Into rotation
* Source: Youth