What is Google Search Console?
Google Search Console is a tool to support webmasters built and developed by Google. This is considered the "golden key" for webmasters and SEOers with extremely unique and handy features, making website management easier and more convenient. So what is the term Webmaster in Google Webmaster Tools?
What is Webmaster?
Webmaster, also known as Website administrator, is the person responsible for managing the website, taking on responsibilities from registration, maintenance to managing all problems that occur on the website, helping the website to operate properly. most effective and convenient.
What is Search Console?
Google Search Console, also known as Google Webmaster Tools, is a free support tool for webmasters, with a statistical feature of the links that lead to the website as well as the keywords that users are likely to use to search. access the website, thereby saving time to focus on optimizing and editing the website to become more complete.
It can be said that Google Search Console is the ideal "companion" for webmasters or SEOs because of the unique features it brings.
How to use Google Webmaster Tools
Here is a guide to using some basic operations of Google Webmaster Tools:
Site messages
Search Traffic
CTR Analysis with Google Search Console
Who links the most
Internal links
Mobile Usability
Search Appearance
Google index
Sitemaps
Google Webmaster Tools – What are Site messages?
Google Webmaster Tools – What are Site messages?
When your website is experiencing problems such as: malware infection, abnormal links to the website or an unexpected increase in the number of Crawl errors, this tool will send information to your website through information. message messages.
Installation is as follows:
Step 1: Click on the gear icon in any page on Google Search Console
Step 2: Click Search Console Options
Step 3: Click the check box to turn on the feature of sending notifications from Search Console and click save.
Google Webmaster Tools – What is Search Traffic?
Search Queries Reports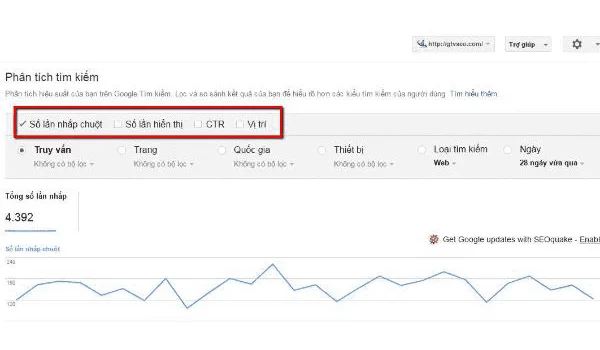 This is a feature built into Search Analytics. With this tool, users can summarize important and completely free parameters, including: number of impressions (Impression), number of clicks (Clicks), CTR index (Click Through Rate). , Rank on the charts (Ranks), …
Mobile vs. Web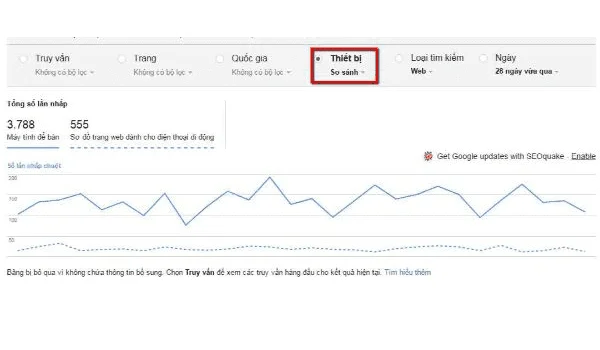 The feature helps to check if the user uses a Smartphone or a computer to access his website.
CTR Analysis with Google Search Console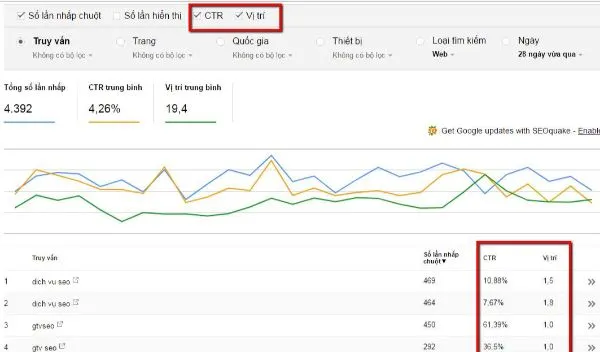 Advantages
Users can use Google Search Console to get a CTR (click-through rate) analysis report. From the results obtained this will bring many great benefits.
Help users understand the relationship between ranking position and clicks.
By combining with Google Keyword Planner, this tool helps users better understand the relevant SERPs through monthly keyword search volume reports, thereby planning to adjust SEO or Adword strategies. for the most efficiency.
By reporting ROI, this tool effectively aids in measuring the marketing effectiveness of your website.
Direct control and measurement: By combining the CTR parameters of SEO and Google Adwords, users can calculate the total CTR and come up with the most suitable strategy.
Limitations of Google Search Queries Report
Neither engagement metrics nor conversions are reported.
Does not provide "metropolitan" or "time of day" reporting as in Analytics.
All keywords are not displayed.
Historical data goes back only 3 months.
Note for Google Search Queries Report:
Search by image will be shown more times by content.
Showing multiple listings for a single keyword will significantly reduce CTR.
In each case, the CRT will be different.
The data obtained are not absolute.
Links to your site (Links to your site):
This feature allows users to check and aggregate information about links to their website.
Google Webmaster Tools – Who links the most?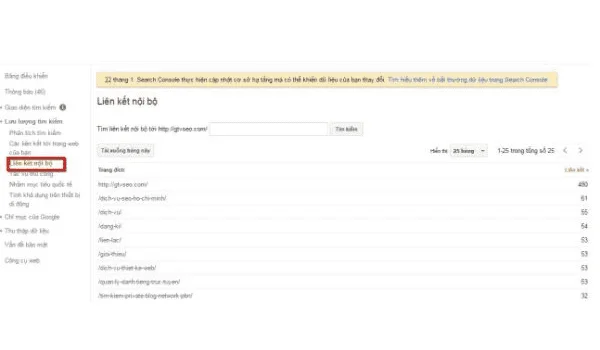 Your most linked content roughly translates as "Your Most Linked Content". You will get a report on which content on your site gets the most backlinks thanks to this feature.
How your data is linked roughly translated as "How your data is linked". This is an area containing more than 200 anchor text, to show you what anchor text of backlinks to your website is.Google Webmaster Tools – What are internal links?
Internal links are where Google Webmaster Tools updates the links to the website.
Google Webmaster Tools – What is Mobile Usability?
At Mobile Usability, users can check if the mobile website interface is facing errors about:
Font
Viewport width
Viewpoints
Content size
The layout of the links…
Google Webmaster Tools – What is Search Appearance?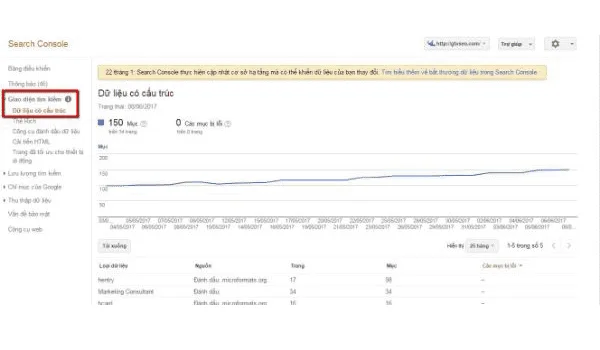 With this feature, users can improve the image displayed on website results on google search.
Structure Data allows users to aggregate statistics on structured data. Applies to the entire site and by data type. Thereby increasing the number of clicks to your website.
Data highlighter (Data highlighter)
Data highlighter notifies Google of what schema.org will markup. To display web page data when searching.
This is a tool intended to help users improve the appearance of SERP listings. From there, it is possible to solve the problem of keyword optimization and duplicate content.
Google Webmaster Tools – What is the Google index?
Fetch as Google (Fetch as google)
Fetch as Google is a feature that provides submit URL to index for google. As well as displaying the reviews from google about your article.
Fetch as Google there is also another special feature is the SEO friendliness rating. Users just need to click on Fetch and Render. If you receive a completion message, you need to improve your article to become more google-friendly.
Google Webmaster Tools – What are Sitemaps?
This is the area that provides Sitemap errors that are happening with your site. You need to regularly check this area to promptly detect and handle possible errors.
What is the role of Google Webmaster Tools?
Google Webmaster Tools has particularly important roles, especially for SEOs or webmasters.
Help administrators understand all the situation of the website, helping the website to operate in the most effective and convenient way.
It is a great tool to support website optimization, increase website ranking on search engines.
Help build a professional, unique website that makes a strong impression on customers.
Promptly detect and find solutions when problems occur.
What are the benefits of using Google Webmaster Tools?
Google Webmaster Tools is always preferred over use. Why? This tool is free to use and is full of modern and attractive features.
These features will help administrators save time. At the same time, reducing the cost of administration. From there, you can focus on optimizing the website to become more complete.
The application Google Webmaster Tools Website maintenance and administration is essential. In order to create a professional website, impressive, effective operation without spending too much time, human resources and costs.