Video recording of factories, workshops, and industrial zones is a special type of filming, requiring the factory videographer to have highly specialized knowledge and skills. Factories, workshops, and industrial parks often have many dangerous machines and complex working environments, so videographers need to ensure the safety of themselves and those around them.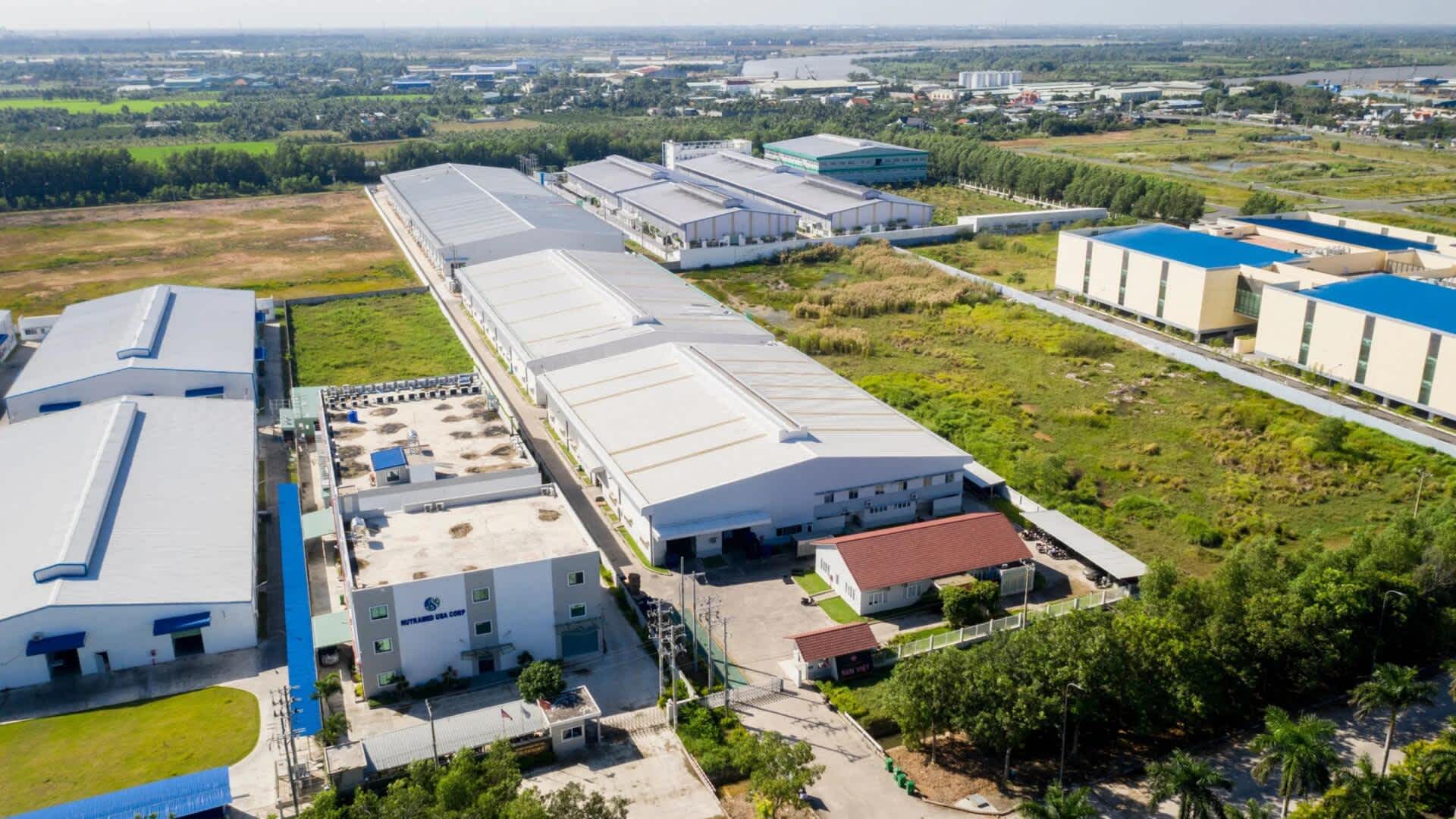 Purpose of video recording of factories, workshops and industrial zones:
There are many different purposes when recording videos at factories, workshops, and industrial zones. Here are some of the most common purposes:
Corporate propaganda: Filming at factories and workshops can help businesses promote their images, products and services to potential customers. Create beautiful and impressive movies, help businesses promote their images with partners, potential customers, and are a more advanced source of investment than paper documents, expressed through images. lively.
Train: Video recording at factories and workshops can help employees better understand the business processes in the production stage.
What to show in the video:
Overview of factories, workshops and industrial zones:
Panoramic shooting of factories, workshops, and industrial zones is a panoramic shot of this area, including all buildings, machines and employees working. This can be done using a drone or a camera with a telephoto lens. These videos are often used for advertising, educational or research purposes.
Flycam when recording business videos:
Flycam is popular in aerial photography and videography with its high quality, wide angle and ability to cover a large area. However, deciding to use a drone has two important factors to consider:
Product requirements and properties: Flycam images often bring a sense of scale and grandeur. However, it is not always necessary. In some cases, purchasing pre-existing image rights can be more cost-effective than re-shooting. Product needs and purposes also affect the use of drones.

Conditions and limitations: Filming with Flycam requires consideration of legal regulations on the use of drones at shooting and filming locations. Some locations prohibit the use of drones for privacy or security reasons. Weather and environment also affect the ability to deploy drones.
Conveyor belt, machinery:
Rotating a production line or machine is a way to document the production of a product or service. This can be used for many purposes:
Advertisement: Production line videos can be used to promote a business' products or services. They show your potential customers how a product or service is made, which can help them make a purchase decision.
Factory staff:
Factory filming is a way to record employee activities during the production process. This can be used for many purposes:
Recruitment: Factory HR videos can be used to recruit new employees. They allow potential candidates to see how current employees are doing and get an overview of the working environment.
Advertisement: Factory employee videos can be used to promote the corporate image in the factory.
Procedure to perform video recording at the Factory:
STAGE 1: FREE CONSULTATION
A consultant at JAY will contact you as soon as you leave your request and information on time and quantity. Quote within 2 hours. Please email directly to hi@jaybranding.com
Detailed needs for each scenario, customers can please fill in Business video brief file here.
STAGE 2: CREATE VIDEO SCRIPTURE IDEAS FACTORY, FACTORY, INDUSTRIAL PARK
The sales and editorial team will logically exploit information from customers to come up with a concept, how to express ideas to convey your message to everyone through video.
The script will be exploited by the editorial team from the customer side as well as on the specific line. During the work, we will help customers systematize the script line. Customers can refer to the Sample script sample here
STAGE 3: SENDING PRICE NOTICE TABLE OF CUSTOMERS' NEEDS AND AGREEMENT – SIGN CONTRACT
After receiving, exploiting information, making preliminary ideas, the quotation will be sent to customers within 1 day. The contract is quickly signed with the agreement of both parties.
STAGE 4: RECORDING AND RECORDING FACTORY, FACTORY, INDUSTRIAL PARK
JAYstudio will make a detailed plan to help customers understand the timeline as well as easily follow the progress of filming the advertisement according to the plan.
PHASE 5: ADVERTISEMENT GROUP AT FACTORY, FACTORY, INDUSTRIAL PARK
Effect trends, modern techniques, effects (2D, 3D, effects, animation) will be continuously updated by a team of experienced technicians to create beautiful images and transition effects to meet meet customers' wishes.
STAGE 6: SENDING THE DEMO PRIOR TO CUSTOMERS TO VIEW
The business introduction clip is sent to the Enterprise as a Demo for preview. If we need to improve the quality of the line, we will edit until you are satisfied with the quality of the service.
STAGE 7: CORRECTION ON REQUIREMENTS FROM CUSTOMERS
The business introduction film will be edited as required until the customer is completely satisfied, JAYbranding is committed to quick editing within 1-3 days.
STAGE 8: SUMMARY & HANDLING PRODUCTS TO CUSTOMERS
After agreeing on the clip, customers only need to accept, pay and send the demo clip, the official business introduction video will be handed over within 1 day.
SOME VIDEOS OF JAYBRANDING'S FINISHED PRODUCTS:
COST OF FILMING FACTORY, FACTORY, INDUSTRIAL PARK
In the marketing strategy of companies, the production of corporate videos cannot be ignored. However, the cost of this is complex and needs to be carefully considered. Length, quality, location, technology and production team all affect the price. Optimizing cost while ensuring quality is an important goal. So, the question is how much money to produce a business introduction video?
REQUIREMENTS WHEN STARTING VIDEO PRODUCTION FACTORY, FACTORY, INDUSTRIAL PARK
When starting to produce videos in factories, workshops, and industrial zones, there are a number of important requirements that need to be met. First, clearly define the goals and messages that need to be conveyed through the video to ensure effective marketing. Next, it is necessary to calculate details from filming, rendering, sound to production equipment. Therefore, it requires a professional, high-quality and experienced production team in the field of video production in factories, workshops, and industrial parks.
COST OF VIDEO PRODUCTION FOR FACTORY, FACTORY, INDUSTRIAL PARK
During video production in factories, workshops, and industrial zones, costs can range from a few hundred to thousands of dollars depending on the scope and complexity of the project. A simple video with a basic content structure and filmed at a specific location can cost less than a complex video with lots of footage and special effects.
See more: quote for business video recording
However, quality should not be sacrificed just to reduce cost. The use of professional technology and equipment can increase production costs, but also ensure an impressive and high quality video. Therefore, businesses need to carefully consider and determine a reasonable price to ensure an effective investment in video introduction videos of factories, workshops and industrial parks.
VIDEO FACTORY WITH JAYBRANDING
We are JAYbranding, a company specializing in providing professional videography services, and we have a special service for factory filming. With our expertise and experience in this field, we have become a trusted partner for many industrial and manufacturing businesses.
Our factory video recording service provides an effective way for businesses to showcase and promote their production. We use advanced technologies and a team of professionals with skills and experience in filming and editing to create high quality videos.
When you choose our factory video recording service, our team of experts will work with you to understand your goals and the message you want to convey through the video. We will visit your factory to understand the production process, operations and staff in the factory.
Based on the information gathered, we will create a detailed scenario for the factory video. We make sure that the video shows the full production process, from the initial stages to the finished product. The video will also create a visual experience for the audience, giving them a better understanding of the plant's operations and quality.
When filming, we use professional equipment and advanced techniques to produce sharp and high-quality images. Our camera crew utilizes the light and space in the factory to create beautiful and dramatic shots.
Once filming is completed, we proceed with video editing to create a professional and engaging final product. We use editing techniques, sound and special effects to enhance quality and deliver effective messages. We guarantee that your factory video will be professionally edited, while complying with your standards and requirements.
Besides filming and editing, we are also capable of providing additional services such as dubbing, adding subtitles or creating customized versions of videos to serve the diverse needs of our clients. We are committed to bringing you a finished and high quality product, ready for you to share and promote your factory.
Our factory video recording service brings many benefits to your business. First, it enhances the trust and reputation of the business by allowing customers, partners and investors to see the factory's production process and quality first-hand. It is also a powerful promotional tool to convey your message and core values to potential customers. Factory videos can also be used for employee training purposes, giving them a better understanding of work processes and production standards.
With JAYbranding, you will be supported by a team of experienced and enthusiastic professionals, ready to listen and understand your needs. We are committed to providing customized and innovative solutions to create high quality factory videos that enhance the image and success of your business.
FREQUENTLY ASKED QUESTIONS
DO YOU NEED SUPPORT FOR STORY SAMPLE?
Under the guidance of a team of professional screenwriters, JAYbranding will help customers build the perfect script and set up the perfect filming line. Or you can refer to some Sample script here
VIDEO LOCATION OUTSIDE HCMC OR HANOI ARE SUPPORTED?
JAYbranding will optimize the production plan in accordance with the needs, purposes and time of the customer. Shooting can take place at the company or location chosen by the client, or at a studio or film set. Regardless of location, JAYbranding ensures to provide full equipment, green screen, white screen, lights, and professional personnel to support filming.
It should be noted that for locations outside the city. Ho Chi Minh City or Hanoi, transportation costs, equipment transportation and survey costs may arise. But this cost will be specifically reported when it is incurred.
Can I VOICE STANDARD ENGLISH VOICE NATIONAL ENGLISH ?
Of course! Absolutely OK. JAYbranding will support searching and casting voice talent (voice selection) at the request of the Client and the project. We have an extensive network of professional, native and experienced speakers. Customers can choose standard English voiceovers from the UK, US, Australia or other countries, to ensure the video will bring the best quality.
In addition, we will also accommodate the needs of other languages. You can check out some more projects here.
COMPANY ONLY WANT TO BUILD BUSINESS VIDEOS FROM OLD SOURCE, IS IT OK?
Customers can save on filming costs by providing old sources for JAYbranding. Based on this source, we will build the script. However, scripting on source limits ideas and messages. In this case, the final image quality depends entirely on the quality of the source provided by the customer.
PROCESSES TO KNOW WHEN MAKING A VIDEO
A simple factory video, duration 3-5 minutes, need to know the processes:
Specify the number of shots and the expected shooting date.

List the amount of material to find to ensure the content is rich and interesting.

Set creative requirements for the script to create engaging and targeted content.

Review technical requirements and effects to make professional and impressive videos.

Evaluate the costs associated with the production team to determine a reasonable budget for the project.