TikTok is currently among the top 5 largest social networks in the world, with more than 500 million active users worldwide, but the number of advertisers is still small, so this market is still very new and less competitive. . JAYbranding provides customers with the best quality advertising services using this social networking platform. Help your products reach consumers faster.
TikTok advertising is the use of this social network to run sales advertising information, this is a form of advertising that pulls customers to sales pages on Shopee, Tiki, Lazada, or own Website. The working mechanism of TikTok advertising is quite similar to today's popular social networking platform, Facebook.
Types of advertising
TikTok ads have 3 main forms:
Brand Takeover
Ads will appear immediately when the user opens TikTok then can be redirected to another website/app link or another TikTok video. Currently, this ad type is limited to the number of runs per day.
In-feed
QC In-feed is placed at the end of the video on TikTok. These ads also redirect to websites or apps. This is also a more affordable form of advertising than Brand Takeover. So suitable for small and medium businesses, in addition, this ad is not limited to the number of runs per day.
Hashtag Challenges
You can work with TikTok's marketing team to create your own hashtag and push users on TikTok to create content to trend that hashtag. A TikTok Hashtag Challenges ad campaign usually lasts about 6 days. However, this is also a difficult form of advertising and not every business should use it.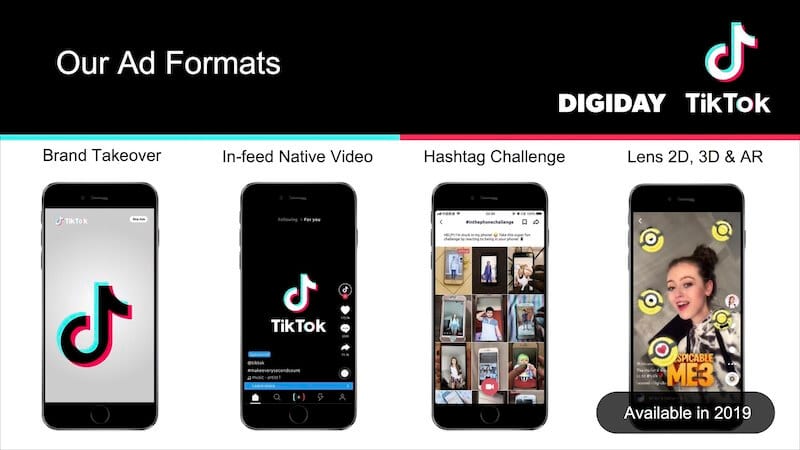 Advantages:
TikTok currently has 12 million monthly active users in Vietnam and more importantly, in 1 day, on average, each user will interact with this application for up to 29 minutes. The ability to "addiction" of TikTok is very high, almost if you start using it for more than 5 minutes, it is very difficult to stop.
TikTok's approach to Vietnamese users is through a large network of KOLs & Influencers, so the ability for businesses to combine with branding campaigns is very high. Content on TikTok is also creative, not boring, making it easy for businesses to express their ideas.
In addition, as mentioned above, TikTok is a very new advertising platform in Vietnam, so it has low competition, advertising costs have not been pushed up like Facebook, Youtube or Instagram.
Tiktok advertising service of JAYbranding
With a team of seasoned staff in the agency industry, JAYbranding always innovates and learns the most modern ways for your products to be widely introduced to consumers. Advertising service via social platform Tiktok is also not out of our sight.
Contact JAYbranding immediately if you want to advertise on this growing social networking platform:
Email: hi@jaybranding.com
Phone: 0899991131