Canva is a popular online tool that allows users to create and edit photos, graphic designs, and many other types of documents. One of Canva's standout features is the ability to combine multiple photos into a single frame. In this article, we will learn about the technology and features of Canva's application to combine multiple photos into one frame and how it helps users create creative and professional works.
I. Canva's photo collage technology
Canva uses advanced technology to create a smooth and natural photo stitching process. Here are some of Canva's key technologies:
Automatic photo stitching technology: Canva has the ability to automatically stitch photos based on advanced algorithms and technology. When users upload multiple photos, Canva will automatically classify and create the best photo collage layout based on factors like photo size, ratio, and color.
Color adjustment technology: Canva provides color adjustment tools to make collages consistent and harmonious. Users can adjust the lighting, contrast, color, and sharpness level of each photo to create interesting and professional visual effects.
Editing and effects technology: Canva offers a variety of editing and effects tools to increase the creativity of your collages. Users can add blur effects, lighting effects, color filters and more to create unique and high-quality compositions.
II. Features of Canva's photo collage application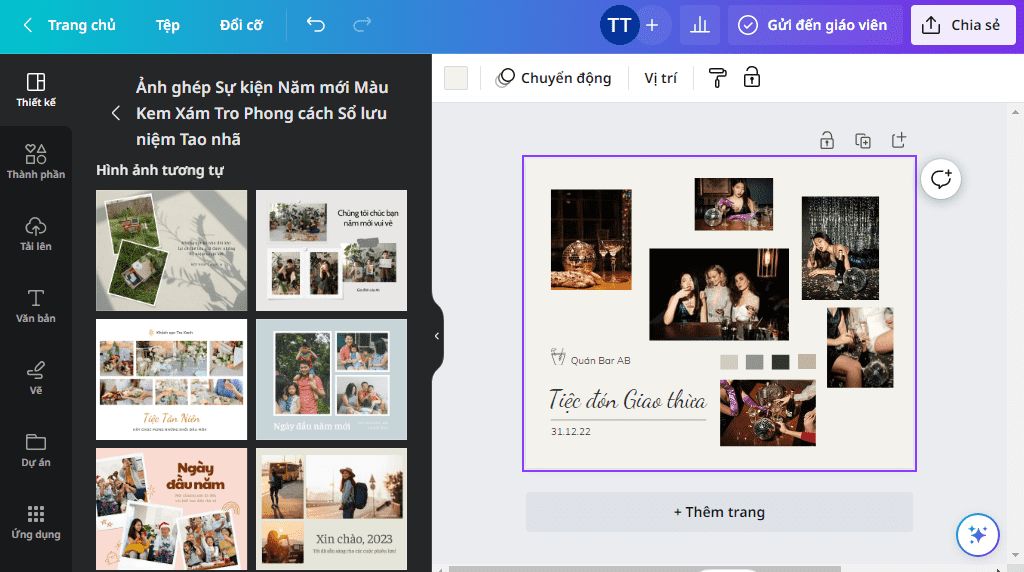 Choose photo frames: Canva provides a huge library of diverse photo frames for users to choose from. Frames can be found in rectangular, square, heart-shaped and many other shapes and sizes. This allows users to create diverse and creative layouts for their collages.
Customize position and size: Canva allows users to easily adjust the position and size of each photo in the frame. By dragging and dropping, users can arrange and align photos as desired to create perfect and professional layouts.
Photo editing tools: Canva offers advanced photo editing tools so users can enhance and edit each photo before compositing them into frames. These tools include cropping, rotating, color correction, increasing brightness, contrast, and more to create high-quality collages.
Add text and accessories: Canva provides tools to add text and accessories to your collage. Users can add titles, captions, labels, stickers and many other types of decorative images to create unique and customized photo collages.
III. Practical applications of Canva in everyday life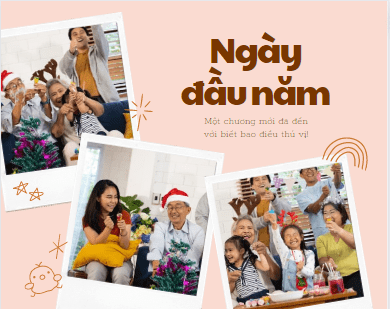 Professional graphic design: Canva allows users to create professional graphic designs such as posters, banners, greeting cards, marketing materials and more. The ability to combine multiple photos into one frame helps create unique and professional multi-image designs.
Social media and marketing: Canva offers direct sharing to popular social networks and provides appropriate image sizes and aspect ratios for each social network. Users can create unique multi-image posts to share on Facebook, Instagram, Twitter and other social media platforms.
Create photo collections: With the ability to combine multiple photos into one frame, Canva is a great tool for creating beautiful and neat photo collections. Users can create photo albums for events, memories, products or personal projects.
IV. Conclude
Canva's application to combine multiple photos into one frame provides diverse technology and features for users to create creative and professional works. From a wide selection of photo frames, custom position and size, photo editing tools to the ability to add text and accessories, Canva brings flexibility and creativity to the photo collage process. With Canva, users can create unique photo works, applied in many fields such as graphic design, social media and creating photo collections.
Explore more: https://www.jaybranding.com/anh-profile-ca-nhan-cong-ty-chuyen-nghiep/