Family companies are facing great risks when they lack an appropriate set of governance rules, good internal control mechanisms and especially lack of preparation for the generation transfer process.
Family businesses often have long-term sustainable growth expectations, but less than 30% businesses survive until the third generation of management. This raises the obvious question of whether family business ownership guarantees the longevity of the business.
Of course the answer is no – especially in the current context when family businesses face many obstacles. Many families in business tend to postpone long-term goals to focus on urgent issues rather than prioritizing important issues, prioritizing the short-term over the long-term," according to the Family Business Survey. Deloitte's 2019 family.
This is the comment made by experts at the thematic discussion on Corporate Governance for family companies within the framework of the 2019 Annual Governance Forum coordinated by the Vietnam Institute of Directors (VIOD). In collaboration with IFC, SECO and the Japanese Government, held on December 3 with the theme "Capacity building leader Board of Directors (BOD) towards future success".
There has been a conflict
The controversial story that has lasted for years but still has not ended between Ms. Le Hoang Diep Thao and Mr. Dang Le Nguyen Vu about the control of assets at Trung Nguyen coffee was discussed by Mr. Phan Duc Hieu, Deputy Director of the Institute. The Central Economic Management Study cited as a typical example of the inadequacies in the governance of family companies in Vietnam.
According to Mr. Hieu, the lack of separation between ownership and management has caused Trung Nguyen to sometimes fall into a difficult situation, goods are congested, many problems of the company are "stranged" and cannot be resolved, making it difficult to solve. business declines, the company faces the risk of bankruptcy.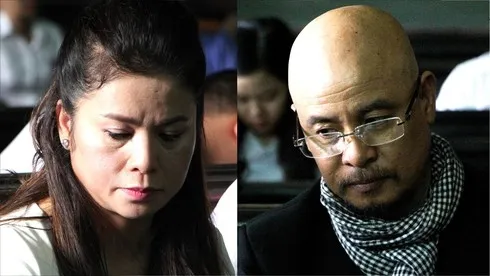 "It is worth mentioning that not only Trung Nguyen but also many companies are in a similar situation. From the conflicts between individuals, the company could not solve them," said Mr. Hieu.
A recent Deloitte survey on family businesses shows that family businesses currently account for a sizable proportion of the total number of businesses in Vietnam. In which, many companies have much better growth rates and business performance than state-owned enterprises.
According to Forbes statistics, the 100 largest family businesses in Vietnam contribute about 25% to the GDP of the country with prominent names such as Vingroup, Tan Hiep Phat, Lien Pacific Group, Thanh Thanh Cong, and Minh Ceramics. Long, Biti's, KIDO…
However, besides the rise towards a hundred-year-old brand with the successful lessons of many family companies, there are still broken stories that start from weaknesses in management ability.
The 100 largest family businesses in Vietnam contribute about 25% to GDP of the country with prominent names such as Vingroup, Tan Hiep Phat, Lien Pacific Group, Thanh Thanh Cong, Minh Long Ceramics, Biti's, KIDO...
Mr. Nguyen Huy Duong, Chief Financial Officer of Hoang Huy Services, Investment and Finance Joint Stock Company, admitted that Hoang Huy had not previously formed a company culture and management institution, but instead was a traditional regime, imposed in the style of the family. "Therefore, in many situations it leads to internal conflicts," Duong said.
In particular, a study by Deloitte showed that difficulties in transferring power and building teams leader Adjacent is the reason less than 30% of family businesses can survive into the third generation.
Consider transferring
Therefore, according to Mr. Hieu, right now, Vietnam's family companies need to rethink their governance code to have appropriate behavior. Because according to him, there are two reasons leading to the "now or never" situation of Vietnamese companies.
Firstly, the governance quality of Vietnamese companies is ranked very low compared to the group of countries in the region.
Secondly, looking back at the start-up time of Vietnamese family entrepreneurs from the 1990s, at that time, entrepreneurs were usually at the age of 30-35, now these entrepreneurs are also at the age of 70. This means that the issue of succession is very important and a big issue in every family business.
However, what concerns Mr. Hieu is how to make the business transfer with a broader vision, good strategy, and harmonize interests between the business and the community. At the same time, it is necessary to separate the activities of owning and operating the company, to have an appropriate set of corporate governance based on standards of good corporate governance, and to select competent people.
"If the next generation does not have the management capacity, wait until the next generation because this process needs training and guidance," emphasized Mr. Hieu.
Mr. Hoang Duc Hung, Deputy General Director, in charge of market development of PwC Vietnam, affirmed that in order for the succession process to take place successfully, the transfer of responsibilities is extremely important.
"Young people always have a more dynamic view. Therefore, F1 generations need to respect and take advantage of those advantages for a successful generation transfer," emphasized Mr.
Anh Nhi
* Source: VN Economy